Moshkeleh Ganev, a forgotten novella by Sholom Aleichem, was recently resurrected from obscurity by gifted translator Curt Leviant.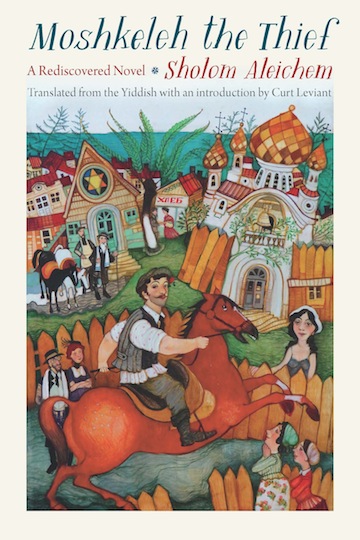 Missing from the standard edition of Sholom Aleichem's collected works, which was published after his death, Leviant came across a brief citation of the story in a Yiddish literary quarterly published in Israel, while doing research on another project at the Hebrew University library. Leviant went on to translate it into English and Moshkeleh the Thief was published in 2021 by University of Nebraska Press.
The story stands out as a lively and endearing picture of shtetl life in Russia's Pale of Settlement. Sholom Aleichem himself wrote in 1903 that the work celebrated a phase in his career when he had, he said, "really begun to write," and was not merely "fooling around."
I read Moshkeleh at a rapid clip as soon as it was mailed to me by Leviant, unable to stop due to the inescapably arresting character of the narrative. Sholom Aleichem has the ability to keep readers riveted to his stories, as though we are living in the community he is describing. His narratives are always very much alive in this sense.
Tsireleh, the attractive daughter of Chaim Chosid, a wine-cellar manager (a marginalized role for many Jews of that time, whose sights were set on more prestigious occupations), was, for me, a pivotal character in the tale for several reasons.
Unlike Chava in Tevye the Dairyman, Tsireleh was another variation on the Sholom Aleichem theme of a daughter whose involvement with non-Jews (Chvedka) posed a challenge to a sense of Jewish identity. The nine Tevye stories were authored over several years, starting in 1894. Moshkeleh was first serialized in a Warsaw Yiddish paper in 1903, when five of the Tevye stories had already been published; the remaining four were published after 1904. So, thematic strands interwoven in the lives of characters like Chava and Tsireleh that were important to the author may have overlapped. For example, Tsireleh comes close to the same threat to tradition in her relationship with Maxim Tchubinski, a non-Jew, and her elopement with him to a Christian monastery, but is whisked away by Moshkeleh at the 11th hour.
It is tempting to think that, despite Tsireleh's nascent feminism, she was a pushover for any man who declared his love for her in passionate terms, as did both Maxim and Moshkeleh. But one can also see her elopement with the latter – even though he is a horse thief fated for deportation – as an enduring commitment to the faith of the family she left behind in her drive toward independence. Far from being overly impressionable in matters of the heart, there remained a silent commitment to the Jewish faith, unlike Tevye's Chava.
Also unlike Chava, Tsireleh was a contrarian from the get-go, who longed for a different life than the one she felt she was saddled with as Chaim Chosid's daughter. She had earlier rebelled against the yet-to-be role of subservient wife, becoming pregnant and going on to appropriate the domesticity envisioned for her sisters, not to mention all the young women in the shtetl. Her own metaphor was not becoming a clucking hen who sits on her eggs until they hatch, only to repeat the process several times over. She rebelled against the idea of marrying at too young an age to experience the world in a different way, and rebelled against the thought of having to marry a suitable man from a respectable family. She promised herself she would build her life differently. Eloping with a non-Jew like Maxim Tchubinski on a Pesach night was a dramatic example of why, unlike other characters in the novel, she wasn't cut from an ordinary mold.
Yet her elopement with Moshkeleh does show an enduring commitment to her Jewish faith. Perhaps Tsireleh was for Sholom Aleichem a character representing themes he wrestled with when it came to communities in which opportunities for assimilation were an ever-present temptation – or threat.
David Begelman, PhD, is a psychologist in New Milford, Conn.