Dance Centre's 12 Minutes Max features works from five up-and-coming choreographers on June 12. Pictured here is Con8 Collective: Charlotte Newman, left, and Georgina Alpen. (photo by Andy White)
An abundance of riches. Scotiabank Dance Centre's 12 Minutes Max on June 12 showcases the talents of five up-and-coming choreographers – three of whom have Jewish community connections.
Started in 1994, 12 Minutes Max was redesigned and relaunched last year, "with a strong focus on choreographic development, critical feedback and dialogue." In a season, there are three modules and the June show features artists selected from these sessions, with each performance lasting 12 minutes or less. Among the artists featured are Caitlin Griffin, Charlotte Newman (Con8 Collective) and Naomi Brand.
Griffin was featured in the JI last August for a piece that was influenced by her time in Israel in 2013 with the Kibbutz Contemporary Dance Company, as part of its Dance Journey (Masa) program.
An exploration of the impact of war on women, what was then called The Way They Walked Through the World featured three dancers, and pairs of army boots played a central role. In 12 Minutes Max, Griffin's work is performed by Delphine Leroux and set to Bach's Klavierbüchlein für Wilhelm Friedemann.
"The work has evolved significantly from last September's showing in several ways," Griffin told the JI. "The process I went through of collecting choreographic material and experimenting with the boots has distilled my areas of interest and inspired new curiosity about the themes of conflict and femininity. While I am still working with the boots in other offshoot projects, in this incarnation, here or there focuses on the established movement vocabulary, transplanted into a classical music environment without boots. It has become a study of the potential within the movement. It is the development of one layer of my continued interest in the material."
Griffin said The Way They Walked "served as an invaluable project to create a sketch of my interests and goals in this stage of my artistic development. Since then, I have been selecting small seeds from within that larger sketch and developing them into their own short solos. Ultimately, I may use them in combination in a more developed, longer work, but for now I am learning a lot by seeing them as individual studies to explore and cultivate my creative process."
Con8 Collective's Newman is new to the JI. Born and raised in Seattle, she moved to Vancouver to study at Simon Fraser University, graduating last year with a BFA in dance. She told the JI that she hopes to call Vancouver home "for the foreseeable future."
Con8's contribution to 12 Minutes Max is Vanilla to the Touch. Created and performed by co-artistic directors Newman and Georgina (Gina) Alpen, in collaboration with Robert Azevedo and Elliott Vaughan, it is described as "a quick-thinking, tongue-in-cheek look at growing up in West Coast suburbia, pulling from experiences of bras, boys, rolled-over jeans, juice boxes and more."
"Like many young girls, I started dancing around the age of 3 and simply never stopped," Newman said about the beginnings of her career. "In the past 20 years, I have had amazing opportunities to work with varying groups of dancers, in the context of performances, festivals, site-specific creation, music videos and more. I am especially passionate about choreography. I love investigating movement through the lens of our own physical limitations and strongly believe in the power of sharing ideas, concepts and questions through sharing movement."
Newman said she "grew up with many cultural connections to Judaism."
"I have many fond childhood memories of Chanuka dinners of endless latkes, Passovers with friends and Shabbat dinners at my grandparents' house," she shared. "Only in the past few years, having moved away from my family and many of these rituals I took for granted, have I become more cognizant and questioning of this identity – how do I want to bring Judaism into my own life? On this journey of exploring my own Jewish heritage, I had the amazing opportunity to join in the gift of Taglit-Birthright on a 10-day trip to Israel in May of 2014. The trip was eye-opening, thought-provoking, inspiring and pushed me to continue investigating how Jewish culture fits into my life as young adult – a question I'm still answering."
She's also exploring dance, of course, and its manifold permutations and meanings.
"Con8 is a play on the word 'connate,' meaning existing from birth and uniting to form a single entity," she explained. "Gina and I feel these definitions truly encompass the collective's artistic values – we strive to constantly explore through an innate creativity and unite the collective's collaborators to make a stronger body of work as one.
"We also embraced the idea of a 'con,' meaning a confidence trick. Throughout our choreographic process, we often explore physical games, tricks and rules that lead to very specific movement choices and rhythms, leading to secrets within the performance that the audience will never see.
"Among many similarities," she concluded, "we share the same birthday – May 8."
Con8 leans toward "extremely detailed and stylized pedestrian movement that has been brought into the framework of dance performance," said Newman. "Tight unison, rhythmical timing and a playful attack to serious movement exploration complement this movement vocabulary."
She said, "Vanilla to the Touch began months ago as a radically different idea. With each new process, Gina and I use rehearsal space as a blank slate – in the beginning of a process, no idea is knocked down and, in a few minutes, we'll be tossing out ideas one after the other as fast as we can. This process leads to hours of ultimately discarded material, many physically impossible and improbable proposals, and the usual bruises and bumps. We feed off of the other's energy so hungrily, every rehearsal feels like play. In the midst of this process – around late February – we realized we had about four hours of movement to mold into 12 minutes, thus beginning the second phase of trying on, molding or discarding existing movement as we narrow our vision.
"In Vanilla to the Touch, as we are both performing the entire time, we relied on the eyes of collaborators for their outside perspectives and questions. Through the constant process of cutting, reconstructing and questioning, each movement has a meaning and each phrase was chosen with an exact specificity in mind."
Unlike Newman, fellow Jewish community member Brand didn't start dancing at a very young age.
"I danced a bit recreationally and in my teens was a part of a dance group run by a contemporary dancer who focused on modern dance and contact improvisation and got us choreographing on each other," she explained. "I didn't take a ballet class until I was 18 and so I often feel that I came to dance technique late.
"My interests in dance have always been diverse. A mentor of mine instilled in me early the importance of having a wide range of skills in order to increase your chances of being successful in the art form and so I have pursued dancing, performing, choreography, teaching and writing in order to have many avenues. I attended the dance program at the University of Calgary, where I earned my BA and an MFA in choreography, and where I also taught for a number of years after graduating."
Originally from Toronto, Brand said, "I grew up with a secular Jewish identity. I recognized early on that a disproportionate number of artists, writers and progressive thinkers that I admired were Jewish, and that there was a connection between Jewish culture and creative thinking. My parents raised me with very strong values for learning, encouraging me to ask lots of questions and be curious, and also for social justice, family and community, values that I attribute to Judaism. These are values that have permeated my work as a dance artist. I try very consciously to make work that speaks to the relationship between the individual and the community. In my teaching practice, I encourage students to be inquisitive and inclusive, and use dance as a metaphor for how we could be in the world."
Brand moved to Calgary when she was 19. After 10 years in the city – where she was a recipient of the 2012 Lieutenant Governor of Alberta Arts Awards Foundation's emerging artist award – she said, "I was looking for a change, new opportunities and challenges, and so I relocated to Vancouver in 2013."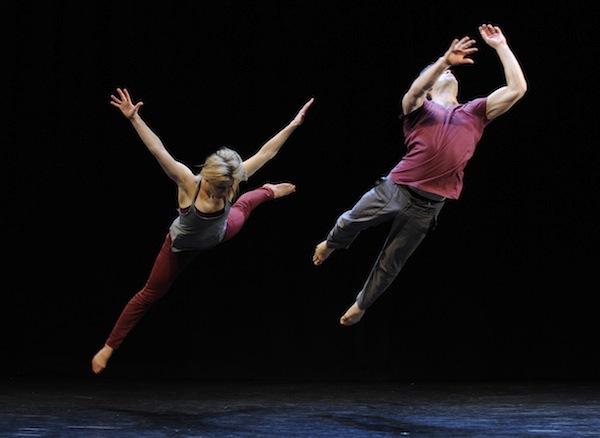 For 12 Minutes Max, Brand is presenting Re:play, performed by Walter Kubanek and Hilary Maxwell. It is described as "an intricate duet that looks at action and reaction in the space between two bodies."
In addition to being a choreographer, Brand is a writer, as well. "I think that my process in writing and in choreographing are very similar," she said. "A lot of my training has been as an improviser and so I am most comfortable in the initial stages of generating ideas, jotting things down and spewing material out. Both choreographing and writing are about problem-solving to me. Once I have material to work with, it is about piecing things together, arranging, rearranging and searching for some kind of logic in what I have created. It's like figuring out a puzzle, when at first you see a perhaps incompressible mass of ideas, words or moments and, then, through playing around with it, a structure or logic reveals itself. I rarely know what exactly it is that I want to say until it is made."
Brand is also on the board of the Training Society of Vancouver, which has as its focus the quality and sustainability of contemporary dance.
"The field of dance is changing just as culture is changing," she said. "What it means to be a professional dance artist today is completely different from previous generations, where the company structure was pervasive. Nowadays, everyone has to forge their own path and, in Vancouver, I see many fabulous examples of dancers with tons of drive pursuing their work and making their own opportunities. I have always been interested in being connected to dance from numerous different angles, as a performer, teacher, choreography, writer, advocate and administrator. For me, this diversity keeps me interested and engaged and able to keep perspective on my work."
12 Minutes Max is at the Dance Centre, 677 Davie St., on June 12, 8 p.m. Tickets ($28/$22) are available from Tickets Tonight, 604-684-2787 or ticketstonight.ca. For more information on all the performers and works featured, visit thedancecentre.ca.