Crystal Wills in rehearsal for The Way They Walked Through the World. The work includes the use of more than 300 pairs of army boots. (photo by Christie Wood)
The female experience of war. This part of the description of choreographer Caitlin Griffin's The Way They Walked Through the World – a contemporary dance piece set to première at the Scotiabank Dance Centre's open house on Sept. 13 – particularly intrigues me.
Despite the number of conflicts taking place around the world, images of women are few and far between, except for the odd photo, in which the subject(s) is either screaming out in anguish or quietly wiping tears in mourning. Other images come to mind with more thought, but not many, and words also have fallen short in helping me understand my feelings about the violence in general, but my concern and sadness over the situation in Israel specifically. Perhaps a dance performance, its physicality, its abstract nature, will allow me to process some of the emotions that have, to this point, eluded identification, expression.
I have known Griffin for several years. I don't know her well, but well enough to know that she is a very talented dancer and teacher – and a mensch. When she told me that she was applying to a program at Kibbutz Contemporary Dance Company, I was thrilled. When she came back from five months in Israel with a new work in progress, one inspired by her time there, I knew I would want to see it once it was ready to be shared publicly. Fortunately, while I missed an earlier version that was performed at the Firehall Arts Centre's BC Buds showcase in May, a good friend attended. She was impressed, not only with the performance, but with Griffin; so much so that she connected me to Griffin, not knowing that I already knew her. When I asked Griffin to send me some information on The Way They Walked, she included the following:
"The preliminary movement vocabulary [for the work] was created there [in Israel], as a personal answer to the questions I began to ask myself after seeing armed conflict in a new immediate perspective. I was inspired by the maturity of the young Israelis preparing to serve, and by the strength of Israeli mothers whose realities included the conscription of their children. I was struck by the intense beauty of life framed by conflict."
It was only weeks later that Israel and Hamas went to war.
"The current conflict has definitely hit close to home for me, as I still have several friends living in Israel who send updates regularly," shared Griffin in a recent interview with the Independent. "The changes that have happened within the work aren't at all to do with the content … or message of the work, but a general change in tone – almost a sadness, a level of more raw exposure. I think the work has lost a bit of its naivety."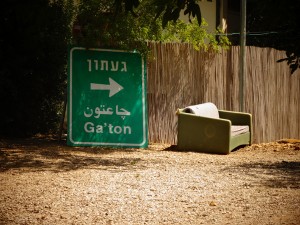 The Way They Walked has been an ongoing project since Griffin was in Israel in the first part of 2013.
"Some of the solos that are featured in the show in its current form were created from single images that came to me while living on the kibbutz," she said, referring to Kibbutz Ga'aton, where KCDC's International Dance Village is located. "Most of the imagery in the work was born in the studios after long days of rehearsals, while processing the overwhelming stimuli of my new surroundings. It has taken many months to explore those images and find out what was so intriguing to me about them. It's been a process of uncovering what happens before and after these images in the dance, and how to frame them to resonate with an audience."
Griffin, who is not Jewish, discovered KCDC online, and applied to its Dance Journey (Masa) program, which, explains the website, offers dancers 18-35 years old from around the world the "opportunity for professional development while dancing side by side with KCDC dancers [and] learning from one of the leading dance companies in the world."
"I learned about the long-term immersive environment available to young performers and decided it was something that fit what I was looking for creatively and personally," she explained. "I began writing grants and researching ways to make it a possibility. It took just over a year to gather the necessary resources, and to heal a broken foot I had sustained in the meantime. In 2012, I was awarded a professional development grant to attend the program from the British Columbia Arts Council. I successfully wrapped up a crowd-funding campaign that brought over 65 individuals and in-kind corporate sponsors together and, a few short months later, I was on a plane to Tel Aviv.
"I attended the program from February 2013 to June 2013, along with 24 other young artists from across the globe. The experience of living in the Galilee Dance Village, surrounded by other equally passionate and determined artists has changed everything for me. The friends I made continue to support me personally and professionally. In fact, much of the rehearsal footage from The Way They Walked has made its way to these friends – in Mexico, in Italy, in the U.S., who have all informed the direction of this work and inspired pieces of it along the way."
Performing in The Way They Walked are Delphine Leroux, Crystal Wills and Heather Dotto. Griffin first worked closely with them in 2011, when MOVE: the company performed in the 13th International Festival of Dance and Music in Bangkok, in celebration of 50 years of Thai-Canadian relations.
Leroux, Wills and Dotto "have been absolutely integral" to The Way They Walked, said Griffin. "These are some of the most supportive and lovely artists I have had the pleasure of sharing a studio with. To date, my professional choreographic experience has been exclusively creating on myself, which is an entirely different process than directing three dancers of world-class calibre. Each of them has contributed not only their artistic expertise to the process, but has shared ideas about the work that have informed its direction. They have breathed life into something that at one time was an idea and some simple movements and pictures in my head."
The Way They Walked has undergone several phases of development so far.
"We are currently working under Restless Production's Project CPR5, which is a choreographic research opportunity run by Claire French, providing rehearsal space and guidance to emerging choreographers," said Griffin, describing French as "an invaluable mentor during this process, and it is with her whom we have been working the most closely."
In addition to the show at the Firehall, the group also had rehearsals in May and June through the Dance Centre's 12 Minutes Max program.
Griffin said the piece will continue to evolve, as long as she feels there's something to say with it. "I am thrilled to have the opportunity to showcase the work at this phase and will be welcoming audience feedback from the Dance Centre open house event in September to take on into the next, yet-to-be-determined developmental phase," she said. "My hopes are that audience members can find something to relate to, coming from inside the work. Whether it's reacting directly to a dancer's actions, an image we create, a sound, a relationship between the dancers. To give people a chance to escape even for a moment into an atmosphere that we created would be a big success."
Griffin, who was born in Toronto, grew up in Oakville, Ont. Dancing since the age of 4, she said she "realized it was a career option around 13 years of age." Her family was "extraordinarily supportive … instilling in me the ideals of equality, family, hard work and creativity."
"I have given some consideration to returning to a more traditional academic path, but honestly have never been fulfilled in the same way with any of my brief explorations into other fields. My passionate curiosity lies within the processes of performing, creating and teaching dance."
"I had considered alternate careers and educational opportunities," she admitted. "After graduating from high school with outstanding academic excellence, I deferred my acceptances from the science programs at Queen's University and a scholarship from Guelph University to pursue my continued dance training with the Goh Ballet Academy in Vancouver. I have given some consideration to returning to a more traditional academic path, but honestly have never been fulfilled in the same way with any of my brief explorations into other fields. My passionate curiosity lies within the processes of performing, creating and teaching dance."
Griffin was among the performers at the opening ceremonies of the 2010 Olympic Games. In rehearsal, she said, "Witnessing k.d. lang's 'Hallelujah' to a near empty stadium in the days leading up to the event was hauntingly beautiful, and is one of my most treasured memories." Another is teaching a ballet class to her peers in the Masa program, "with several of the KCDC company members in attendance. This is a teaching highlight for sure, though I have many highlights from my teaching career that are simply moments of understanding lighting the faces of my students. When I can teach someone that dance and well-being can go hand in hand, that's a highlight."
As to the future? Following the performance at the Dance Centre open house, Griffin said, "I will be headed to Montreal to dance with Les Grands Ballets Canadiens de Montréal's annual production of Casse-Nosisette. In December, I will be accompanying Team Canada West to Poland for the International Dance Organization's World Dance Championships. I'm not sure what's in store after this, but I'm excited to find out!"
***
The Way They Walked Through the World premières as part of the Restless Productions CPR5 showcase at the Scotiabank Dance Centre's open house on Sept.13, at 4 p.m., in conjunction with other performances. Updates on the work can be found at facebook.com/caitlingriffincpr5.