Left to right: John Collier, Ralph Jackson (president), Alan Tapper (first vice-president) and Marc Perl (second vice-president) at Royal Canadian Legion Shalom Branch 178's January general meeting. (photo from the legion)
At its general meeting in January, Royal Canadian Legion Shalom Branch 178 elected its new management slate: Ralph Jackson (president), Alan Tapper (first vice-president), Marc Perl (second vice-president), Jenica Neamu (secretary) and Jeff Simons (treasurer). The executive officers are, in alphabetical order: Libbera Amram, Eugene Edelman, Maurice Elharrak, Rosemary Harkins, Frank Long, Angela Miller, Danny Redden and Larry Shapiro.
The next general meeting will take place at the legion, 2020 West 6th Ave. For information on it and becoming involved, call Tapper at 604-263-8498 or email [email protected].
* * *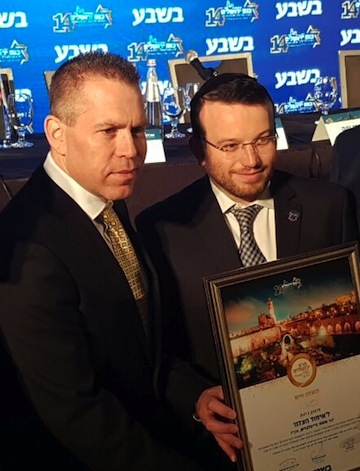 On Feb. 13, Israel's national volunteer emergency medical services organization, United Hatzalah, received the Jerusalem Prize for excellence in lifesaving. The director of United Hatzalah, Moshe Teitelbaum, received the award in honour of the 3,200 volunteer EMTs, paramedics and doctors who work with the organization. The award was presented by Gilad Erdan, Israel's minister of public security, strategic affairs and information.
Among the reasons given by the judges with regards to why United Hatzalah was selected for the award, the judges explained: "United Hatzalah is receiving this prize due to the activation and operation of its volunteers, and providing first-response emergency medical treatment in the first few minutes after an emergency occurs, before the arrival of an ambulance."
United Hatzalah president and founder Eli Beer welcomed the prize and the recognition of the efforts of the volunteers.
"This prize was given to us due to our volunteers," he said. "It is they who deserve it for their hard work and dedication to saving lives across Israel. They leave their beds, homes, workplaces, family and friends in order to answer the call of others and save the lives of those who need it most in their communities. Our volunteers work tirelessly, often long into the night, in order to provide fast and professional emergency response in under three minutes. May Israel be blessed with more people like our volunteers."
* * *
Limmud, the international network of Jewish learning communities, will be awarded the Jerusalem Unity Prize in the Diaspora category on Unity Day, June 7.
President of Israel Reuven Rivlin will bestow the award in Jerusalem, recognizing Limmud's global success in bringing Jews together. The prize is a joint initiative between Jerusalem Mayor Nir Barkat, Gesher and the families of Eyal Ifrach, Gil-ad Shaer and Naftali Fraenkel, z"l.
"We are grateful for this fabulous honour," said Limmud chair David Hoffman. "Limmud promotes Jewish unity by offering an inclusive cross-communal space for Jews of all ages and backgrounds, to meet, learn, volunteer and build community. Unity is about celebrating our diversity while working together to build community and create a dynamic Jewish future. This is what Limmud does."
Founded in the United Kingdom in 1980, Limmud today has spread to 84 communities in 44 countries on six continents. In 2016, Limmud's 4,000 volunteers produced 74 Jewish learning festivals and events around the world, which drew more than 40,000 people.
A core tenet of Limmud is that everybody is an equal member of the community, whether layperson or rabbi, communal leader or educator, adult or child. Limmud's values stipulate that it is a community of learning, recognizing that far more can be achieved together than individually. Everyone can contribute and all are responsible for one another and the communities that are created.
"Today, when deep schisms separate Jews – politically, religiously, within communities and between the Diaspora and Israel – the Limmud model and message is more necessary than ever," stated Limmud board member and head of strategic development David Bilchitz, who is based in South Africa. "Building and sustaining unity takes hard work and a constant effort to understand and bridge our differences. Owing to Limmud's shared values, Limmud offers a platform to explore, understand and discuss differences, emphasizing common denominators and what we can learn from each other. It is thus a beacon of light in building the future of community through respect and accepting diverse Jewish identities."
Apart from its work in the Diaspora, Limmud has been embraced by thousands of Israelis, where nine Limmud communities bring together people across the religious spectrum and from all ethnic origins – Ashkenazim, Sephardim, immigrants from the Former Soviet Union, and many others.
The Jerusalem Unity Prize and Unity Day recognize individuals, organizations and initiatives in Israel and throughout the Jewish world that advance mutual respect among the Jewish people.