Malka Martz-Oberlander, left, and Dalia Currie are co-directing Little Shop of Horrors, which is at the Red Gate Revue Stage from Feb. 6-9. (photos from TES Theatre)
At 17, many Jewish Independent readers were probably spending most of their time hanging out with friends, maybe doing a music or art class or two, some sports activities. In addition to being a student, 17-year-old Jewish community member Malka Martz-Oberlander is a filmmaker, writer, film and theatre director, cartoonist, musical theatre actress and photographer. Her latest initiative is a production of Little Shop of Horrors, which is at the Red Gate Revue Stage on Granville Island Feb. 6-9.
Presenting the production is TES Theatre, or Transforming Education, which, explained Martz-Oberlander, was "originally the theatre program at the one-of-a-kind Windsor House School: a democratic, multi-campus, K-12 school in East Vancouver.
"When Windsor House School closed down last year," she said, "former principal Meghan Carrico decided to start a theatre company for the students, like myself, who wanted to continue to do theatre and musical theatre together. The program that arose after the school's devastating closure is grounded in the same democratic philosophy. Our mission is to make sure any student who wants to do any aspect of musical theatre can and will be supported by a willing cast and a professional musical theatre teacher."
Martz-Oberlander is co-directing Little Shop of Horrors with Dalia Currie. Last June, the pair co-directed a production of Much Ado About Nothing that Currie adapted. According to Martz-Oberlander, Currie "loves Shakespeare" and has "co-directed and acted in many of the Bard's shows," including playing the role of Theseus in A Midsummer Night's Dream in 2018, as part of the Carousel Theatre Teen Shakespeare Program.
Currie found musical theatre through joining Windsor House in 2018, said Martz-Oberlander. "She played Olive Ostrovsky in The 20th Annual Putnam County Spelling Bee and Gaston in Beauty vs. Beast, an original parody of the tale as old as time."
For her part, Martz-Oberlander performed with Encore Musical Theatre (formerly Broadway Edge) for four years, then performed in two shows with Windsor House School and, this year, is a member of Arts Umbrella's Pre-professional Musical Theatre Troupe.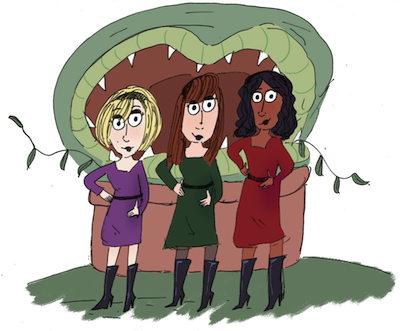 Martz-Oberlander said she and Currie initially pitched Little Shop of Horrors to the theatre company because they had both grown up watching it, "and we were very excited at the thought of directing our first musical together this year with the mentorship of our new musical theatre teacher, Isabella Halladay, who is a local musical theatre artist."
The production involves around 30 people, said Martz-Oberlander, "and all but three of them are students. We held auditions for people within our theatre community," she said. "We made sure that anyone who was interested has been involved in some way, whether it be onstage or in the tech booth. The actors range from age 14 to 19. There is no live band, we have backing tracks."
Little Shop of Horrors, both a film and a Broadway musical from the 1980s, is now back on Broadway, said Martz-Oberlander. "It's about an orphan boy taken in and given a job by Mr. Mushnik, a European Jewish immigrant and the owner of a run-down flower shop in the 'bad part of town.'"
Despite the fact that both writers of the musical were Jewish – Howard Ashman (who passed away in 1991) and Alan Menken – Martz-Oberlander said that she and Currie were concerned about the portrayal of certain characters, in particular that of Mr. Mushnik.
"As a cast and individually, we have discussed when it's good to bring out stereotypes and when it's actually really harmful," Martz-Oberlander told the Independent. "For example, the character Mr. Mushnik seems like a two-dimensional, money-hungry shop owner. The character embodies this Jewish stereotype throughout the whole story. My non-Jewish co-director and I have tried our best to approach this thought-provoking comedic piece with the intention of not perpetuating hurtful stereotypes. When producing a show written in a different decade, when values were different, it's so important to come at it from an authentic, respectful and knowledgeable way."
Martz-Oberlander had only praise for the production's venue, the Red Gate Revue Stage. Saying that the cast and creative team were "incredibly lucky to get to rehearse and perform" there, she added, "I think a place like the Revue is vital at a time in Vancouver where things are less and less affordable – to have arts spaces and small theatres like the Revue is very important."
As for Little Shop of Horrors, Martz-Oberlander said, "I think it's a great opportunity to come out and support local youth-directed theatre and watch a fantastic show! This show is really a one-of-a-kind, hilarious science fiction musical that will have you humming tunes for weeks after."
Tickets to Little Shop of Horrors ($5-$15) can be purchased at the door or online from brownpapertickets.com/event/4481952.