"Curiosity," photo by Liron Gertsman.
One of the most important issues we should be grappling with nowadays is the preservation of our habitat. At the forefront of the nature preservation movement are photographers and one of them is Liron Gertsman, a young, award-winning local nature photographer whose solo show, Essence of Earth, is at the Zack Gallery until Sept. 22.
The show is sponsored by Esther Chetner.
"Eldad Goldfarb, executive director of the Jewish Community Centre of Greater Vancouver, approached me about this upcoming sponsorship opportunity, aware of my own concern about climate change and my passion for photography," Chetner told the Independent. "Though I've traipsed parts of the globe enjoying the wonders that photo details can deliver, I'm not at all technically trained nor technologically nimble…. I recognize the remarkable quality of Liron's images, and see value in making his work accessible to others."
Calling Gertsman a "rising star," Chetner said, "Encouraging this type of exquisite work is another way to help people appreciate our natural world more deeply and then, hopefully, to work toward preserving such essential global health and diversity. The more we see and appreciate about our natural environment, the more we will all be inclined to proactively protect it.
"Jewish values are quite aligned with environmental stewardship, and so having Liron's work displayed at the JCC seems like an appropriate fit."
Part of the proceeds of the exhibit will benefit the gallery, and another part will go to the Nature Trust of British Columbia.
"There are several charities concerned with nature preservation in B.C.," Gertsman said, "but I like the Nature Trust because they purchase land specifically to build and maintain a treasury of wild areas."
The 19-year-old photographer is passionate about preservation. (See jewishindependent.ca/tikkun-olam-through-photos.)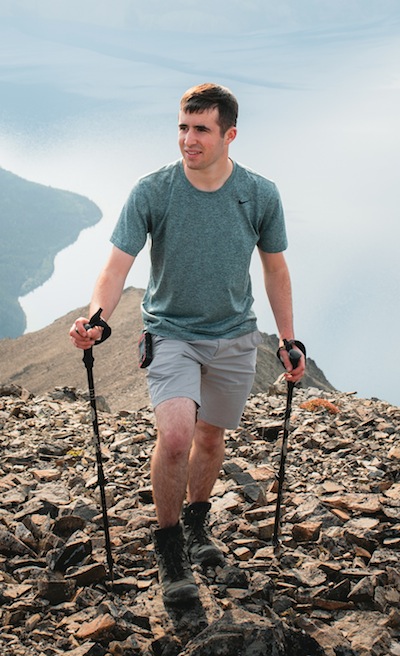 "I've loved nature and taking photographs all my life," he told the Independent. "Recently, I started moving toward doing it professionally, like giving photography workshops or guiding people on their bird-watching expeditions."
His photographs are like a guided tour. "I want people to witness nature," he said. "I want to share with them what I see, even if they can't travel themselves."
To cover some of his costs, he has, at times, formed partnerships with companies and organizations.
"I choose companies focused on nature conservation," he explained. "They would subsidize some aspects of my trip, or sometimes an entire trip, in exchange for photo use and social media marketing, usually through my Instagram account, which has close to 50,000 followers."
For instance, in May and August of this year, Gertsman partnered with Ocean Outfitters, an ecotourism company based in Tofino.
"They are Tofino's first carbon-neutral ecotourism company, and they have committed to donating $200,000 a year for multiple years towards restoration of the Tranquil Watershed," he said.
Gertsman's photos at the Zack Gallery are full of life and colour. His birds seem to soar through the gallery space. His landscapes are like windows, looking out into the British Columbia wilderness. Stars twinkle in the night sky. Pink crags reflect in the still surface of the lake. Waterfall gurgles across the boulders. Owls hide in the grass, and gulls skim over the rippling wavelets. But the beauty and serenity of his images filled me with apprehension. Could we lose all of this gorgeousness? The night after I visited his show, I had a dream, and Gertsman's imagery figured heavily in my dreamscape.
* * *
"What is it, Grandpa?" a girl asked.
"A picture archive," the old man replied.
"But it's not a memory crystal."
"No, it's from the 21st century, an antique. Two hundred years old," he said, inserting an outmoded device into a slot of his com-link and opening the files. Hundreds of pictures appeared on his screen. Nature, when it flourished.
"Oh," his granddaughter said with interest. "What are those?"
"Birds," he whispered reverently. In the image, hundreds of small dark bodies hurtle across the peachy sky, their wings pumping so rapidly, the image blurred.
"Like a hologram in a museum?"
"Yes. Only they were alive. Flying."
"But why is the wall pink? Why would they paint it pink?"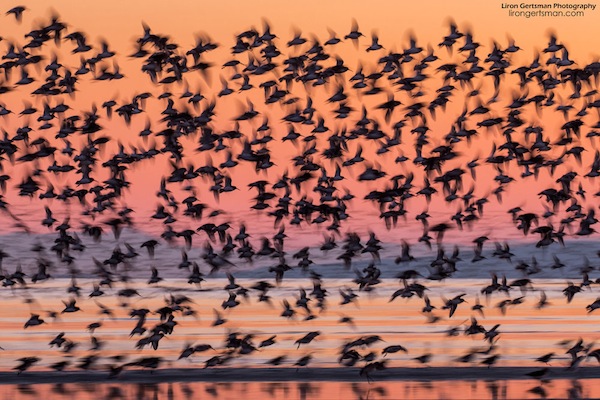 The old man glanced at the wall of the cave that housed the archives. Nobody lived on the surface of the earth anymore. Nobody could survive the toxic environment. People inhabited underground caverns such as this one and, mostly, they didn't bother painting the walls. There were few resources anymore.
"It's not a wall, it's the sky," he said. He had been very young when the last of humanity had moved underground, but he still remembered the sky. Scientists said that, in a few more generations, they could live outside again, but he wasn't sure his granddaughter would last that long. He certainly wouldn't.
"Our teacher said the sky should be blue," the girl insisted.
"The sky could be any colour. This is probably sunset."
"What is sunset?" She had never seen the sun.
He sighed, but, before he could explain, her gaze had skipped to another image.
"It looks like a fountain," she marveled, "but what are these green blobs?"
The old man winced. "Trees. Bushes. It's not a fountain. It's a waterfall."
Her finger zeroed in on another image. "I know," she said triumphantly. "These are dogs. Strange dogs, though."
"These are not dogs. These are bears. The mother bear is…." He contemplated the animals on the screen, trying to remember his own textbooks. He had never seen a living bear either. "I think she is as big as I am," he said at last. "Maybe bigger. And the little bears are probably your size."
"So huge?" She eyed him with doubt. "They lived outside, too?"
He nodded.
"I don't think I'd like it outside," she said. "Everything is different. I like it better here." She climbed off her chair and started to leave. "We have everything here." She went out into the corridor. "I think it's all fairy tales anyway," she called back.
The old man remained still, staring at the closed door with sadness.
* * *
Essence of Earth opened at the Zack Gallery. To see more of Gertsman's work, visit lirongertsman.com or instagram.com/liron_gertsman_photography.
Olga Livshin is a Vancouver freelance writer. She can be reached at [email protected].