The Mercy Journals is a new novel by Claudia Casper, author of The Reconstruction and The Continuation of Love by Other Means. In it, she creates a compelling post-climate change West Coast, where nations no longer exist. Her hero, Allen Levy Quincy, lives in Seattle, now called Canton #3, Administrative Department of Cascadia, and the novel consists of the journals he writes in a desperate attempt to evade suicidal urges, brought on by post-traumatic stress disorder. In this layered, hopeful post-apocalyptic novel, Casper looks at the future through the story of Cain and Abel. In fact, one of the early titles for the novel was The Last Murder, as a bracket to the story of that first murder.
Jewish Independent: The novel takes place in the (near) future in a climate-changed world. Is it a dystopian novel, science fiction or eco-fiction? How would you describe it?
Claudia Casper: Genre-bending fiction was being written well before the advent of ebooks, Amazon and the internet's stretching of the forms of fiction, but I would say there are a number of writers who pay less mind to the dictates of genre and simply go wherever the story takes them. One example would be The Yiddish Policeman's Union. [Michael] Chabon combines detective noir with fantasy or alternative history to create a miraculous new, possibly one-of-a-kind thing.
Science fiction readers have proven a generous and open-minded community and seem to have embraced the new raft of novels whose driving force is the environment and climate change. Margaret Atwood's Oryx and Crake trilogy, Cormac McCarthy's The Road, Hilary St. John Mandel's Station Eleven – all are "literary" (I use the air quotes not to comment on these novels' literariness, but because "literary fiction" is an over-precious, stifling term for a genre) novels written in the future, with only Atwood using some of the classic tropes of science fiction. This kind of writing, trying to find a place in the speed-of-light marketing world, calls itself variously eco-fiction, cli-fi, post-apocalyptic, dystopian, speculative fiction, each sub-genre carrying its own nuance. I would place The Mercy Journals in all these categories except dystopian, as the government imagined in 2047 is actually pretty good.
JI: While the book does not explicitly make reference to Judaism, there are parallels between the story of Allen Quincy and Leo (Quincy's brother) and the biblical tale of Cain and Abel.
CC: I read the story of Cain and Abel closely, using the Jewish Publication Society of America translation, and studied the midrash on the text. The language is so rich and layered, from "Am I my brother's keeper?" to "You shall be more cursed than the ground, which opened its mouth to receive your brother's blood from your hand." The story in the Torah is short but its power resonates throughout our literature and our culture.
In The Mercy Journals, I sewed in references to Cain and Abel throughout the text. At one point, when Leo, the long-lost, nihilistic brother of my main character, Allen Quincy, returns, Allen says wryly, "I suppose that means I have to keep you?" The earth drinking blood, also an image I use at least twice. The final scene, which I cannot give away, reenacts Cain going out to the field.
What I wanted to do in this novel was bookend the Cain and Abel story with a metaphorical last murder, as opposed to the first murder, to write the murder of Cain by Abel, a closing of the circle. Of course, I could not believably write about a time when humans completely stop murdering each other, but I do carry the narrative of our species to a possible turning point, where we turn away from murder and its practise becomes truly taboo and despised in every context.
JI: When Quincy, a soldier, is ordered by his superiors to do something against his own moral code, he obeys, though reluctantly, and with some subversive evasions. Although genetics and environment affect who we may become, Judaism teaches us that we have free will and can choose to do right or wrong. Quincy suffers from PTSD partly because of the unresolvable internal conflict following those orders causes in him. What influenced you to make your main character an individual suffering from PTSD? How do we reconcile liking him with the fact that he is complicit in two of humanity's worst sins?
CC: After the genocide in Rwanda and post-9/11, I felt deeply uneasy at the rhetoric used by the media and by politicians, in which it was implied that only "those" people, "those" cultures – read Africa, Cambodia, Germany, the Arabs – commit atrocities. First Nations people must have read those articles with a deep sense of irony. Because the lens through which I look at the world is always informed by evolution, I believe that genocidal behavior, for example, is a part of our species. It has been documented in chimpanzees and any behavior that exists both in living primates and ourselves is behavior that was very likely present in our ancestors.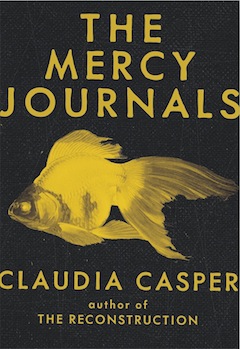 There's a kind of implied self-righteousness and superiority in that kind of distancing rhetoric that seeks to separate us from the behavior of the "bad" cultures. I felt very deeply that, if we are to have any hope of truly limiting atrocities within our species, we have to accept that they are part of who we are. Part of the reason The Mercy Journals was set in the future in the first place was because I wanted to write about a genocide that hadn't happened yet, and that happened in North America, that was committed by "our" culture, "our" team.
Allen Quincy is a good man, a decent man, even though he's haunted by the sins – and he counts them as sins – he has committed in the past. His brother Leo, the Cain figure, also is pushed towards sin, and there is even a scene where Leo literally crouches at Allen's door and Allen writes wryly in his journal, "Salvation comes in many forms." The novel really is about whether Allen Quincy, standing in for our species, has the possibility of moving forward, of living a life with his dark legacy.
JI: Quincy carved a covenant on a rock, which seems a very Jewish thing to do. After Cain murdered Abel, God said to him: "… your brother's blood cries out to Me from the earth." As the word used for blood is plural, does this mean that what cries out is not only Abel's blood but all of his descendants that will never be born? Was that what Quincy was saying about murder when he said the murder of one is the murder of all? How does a person atone for murder?
CC: Yes, Rashi says that the plural here indicates also the extinguishment of all Abel's descendants with his murder. Because The Mercy Journals is about the future of our species, compressed in the suspenseful tale of a West Coast, post-apocalyptic, post-climate change tale, I take it one step further. The murder of Abel, the murder of anyone, is expanding the place of murder in our species, is further entrenching its place in our repertoire. Thus, the murder of one is the murder of all. Thinking about climate change shows us again how deeply connected we all are, that we can never really escape each other, we have to find a way to deal with one another, and murder is always a failure. There is no possible atonement for murder in my mind, it is irrevocable, yet still, short of suicide, one must find a way forward. Who is without sin? And whose life exists without the legacy of murder at its very root? God's punishment of Cain seems to acknowledge this.
JI: Quincy's brother Leo was jealous of Quincy as was Cain of Abel. Why did God reject Cain's offering? Why did Leo's parents reject him?
CC: Without being an expert in midrash, I believe one of the main interpretations these days is that Abel, as a shepherd and a man who did not gather possessions, represents a nomadic, hunter-gatherer existence, while Cain, as a farmer who cultivated the fields and, therefore, had property, represents an agrarian one. God's preference for Abel's offering can be understood to be preferring nomadic values over agrarian ones, or the old ways over the new.
That being said, if we interpret God in this story as in a parental role, the choosing of favorites is always destabilizing to family unity, creating deep wounds and lasting resentments. From an evolutionary perspective – so, viewing our behavior with the understanding it arose in a pre-birth control context – such favoritism can result in a life and death situation for an individual. We are living in a time of relative wealth, but it wasn't long ago when a family could easily have eight or nine children and be faced with drought or famine. The favored child would thus be the one who received a little more food, a little more medicine, the one who would be picked, even if unconsciously, to be prioritized to survive. Studies of mothering behavior in human evolution bear this scenario out.
When I reread the story of Cain and Abel eight years ago as I was beginning this novel, I felt sympathy for Cain, and felt that God was shirking responsibility a bit. Why can't God see Cain's pain? Surely telling the less-favored child to not worry about the advantages their sibling is getting and take their own good behavior as its own reward, doesn't pass muster in a family. Why doesn't God see Cain murder Abel? Why doesn't God punish Cain with death? Why does God decide, when Cain cries out that he will surely be killed by strangers if he's banished, to put his divine mark on him to protect him from death? Is there an implicit acceptance of the fact of murder in this story? And, if so, I wanted to imagine forward to a time when God would find murder utterly unacceptable, as taboo as incest, for example. In our society, murder is still seen as inevitable between human beings in certain circumstances; in wartime, it's accepted. What would the world be like if humans were starting to evolve past murder, past genocide? Those seeds are at the core of The Mercy Journals.
Barbara Buchanan, QC, is a Vancouver lawyer who provides practice advice to other lawyers. She and Claudia Casper are longtime friends who are in the same book club. Buchanan recently attended the Los Angeles launch of The Mercy Journals with Casper, who was introduced by actress Jamie Lee Curtis, a big fan of the book.