Judith Joseph (photo by Olga Livshin)
The current exhibit at the Zack Gallery, Tales of Light and Dark, features two artists from opposite sides of the continent. Alina Smolyansky is a local artist; Judith Joseph lives and works in Chicago. Their paintings hang side by side on the gallery walls as if they belong together. Their similar small size, bright color and propensity to tell stories balance the differences in technique and visual effects, as well as the two artists' distinct creative auras.
Both artists explore Judaic themes. In the case of Joseph, her paintings relate her family's history through the medium of Jewish symbolism. Almost every piece of hers includes birds as their most important element. Peacocks, firebirds and owls populate Joseph's work.
"I love birds because they can fly. I wish I could fly," Joseph said in an interview with the Independent. "A bird stands in for a person but it doesn't have age or gender, it isn't poor or rich. It represents everyone."
In a way, in her art, she does fly, free of the restrictions of reality. Using the bird metaphor and the mysticism of the Torah, she spins tales of courage and suffering. Several of her paintings are dedicated to her grandmother who came to America from Ukraine after the First World War. In one image, a girl travels across the ocean on a menorah. Her vessel is wobbly, but she hangs stubbornly for her life, and the menorah glows with triumphant light, illuminating pain and sorrow but also victories and achievements.
Many pieces incorporate metal-foil embossing into the paintings. The process used for the embellishment is called repoussé. "I learned repoussé in high school," Joseph recalled. "I like working with metal." Her owls' feathers and floral borders of her paintings glint with intricate copper patterns, infusing the pictures with a sophisticated and funky ambience.
Her paintings always start with an emotion and an idea, she said. "I always have a sketch book with me and, whenever an idea appears, I make a sketch. Most paintings in this show come from my sketches practically unchanged. I know that if the emotion that inspired it is genuine, unfiltered, then people respond to it."
Like any art show, this one only highlights a small segment of the artist's output. The majority of her art is beyond the scope of the show. "I paint ketubahs," she said. "Most of my commissions are ketubahs. I started making them in high school and still love them. By now, I have done hundreds of them. Recently, I also do digital ketubahs. I would paint by hand, then have the image photographed professionally, and then play with it on the computer: add calligraphy, change colors, customize. I had to learn new software to do that, and my skills are still limited, but I'm learning."
The courage to combine old materials, ancient art form and new computer skills is what makes Joseph a 21st-century artist. The same modern streak also made her collaborate with an online seller of ketubahs, the Canadian company ketubah.com. "Three of their bestsellers are mine," she said with a smile.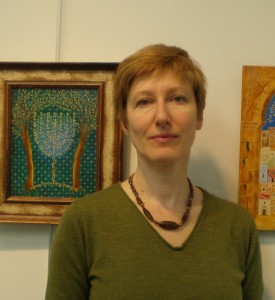 She works predominantly in egg tempera, the type of paint that was exclusively used until about 1500, when it was largely replaced by oil paints. Few artists still use egg tempera, but its brightness attracted not only Joseph but also her partner in this show, Smolyansky.
The credit for bringing them together belongs to the gallery director, Linda Lando. "I put them together because I thought that their work has a similar sensibility," Lando said. The artists didn't know each other before the show.
Unlike Joseph with her art degree, Smolyansky arrived at this point in her life by a vastly different route. She started her professional life as an engineer in Kiev. Like many Jews during the Perestroika era, she immigrated to Israel and, after four years there, she came to Canada in 1995. She kept working as an engineer, but wasn't satisfied with her professional life. She felt the need for a change.
"I was searching for myself," she explained. "I've been a dreamer all my life. I liked making up and writing stories and painting watercolors. When I was a child, I attended an art school. I always liked learning, always was an A student. If I could, I would be a permanent student," she admitted.
To satisfy her craving for knowledge, she studied writing at Douglas College, and then enrolled in the professional communications program at Royal Roads University. She was thinking of a technical writing career, but felt she couldn't settle.
At about the same time, around 2006, she began studying yoga, and discovered a spiritual path. "I'm not religious," she said, "but I need to form my own connection to the Creator. I need to understand where we are coming from and where we are going."
She quit her engineering position and spent some time in Thailand at a yoga school, but an unknown force was still pushing her towards a different goal.
"I was on Granville Island," she recalled. "It was 2008, and I was looking for some classes to take when I saw this ad for an icon painting class. It was absolutely unexpected. I didn't know anything about icons, but it seemed I was driven to this class. I took it and I was good from the beginning."
The class introduced her to egg tempera and to icon paintings, both Eastern Orthodox and Roman Catholic. "I was fascinated by egg tempera. I haven't painted watercolors since."
She stayed with her icon teacher for three years, until he moved out of the city. She still paints icons on commission and she teaches icon painting, occupying a small but exclusive artistic niche in Vancouver. But she didn't abandon her quest for knowledge. In search of more spiritual learning, she began her studies with Bnei Baruch Kabbalah Research and Education Institute, based in Israel.
The mysticism of kabbalah appeals to her. "My art in this show is influenced by my kabbalah studies, especially the … Zohar," she said. Her Tree of Life gladdens the eyes, her old scholar contemplates the Jewish destiny and her menorah shines for all.
The exhibition continues until May 16. To learn more about the artists, visit judithjosephstudio.com and lettherebelightart.com.
Olga Livshin is a Vancouver freelance writer. She can be reached at [email protected].