Gallim Dance (photo from Gallim Dance)
Tickets are now on sale for the 16th annual Chutzpah! Lisa Nemetz International Jewish Performing Arts Festival. The 2016 festival will run from Feb. 18 to March 13, and it will once again showcase theatre, comedy, music and dance performances and workshops by international, Canadian and local artists.
The Chutzpah! Festival's Dance Series includes Canadian and North American premières from Italy's Spellbound Contemporary Ballet; Israeli dance company Maria Kong performing their much-lauded Open Source; and New York-based Gallim Dance in their repertory work Wonderland by choreographer Andrea Miller, which Dance Magazine praised as "Gutsy. Wild. Smart. Original." New to the international scene, New York City's all-male company MADBOOTS appears in a double bill with a world première from Chutzpah's resident dance company, Shay Kuebler Radical System Art; and Ballet Kelowna presents works by artistic director Simone Orlando, James Kudelka, Heather Myers and John Alleyne, with Toronto's Continuum Contemporary Music accompanying (Chutzpah!PLUS, May 4-6).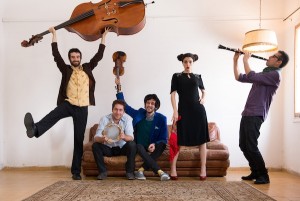 The global landscape of music presented this year showcases performers from Israel, Mexico City, New York City, Canada and Cuba. Highlights include Israel's sister group A-Wa; Juno Award-winners Odessa/Havana; trumpeter and composer David Buchbinder and Grammy-nominated Cuban piano master Hilario Durán joined by a team of jazz and world musicians; Mexico City band Klezmerson; Baladino's interpretations of Sephardi and Ladino melodies, with Mediterranean-Gypsy grooves, electronics, improvisation and vocals; and Israel's Victoria Hanna's ongoing experimentation with the vocal and conceptual boundaries of language, presenting sacred Hebrew texts and spirituals in a modern context, integrating music, spoken word and video. Also on the music roster are Israel/New York jazz artists Rotem Sivan Trio; mandolinist and clarinetist Andy Statman from New York with Jim Whitney (bassist) and Larry Eagle (drummer and percussionist); and Israel's Avishai Cohen Quartet, featuring award-winning trumpeter Avishai Cohen, described by the New York Times as "an extravagantly skilled trumpeter, relaxed and soulful … deftly combining sensitivity and flair." (Chutzpah!PLUS, May 7)
Chutzpah!'s theatre and comedy lineup includes a world première from Israeli-Canadian B.C.-based playwright, performer and lighting designer Itai Erdal in collaboration with Maiko Yamamoto (Theatre Replacement) and Anita Rochon (Chop Theatre). The audience will enter the Jewish Community Centre of Greater Vancouver's Dayson Boardroom for a humorous and moving play, A Very Narrow Bridge, that reveals the complexity of living between cultures and family relationships. Erdal re-lives a trial in order obtain a get (religious divorce). Joining him are local actors Patti Allen, Tom Pickett and Ryan Biel.
The festival also features two separate stand-up comedy performances from New York City comedians Jessica Kirson and Jon Steinberg, a perennial favorite on CBC Radio's Debaters.
New this year, as part of Chutzpah!PLUS (April 2), is a memoir book reading and interview with Jennifer Teege, the bi-racial granddaughter of Nazi commandant Aon Goeth, portrayed by Ralph Fiennes in Schindler's List. In her memoir, My Grandfather Would Have Shot Me (co-written with journalist Nikola Sellmair and newly translated from German), Teege reveals the moment she discovered her ancestry after being given up for adoption, and recounts how this discovery shook her life to the core.
Celebrating its 16th year, Chutzpah!'s artistic and managing director Mary-Louise Albert said, "Another great year with world premières by B.C. dance and theatre artists and a focus on the continuation of our established and well-warranted excellent reputation of bringing numerous outstanding international music, dance and comedy to our audiences!"
Chutzpah! performances will take place at Rothstein Theatre, Biltmore Cabaret, the J, Fox Cabaret and Frankie's Italian Kitchen. Single tickets are $21 to $36 and can be purchased online at chutzpahfestival.com, by phone at the Chutzpah! box office (604-257-5145) or Tickets Tonight (604-684-2787). Chutzi Packs are also available: see four different shows of your choice for $89.