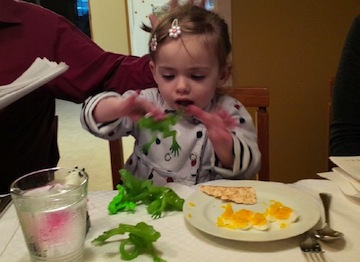 While based on the above photo of my niece Fae at a seder several years ago, the cover art is inspired by all my nieces and nephews: Hannah, 24, Zac, almost 22, Caleb, 17, Fae, 6, and Charlotte, 4. I may not get to as many family seders as I would like, with all of my immediate family living in Ontario, but this photo is just one of many that has adorned my fridge over the years I've lived "out here," and there have been many visits, as well as Skype and phone calls, so I've been able to get to know the wonderful people they are, despite the physical distance, and am so proud to be one of their aunts. I am confident that they will contribute, each in their own way, to helping make this a world in which, eventually, everyone has the love and opportunities our family has had.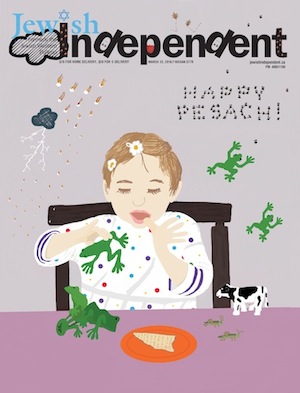 To create the cover illustration, I scanned a pencil sketch I made from looking at the photo. I emailed the scan to myself so that I could use the app Paper 53 on my iPad to do most of the "painting," including nine of the 10 plagues. Jewish Independent production manager Josie Tonio McCarthy helped me symbolize the death of the firstborn sons in QuarkXPress – trust me, no letter d's were harmed in the making of this cover! Josie also refreshed my memory of how to use some aspects of Photoshop, which is where I brought everything together, with the odd embellishment or two, or three.
With wishes from all of us here at the JI for a Pesach sameach.