The art of Jesse Rubin, above, and Suzy Birstein will be among the work displayed at the summer exhibit of the Sculptors' Society. (photo courtesy of Jesse Rubin)
From larger than life to the minute details of life, the artwork that will be on display at the 38th annual summer exhibit of the Sculptors' Society of British Columbia will engage viewers with multiple aspects of life – and a lot of remarkable art.
The exhibition, which opens July 31 at VanDusen Botanical Garden, features more than 15 artists, including Jewish community members Suzy Birstein and Jesse Rubin. Looking at the difference in style and material of these two artists alone gives an idea of what diverse interest the exhibit will hold. And, as noted in the promotional material, "In some cases, this exhibition is one of the few chances you will have to see [sculptors'] work here in their home province."
Birstein says in her artist statement for the exhibit, "As a child, I studied dance, Hollywood musicals, film noire and Rembrandt. As an adult, I've been seduced by the sensuality, spontaneity and intellectual activity of working with clay and color, and the essence of romance.
"I see my imagery as a marriage of my childhood and adult influences. The figure dominates my work as I endeavor to create archetypal icons … overlaid with the spirit of song and dance. I long to merge the power of Nefertiti with the spirit of Carmen Miranda."
The magnitude of Birstein's scope is evident in her colorful, playful sculptures that engender a larger-than-life feeling, even if they are "regular" size. Meanwhile,
Rubin operates at the other end of the spectrum, making detailed miniatures that, while also fun, are highly realistic. A self-taught artist who began sculpting 19 years ago, Rubin writes in his statement, "I try to express the inner emotion of each piece, and hopefully the viewer will get a feel for what the person or creature might actually be like."
Nefertiti meets Miranda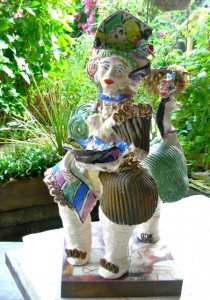 While Birstein's name will be familiar to many JI readers, the last interview the paper carried with her was in 2008  (though she wrote about her Mia Muse workshops in 2013). Since then, Birstein told the Independent, she has created the Tap to the Muse exhibition of life-size Muses, a film that features her dancing and her sculptures, as well as "Motion Pitchers" for the Academy Awards' 'Everyone Wins at the Oscars' gift bags.
"During the summer of 2008, film again serendipitously influenced my life," she said. "I saw Mama Mia, and it took me back to my early 20s, living in Greece. After crying my way through the film with nostalgia for Greece, I was determined to go to that island."
The island was Skopelos and, as it happens, Birstein had been forwarded website information for an art centre there. "I wrote to the two American women who founded the centre and the Mia Muse biannual workshops were created. I have been there three times since 2009 and can't wait to return August/September 2015!" she said.
With each trip to Skopelos comes "European art adventure – Turkey, France and Spain – with new artistic influences," said Birstein. "After France, I fell in love with painting – spent two years teaching myself to paint with oils, creating portraits of my Muses.
"After Spain in 2013, I was inspired by Velázquez's 'Las Meninas' painting. Although not in Madrid to experience the original, the influence of 'Las Meninas' was all over Spain – at the Museu Picasso in Barcelona, in tourist art, contemporary art. My new sculptures are inspired by 'Las Meninas' but, as with all my art, there is never any one influence.
"India is the other place and culture that greatly fascinates me," she added. "I am planning to create art during an artist residency in India and to explore the giant terracotta horses of Tamil Nadu. I have just begun a series of sculptures and paintings fusing these elements together."
When asked about her desire to merge Nefertiti and Miranda, Birstein explained, "All my work is interplay of ancient and contemporary world cultures," adding that she is "particularly fascinated with the concept of goddesses and cultural icons from Ancient Egypt to contemporary film.
"Queen Nefertiti symbolizes tradition, beauty, power, grace.
Carmen Miranda, wild, elaborate, ornate, fun, song 'n' dance and with the hint of tragedy from personal life. The notion of transcending tragedy with absolute abandon to the joy of creativity, collaboration, performance and costume" is what draws her to both Nefertiti and Miranda.
"For me," said Birstein, "life as art is one – my work, person, home, garden, teaching. I am mentored by art spirits and, through this, mentor my students."
Birstein's recent work includes 15 sculptures that will be given out as awards by the B.C. Tap Dance Society. "I have always loved tap and been inspired by Hollywood musicals – Fred Astaire, Gene Kelly," she explained. "I went to the Tap Dance Festival 12 years ago created by VTDS and was hooked!"
She has been dancing with Vancouver Tap Dance Society ever since and is now part of Heart and Soul, their adult company.
"VTDS creates an amazing tap festival annually, on Labor Day Weekend, and this year they are having a silent auction on Aug. 28, giving 15 awards – five to tap artists, five to volunteers, five to patrons. They wanted to present meaningful/personalized awards from someone within their community and thought of me, especially because I also did this for the Academy Awards in 2008. I am creating very funky, colorful ceramic shoes."
For Mia Muse 2015, Birstein will "have the opportunity to teach children in Skopelos at their film festival, SIFFY, followed by the Mia Muse ceramics workshop for adults. It is fabulous," she said, to be able to "combine film/travel/art with mentoring children and adults."
Molding his own reality
Born in Montreal, Rubin was five years old when he moved with his family to Vancouver in 1974. Here, they "opened the first bakery to sell bagels in Vancouver, the Bagel King, and, later, the Montreal Bagel Factory in Kitsilano."
In an interview with the Independent, Rubin shared a bit about his journey to becoming an artist.
"As a kid, I enjoyed drawing, but, by the age of 13, I began playing the guitar. Music has always been a huge passion," he said.
"I began sculpting on a whim when I was 26. I bought a pound of clay and made some whimsical cartoonish characters like goofy frogs. After a few months of getting used to working with clay in that manner, I began to sculpt parts of the human body as realistically as I could. The learning curve was fun, painful and, at times, slow. It took a few years to get the fundamentals down and, in retrospect, I could have benefited from some proper instruction. Years later, when I wanted to learn how to make silicone molds in order to reproduce my work, I turned to instructional DVDs for help.
"As far as the scale I work in," he continued, "my father was a jeweler, so maybe it's in the genes. I do know that I'm attracted to small-scale realistic sculpture. I like the idea of condensing all that visual information into a small space."
Many different influences and approaches combine to form Rubin's final creations. "First, I sculpt my piece out of Sculpey," he explained. "It stays malleable until you bake it in the oven. (My wife does a little blessing before I bake each piece because it's so fragile and, once it's in the oven, it can twist, crack and, occasionally, develop small surface bubbles.) So, once I have my baked Sculpey model, I then use it to make a silicone mold. When I have the silicone mold, I reproduce the sculpture in resin. From there, I go on to the painting."
Rubin's art can be seen at deviantart.com, which is a communal website for artists: search for jesserubin. Birstein's website is suzybirstein.com. For more information about the Sculptors' Society or the exhibit, visit ssbc.ca or email [email protected]. The exhibit opens July 31, 5:30-7:30 p.m., and runs Aug. 1-4, 9 a.m.-9 p.m., at VanDusen. (Garden admission or membership is required.)