Gary and Nanci Segal learn about bees at the Hebrew U Rehovot campus, home of the Robert H. Smith Faculty of Agriculture, Food and Environment. (photo from JNF Pacific Region)
This year, for the first time in Vancouver, Jewish National Fund and Canadian Friends of the Hebrew University of Jerusalem are together hosting the Negev Dinner.
The dinner will pay tribute to businessman and philanthropist Gary Segal, whose "remarkable heritage" is "led first and foremost by a love of humanity, a love of the land of Israel and a deep social commitment and yearning for tikkun olam," said JNF Pacific Region shaliach Ilan Pilo. The event will raise funds for an educational outreach program led by JNF at Hebrew U's Joseph Meyerhoff Youth Centre.
"Gary and [his wife] Nanci wanted to support the JNF and HU and, when this project came up, they simply realized the importance of doing it," Dina Wachtel, executive director of CFHU Western Region, told the Independent. In the program, she explained, "They are taking mainly at-risk youth from the periphery of the country, both geographically and socially, many of whom are kids of immigrants and hard-working citizens, and are offering them a lifetime opportunity … interaction with PhD and graduate students who teach them science and ecological sciences. Basically, these kids are exposed to a world that, for the most part, they are not familiar with and, by exposing them to hands-on lessons in science and allowing them to learn presentation and leadership skills, we are literally transforming their sense of pride and ability to believe in themselves that, yes, they can reach university and that it is not beyond their reach.
"Both Gary and Nanci know that Israel's number one capital is its human resources and, by investing in these kids, they are literally investing in Israel's most precious capital."
Vice-president of Kingswood Capital Corp., Gary Segal's philanthropic endeavors are numerous. Locally, they include – but are not limited to – Ronald McDonald House, VGH & UBC Hospital Foundation, Jewish Community Foundation, Louis Brier Home and Hospital, Kollel, Vancouver Talmud Torah Foundation and St. Paul's Hospital Foundation. Among the work Gary and Nanci Segal (and their family) support is that of Dr. Rick Hodes, medical director of Ethiopia for the American Jewish Joint Distribution Committee.
"It was important to me to support a project that would have a direct impact on underprivileged youth, including the Ethiopian community that I have become involved with over the years; at the same time, it would have to be one that fits the mandates of both organizations," explained Gary Segal about the choice of the JNF-HU project for the proceeds of this year's Negev Dinner.
Seeing the JNF and CFHU projects firsthand
The Segals were in Israel earlier this month on a trip with Pilo and Wachtel. "The two days I just spent in Israel witnessing firsthand the outreach activities of the Joseph Meyerhoff Youth Centre at Hebrew U affirmed the absolute merits of this project and how it aligns perfectly with my stated goal for this dinner," said Segal.
"I witnessed the enthusiastic way in which these young students embraced the wide range of activities, and heard from them directly how much they love being part of it," he added. "These children would not have the opportunity to be exposed to such things through their homes and resource-challenged schools alone. A clearly devoted and emotionally invested teacher that I spoke with recounted how she overcame her own disadvantaged background to become a teacher, and how important it is to her to give these children the understanding and belief that they can aspire to a better life through advanced education. Most of the participating children have parents either in low-level jobs or else unemployed, and many of them come to school hungry so, on her own account, she brings food to school to be able to feed them. In addition to stimulating an interest in science and the environment through this youth centre program, the children go back and do research and make a presentation to the student body and parents, as well. The teacher explained how this develops public speaking and leadership skills and instils in them a new sense of self-confidence. At the same time, for the parents, it leads to a sense of pride in their children."
The trip to Israel "was a mixture of viewing projects, gaining perspectives on Israel from a variety of people, experiencing the specific science outreach program we are supporting through the upcoming dinner, and having some fun," Segal said.
In Jerusalem, the couple visited Mahane Yehuda, Teddy Park, the Old City and the Western Wall. On erev Shabbat, they had dinner at the home of Rabbi Ehud Bandel, the first Israeli native ordained in the Masorti (Conservative) movement. One evening, they took in a musical comedy show by the Voca People and, another night, Gary Segal dined with two Knesset members from the Yesh Atid party, Ronen Hoffman and Karine Elharrar. "Ronen is head of the Israel/Canada relations committee and has prior experience in various Israeli peace efforts; Karine is involved in disabilities awareness and accessibility," explained Segal.
Sunday was spent touring JNF projects, he continued. They visited a new water bio-filteration pilot system in Kfar Saba, the Biriya Forest ("which sadly suffered a lot of tree-branch destruction from the winter snowstorm") and the Hula Valley bird sanctuary park. "We saw everything in a somewhat different light," he said, "as it was an extremely hazy day due to dust from Africa having spread all the way to Israel."
On Monday, the Segals met with HU president Menahem Ben-Sasson on the Mount Scopus campus before heading to HU's Safra Givat Ram campus to meet with Joseph Meyerhoff Youth Centre administrators and get an overview of the program they are sponsoring.
"Interacting with these lively and outgoing youth over the course of these two days was most definitely one of the highlights of the trip for me and Nanci, and my ability to converse directly with the kids in Hebrew made it particularly fun and personal for me," said Segal. "In the spirit of my own quest for new experiences as an adult, I did something I never thought I would do – in one of the Monday morning labs, the instructor was talking about the West African python snake wrapped around his neck and, when he went to pass it to me, I actually took it from him and held it while encircled by some curious yet wary girls in the class – my first close-up, hands-on interaction with a snake."
On the way to Tel Aviv, Segal said they stopped at the JNF Canada Park so that he and Nanci could "plant an olive tree and see the commemorative plaque for the grove we planted in 2000 in honor of our daughter Stephanie's bat mitzvah."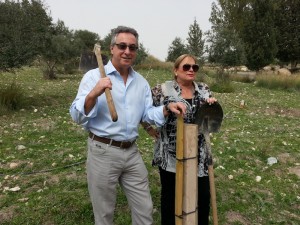 Before checking into their hotel, they met with the new Israeli health minister, Yael German, who, Segal noted, "before national office … was the very successful mayor of Herzliya for 15 years." She gave them over an hour of her time, he said, discussing with them some of the many issues with which the ministry is dealing.
"Tuesday involved a visit to the Hebrew U Rehovot campus, home of the Robert H. Smith Faculty of Agriculture, Food and Environment," said Segal. "We first were introduced to some of their international activities to assist countries to alleviate problems of hunger, disease and poverty through technical training and technology transfer. We heard about some fascinating research projects being undertaken in this regard, and had the opportunity to hear from a half-dozen post-graduate international scholarship students from Africa and Asia who are there to gain knowledge that can be implemented back home."
For the rest of the morning, the Segals tagged along with children visiting from the periphery community of Kiryat Malachi. They saw the mechanical milking process and, said Segal, "another first for me, tasting fresh (sterilized) goat milk. We then moved on to a session learning about live bees and the workings of the hive and honey making. Before leaving the campus, we had lunch in the cafeteria with the children…. It gave me the opportunity to have a very moving and enlightening talk about the outreach program with one of their obviously very dedicated teachers.
"We then departed campus for the last element of our outreach experience – a visit to the periphery community of Kiryat Ekron. The mayor of this community of 11,500 people was very happy to take the time to greet and accompany us at the school, and the proud principal of the school explained to us how she had a vision to bring such a science-outreach program to her school and had searched far and wide and negotiated for about a year to make her vision a reality. We sat in on an entertaining chemistry class being led by the same Hebrew U graduate student we first met the day before in Jerusalem while leading a class there on trees and the environment. As we were leaving the school, I saw the presence of JNF here, too, in an outdoor classroom structure that had been funded by them. Another fond memory from this visit was successfully coaxing a number of young girls to serenade me with one of their favorite Israeli pop songs in Moroccan Arabic."
The next day and a half comprised visits to more JNF activities, "including the Be'er Sheva River Park, the older settlements and newer pioneer settlements near the Gaza borders, and the impressive Sderot high school." The region's mayor explained the "programs available to the students, as well as the challenges of being in such a dangerously exposed area."
Rounding out their 10-day trip, the Segals met JNF world chairman Efi Stenzler, spent time with friends and took a helicopter ride over the country with Wachtel.
A longtime involvement
Segal's connection to JNF and HU extend much further back than this recent visit, of course. "From my Talmud Torah and Camp Hatikvah days," he said, "I grew up with a strong feeling of connection to Israel and an understanding of its importance to the Jewish people. In terms of JNF specifically, though I felt I was already very familiar with the general nature of JNF's activities in Israel through the blue pushke box, Tu b'Shevat, attending Negev dinners and my many discussions over the years with different Vancouver JNF emissaries, I must say that I was very impressed on this trip seeing the breadth and depth of JNF's projects from before statehood through today, and the vast impact they have on the quality of life, security and future prospects of the Israeli people. They touch upon these areas in so many different ways.
"Regarding Hebrew U," he continued, "I can honestly say that my decision to attend Hebrew U in 1971/72 for my second year of university studies played a pivotal role in developing many of my life interests and activities…. That was a very exciting and stimulating year and a half, from the first few months on kibbutz through the end of the school year in Israel, then followed by three months of adventure travel with my good buddy Ben Goldberg in East Africa, including being in Uganda during Idi Amin's reign of terror. This opened up a whole new desire to learn about the developing world, leading to my post-BA year of travel across Asia and the Middle East in 1974/75. You could say, in a way, this all sowed the seeds for my current philanthropic work in Ethiopia and my interest in the Ethiopian community in Israel."
The 2014 Negev Dinner takes place on Sunday, April 6, at the Four Seasons Hotel in Vancouver, starting at 5:30 p.m. For tickets and more information, call 604-257-5155 or e-mail [email protected].