The Vancouver Israeli Technology Club team on Oct. 7 with event speakers, left to right: Ronen Tanne (VIT), Prof. Ran Goldman, Ido Sarig, Eran Elizur (VIT), Consul General D.J. Schneeweiss, Yaron Bazaz (VIT) and Rod Zehavi. (photo by Rinat Lanciano)
At the University of British Columbia Robson Square Theatre on Oct. 7, the Vancouver Israeli Technology Club (VIT) held their sixth event.
VIT was started in December 2013 by local entrepreneurs Ronen Tanne, Yaron Bazaz and Eran Elizur, who all have moved from Israel to Vancouver. Tanne is now mostly interested in cybersecurity and is co-founder of a startup company in Israel that is developing a security platform focused on the Internet of Things (IoT). Bazaz has started several companies related to social media, his most recent startup being Downtown, a mobile app that has been named the "Waze for Pedestrian Traffic." Elizur has gained a wealth of experience in commercializing technology for large organizations, such as Creo, as well as starting his own company, KaleidoFlex, which was sold to an Asian display manufacturer a few years ago.
VIT's mission is to create an ecosystem for Israeli and Jewish technology entrepreneurs, professionals and investors in British Columbia to meet, exchange ideas and collaborate with the general tech and investment communities in the region. Now numbering more than 450 registered members, the nonprofit society is completely funded by sponsorships, which cover the cost of running events.
The recent event attracted more than 200 people. It was sponsored by the Centre for Israel and Jewish Affairs, the Jewish Federation of Greater Vancouver, McKesson Corp., Second City Real Estate, Navigate Surgical and Kodak.
After networking and refreshments, VIT welcomed D.J. Schneeweiss, consul general of Israel in Toronto and Western Canada, as the opening speaker. Schneeweiss spoke about the importance for Israel to maintain its relationship with the "Israeli diaspora" and commended VIT on its work and growth.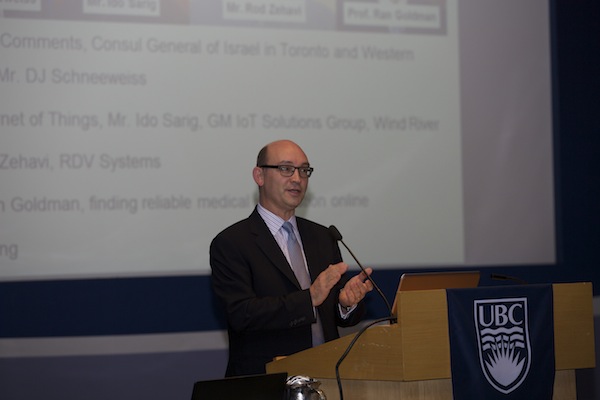 The keynote speaker was Ido Sarig, general manager of the IoT division in Wind River, an Intel subsidiary. Sarig, who was invited from Silicon Valley to present at the event, spoke about the IoT revolution and how it will transform people's lives – when everyday appliances such as cars, home appliances and other objects ("things") will be connected to the worldwide web. It is predicted that, over the next few years, the IoT revolution will connect more than 50 billion devices to the internet, compared to around 10 billion today (mostly mobile devices and smartphones).
Sarig spoke about the possibility of connected cars. By communicating with other cars and with their surroundings, cars will be able to drive, navigate and find parking autonomously without a driver. This could reduce congestion on roads and save gas. Furthermore, since connected cars comply with traffic rules better than human drivers and never drive under the influence of alcohol or drugs, this would also make them safer. Several big players, such as Intel, Google, Microsoft and IBM, are already establishing dominance in this field, but Sarig said there are also opportunities for startups and new players to make an impact in this emerging market. He pointed out that, as more "things" become connected, more security concerns will arise, as well as more opportunity for developing predictive analytics and remote diagnostics.
Following Sarig's talk, two local entrepreneurs provided overviews of their companies.
Rod Zehavi, chief executive officer of RDV Systems, spoke about his company's virtualization software, which caters to professionals in the architecture, engineering and construction sectors. It enables them to bring their projects to life by creating video clips of what their final project would look like using professional design files. Zehavi called this a "video game for professionals" since one can navigate in the virtual project and get multiple views of the end result. This could significantly reduce development times and facilitate decision-making. The RDV software has a mobile version, which allowed Zehavi to take event attendees on a virtual tour of a new construction project in Modiin, Israel, using their smartphones.
Finally, Prof. Ran Goldman of UBC and B.C. Children's Hospital spoke about finding and using medical information online. Goldman pointed out that our habit of searching the internet for medical information to self-diagnose has led to a new disease: cyberchondriasis. This is the unfounded escalation of concerns about common symptoms based on reviews of online health searches. Goldman gave examples from his experience in the hospital's emergency room. One story he shared was about a mother whose child had a skin rash, which she thought was an abscess. A friend directed her to a website that recommended a home treatment using heat, and she ended up burning her child by applying a glass full of boiling water to his rash before taking him to the ER. Goldman and his team have developed Med School for Parents, which is an online tool that helps parents of young children find reliable medical information.
After the speakers, program attendees had more opportunity for refreshments and networking. Tanne, Bazaz and Elizur have already begun working on the next event, as well as other plans for VIT's future.