Marissa Cepelinski during the 2014 Run for Water. (photo from Marissa Cepelinski)
Some people spend their entire lives trying to figure out what they want to be when they grow up. Some know when they're just a kid.
At a rather young age, Marissa Cepelinski already knew two key things about herself that would lead her to her current position as co-founder of Capital Core Financial: she loved numbers and she wanted to help people.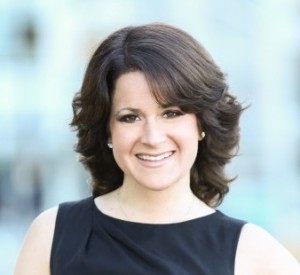 Cepelinski is the daughter of an Israeli computer engineer who spent many hours tutoring her in the art of finances. "He had me tracking all my money in a blue Hilroy notebook when my babysitting career began at 11," she said. "I had to enter all the debits and credits and I loved it.
"I also loved working with people," she added. "So I knew I wanted to somehow pair the two."
After completing her minor in psychology at university, Cepelinski targeted the financial advisor career path, leading to what now has been a 12-year career in the industry.
Doing what she loved was the first step. The second was finding a way to make that career choice satisfy her need to help others.
"I became very clear on what I wanted to build and what we needed more of in the financial world," she explained. "I wanted to work with people on a goals-based approach rather than just working with the money."
After teaming up with Franco Caligiuri on a consultation basis for several years, the two realized their goals aligned, leading them to partner in starting their own boutique firm, Capital Core Financial. Through her work at Capital Core, Cepelinski has engaged in many charitable programs, both as a donor and as a participant. Specifically, she advises many individuals, families and businesses on strategies to help direct more funding toward causes they care about.
"We found that many people simply didn't know or understand how they have the option to choose a cause to donate to rather than 'donating' their money to Canada Revenue Agency (CRA)," she explained. "Being able to present a cheque for $100,000 to a charity … is a feeling I can't even describe."
Cepelinski said that Capital Core Financial has a goal to help redirect at least $1 billion to be donated to the nonprofit sector.
Community building is one of Capital Core's main values. As such, Cepelinski also donates a lot of her time to various causes, highlighted in the past year by her participation in the Run for Water ultra-marathon, the Covenant House Sleep Out to raise awareness and the 24-Hour Famine for a Better Life Foundation. She personally raised more than $22,000 for these charities in 2014.
Earlier this year, she and colleague Alli Warnyca spoke at the Recharge Conference at the Jewish Community Centre of Greater Vancouver. They talked about how people could change their attitudes about money and debt, and feel good about their finances.
As for her typical client base, Cepelinski insisted she doesn't really have one. "We work with people who are committed to their goals, that have values that align with ours," she explained. "People who are wanting to raise the bar in their life and remove their emotional limitations in regards to building wealth.
"I've worked with business owners on corporate planning, young families starting to save to buy a home and struggling artists or actors learning to budget and commit to a plan," she continued. "Many of us walk around with money stories we created at a very young age. We will spend some time discussing those with clients because it's important that people look at the patterns they are running in regards to their money."
To set up a meeting with Cepelinski or any member of her team, contact Capital Core Financial at 604-685-6525 or go to capitalcorefinancial.com.
Kyle Berger is a freelance writer living in Richmond.