My new friends! A mixed group of Arab and Jewish kids playing hockey together in Israel.
I have to admit that it has been tough to concentrate on much these days with everything going on in Israel this month.
The country and people that I love – along with every Jew around the world – has been fighting a war of epic proportions. Both in Gaza and in the media.
As I have struggled to come to terms with the reality of how deeply rooted antisemitism currently is around the world and how gleefully willing many people are to remain ignorant and naive, I consider what I can do to contribute.
Sure, there are rallies and gatherings to attend, letters to be written to MPs, Facebook posts to share, all with hopes of spreading intelligent information and support for Israel. But I feel myself needing something more tangible to contribute to.
Those feelings and thoughts almost always take me to a program – or mission – I have already embraced the past few years I have visited Israel.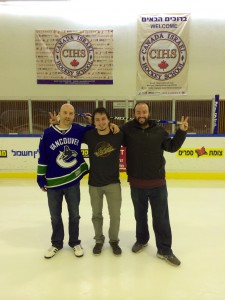 In the very northern tip of Israel, in Etzpah Hagalil – Vancouver's P2G Partnership region, there is the lone full-sized (actually, Olympic-sized) hockey rink at Mercaz Canada (Canada Centre) in Metula. I have visited it the past three years to participate in the Israel Recreational Hockey Association Tournament (amazing event!) along with several local friends.
In 2013, while visiting, an Israeli friend told me about a new, growing program at the Canada Centre called the Canada-Israel Hockey School (CIHS). Merely 3 years old, CIHS already featured approximately 400 Israeli kids of all ages, wearing a mish-mosh of donated gear and Jerseys, learning to play Canada's game.
Just watching these kids had already blown my mind. I was beyond enlightened when Coach Mike Mazeika, a non-Jewish Torontonian who has embraced Israeli culture in more ways than one, informed me that among those skaters was a complete mix of Jewish and Arab children. Hockey had brought Jewish teens who had never once spoken to an Arab teen, and vice-versa, together as teammates. Line mates. Eternal friends. And it was working!
Adding to that, I took a look around the stands and saw the parents of all these children cheering together. Ignoring, at least within this small group, decades of religious and political conflict since Israel had been born.
Hockey, Canada's game, was doing this!
As I watched in awe I declared, "Someone has to document this!" To which Mazeika replied, "Actually, TSN was here a couple of weeks ago." (see link below)
I was invited to come back and skate with the school before leaving Israel – an opportunity I called the coolest thing I had done on the ice. I returned home from that trip with a few new friends (Jewish, Christian and Druze) and a new commitment to use my role as the JCCGV's sports coordinator to develop our community's connection with the Canada-Israel Hockey School.
Team Vancouver returned this past February to an even larger hockey school as founder Levav Weinberg told me of their plans to reach out to even more communities around Israel.
We are currently working with Weinberg on plans to bring a group from CIHS on a Canadian tour with a key stop in Vancouver in the spring of 2015.
In the mean time, I will be returning in February, with whoever wants to join me, to represent Team Vancouver in the tournament (amazing experience as well!) and continue to develop our relationship with CIHS.
If you are hockey inclined and would like to join us to be part of something truly special in such a desperate time, there are always spots on our team!
Here is the link to the TSN documentary Neutral Zone, http://vimeo.com/70459909.
Kyle Berger is a freelance writer and publisher of the Berger With Fries blog.