The "scientizination" of brit milah, circumcision, has had several implications, according to Dr. David Koffman, assistant professor, department of history, York University.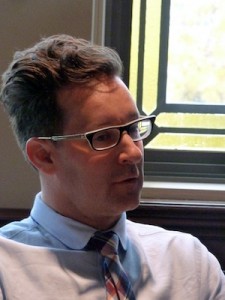 Koffman spoke at the University of Manitoba on Sept 19, hosted by the university's Hillel Winnipeg. He centred his talk around the influence of the interdenominational New York Board of Rabbis, which was founded in 1914 to train and certify mohels. The board centralized, coordinated, promoted and professionalized Jewish circumcisions in New York state throughout the 20th century, he explained. They trained mohels in the newest surgical techniques, methods of asepsis and hygiene, newly developed clamps and devices, provided malpractice insurance and acted as a guild/gatekeeper for Jews entering the profession. By the mid-1960s, the board opened a school to train mohels.
"Its job was to control the narrative, to keep it Jewish in the face of changing norms in America," said Koffman. "By the 1940s, the popularity of circumcision, long seen as Jewish barbarism, began to skyrocket among gentile parents for their newborn sons."
Circumcision changed from being mainly a religious rite to a surgical procedure in the 20th century.
"Secular medicine's enthusiasm for circumcision put Jewish medical men along with many other Jews in a bind," said Koffman. "On one hand, the growth of endorsing opinion by experts about circumcision from a variety of medical subfields offered the most gratifying validation mohels and clergymen could ever hope for. Urologists, surgeons, gynecologists, even psychiatrists, indicated the right vilified by Christians in America no less than elsewhere before the 20th century. Mohels eagerly then sought medical training and certification and proudly fused religious rhetoric about brit milah with newfound medical rhetoric on health advantages.
"On the other hand, medicine's capture of circumcision and its popularity among non-Jews presented an entirely new set of problems for religious Jewish leaders of the non-Muslim world. The penis, concealed in public, but revealed when naked in private, remained a key sign of Jewish difference where it mattered the most, to make more Jewish babies. Perhaps more threatening than the erosion of the boundary between Jews and gentiles was that science itself might strip the fundamental religious meanings…."
With respect to Christianity, Koffman explained, "During the Second Great Awakening, Christians turned to circumcision as the foil to the conversion experience. The reborn, or born again, were circumcised by accepting Christ … they were as un-Jewish as they could get. This was a metaphor of circumcision.
"Keep in mind that Jan. 1st in the Catholic calendar was the Feast of Circumcision, eight days after Jesus' Dec. 25th birth." This is a practice that no longer exists, however, as it was removed by the Church in 1960 and renamed the Solemnity of Mary, he added.
"There was a striking discord between Jesus and his followers that Jesus himself was circumcised," he pointed out. "Most questions had little to do with the Jews…. Where, for example, did Jesus' foreskin go? Was he reunited with it during the rapture?"
Turning to the science, Koffman said, "By the 1920s, circumcision was becoming the mark of high social standing for many, for it indicated that a mother had the ability and means to deliver her baby in a hospital by an attending physician."
In the first two decades of the 20th century, civic planners argued that universal circumcision would help restrict the spread of tuberculosis, syphilis and other venereal diseases. Before this development, said Koffman, circumcision was, for Jews, at its core, "a sign of the holy covenant between God and Israel, as prescribed to Abraham in Genesis 10 … and [of] God's promise to Abraham's descendants.
"In essence, mohels 'scientized' milah but, in doing so, they invited new predicaments for the Jewish body. Embracing medicine achieved many short-term gains. It accrued medical status for mohels, insisting that they were on par with physicians.
"Perhaps most importantly, embracing the science of circumcision [made it possible] for American Jews to make a broad public reckoning of their historic contributions to medicine and science.
"The transformation of circumcision from ritual once exclusive to Semites to a medical procedure available to all also posed a threat to American Judaism because medicine for all its power hollowed milah of its mysteriously potent spiritual power. For the first time in Jewish history, there was a very real possibility of huge numbers of illegitimate milah, circumcisions performed on boys by someone other than a mohel, or at the wrong time, or in the wrong manner. The Jewish penis would grow to be indistinguishable from its non-Jewish counterparts. All this helps explain why the board worked so hard to represent mohels at hospitals, aiming to control its narrative."
The board conducted research in the 1930s and 1940s about hospital-regulated circumcision, which required that mohels be certified. It encouraged public and private hospitals to make circumcisions available and encouraged hospitals to provide space to perform the rite, as well as educational materials to obstetrics and gynecology professionals about the benefits of circumcision.
"Jewish parents were increasingly having their sons circumcised in hospitals, paid for by insurance companies, instead of at home or at synagogue," said Koffman.
"By the 1960s, religious justifications began to give way to the anxieties about the infant's pain," said Koffman. "Mohels, wearing their medical hats, assumed it a given or perhaps an integral part of circumcision." One manual produced in the 1950s, entitled Welcome Home Mother and Son, included no fewer than eight references to pain and anxiety.
The board also supplied a steady stream of support materials to agencies, synagogues and rabbinical associations interested in promoting circumcisions in other states and countries. By the mid-1960s, the board positioned itself not just as a regulator of New York State, but as the custodian of the practice and an advocate of circumcision.
"Milah literature doubled down on the medical benefits, but also emphasized the theological benefits," said Koffman.
"The great scholar Elliot Wolfson called Jewish circumcision 'the cut that binds,'" said Koffman. "It's a severance that connects Jewish boys to their fathers and grandfathers, to Jews across time and borders."
Rebeca Kuropatwa is a Winnipeg freelance writer.