Suzy Birstein amid her work, some of which visitors to her studio will see during the East Side Culture Crawl. (photo by Britt Kwasney)
"I am most looking forward to healthily connecting with fellow artists and art lovers in real time, real space. Art is always more powerful in person," artist Suzy Birstein told the Jewish Independent about the East Side Culture Crawl Visual Arts, Design & Craft Festival, which returns to its traditional format Nov. 17-20. Some 400+ artists will open their studios to the public.
"The sense of community, commitment, excitement, inspiration, appreciation – all that brought me to Parker Street [Studios] and East Side Culture Crawl originally is happening again," she said. "It feels like a renaissance."
"After the two-year pandemic rollercoaster ride, I am thrilled we are back to a 'new normal,'" said Esther Rausenberg, artistic and executive director of the Crawl, as well as a participating artist. "I do say 'new normal,' as we don't have a crystal ball and I can't really speculate how this year's Crawl will play out. Personally, I am excited to get out and see all of the new and amazing art that has been created and to catch up with the artists. It's also a real pleasure for me to meet members of the public as they share their enthusiasm for the event, the art and the connections they will be making with the artists."
Birstein (clay, painting, sculpture) and Rausenberg (photography, Georgia Art Studios) are only two of many Jewish community members who will open their creative space to the public over the four days of the festival, which also features gallery displays, and artist demonstrations and talks. Other community members include, from Parker Street Studios, Shevy Levy (painting), Olga Campbell (clay, mixed media, new media), Mia Weinberg (painting) and penny eisenberg (drawing, painting); from Eastside Atelier, Lauren Morris (mixed media, painting), Ideet Sharon (assemblage, mixed media, painting), Stacy Lederman (mixed media, painting) and Karly Leipsic (mixed media); and, from the Arc, Lynna Goldhar Smith (installation, painting). Overall, festival-goers can explore about 68 buildings and studios in the Eastside Arts District, the area bounded by Columbia Street, 1st Avenue, Victoria Drive and the waterfront.
"This year's event has a distinctly celebratory tone," said Levy. "It is a reunion for Vancouver's established art community, a chance to reconnect, to have meaningful discussions around art, not just with artists, students and educators, but with those who display art, like galleries and art management, and everyone who is excited to work together again."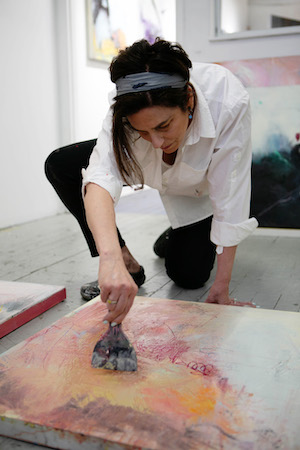 Thinking of the last couple of years, she noted, "What was fascinating about the immediate impact of COVID-19 was the sudden loss of collective connection – both human (face-to-face) and the collective understanding of what the future might bring…. When we were forced to isolate, I appreciated the introduction of art to the digital and virtual world, and how it helped the art world, in many aspects, to find new ways to connect with society. However, now I understand how much I, like so many of my colleagues, urgently need constant interactions with the community – 2022 Crawl is here to fill some gaps."
Goldhar Smith – a multi-disciplinary artist who has spent more than 30 years in theatre performance with painting very much in the background – is excited about the chance to show her visual art to a lot of different people. "I especially love the opportunity to see their responses to the work and engage in lively conversation when it's possible," she said.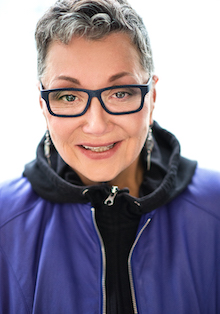 Interested in integrating her visual art practice with her performance practice, Goldhar Smith said, "I have been building installations in my studio to that end and so, among my paintings and prints, visitors will see the beginnings of more conceptual ideas in some of the physical objects and paper sculptures in the studio."
Whether abstract or figurative, Goldhar Smith seeks to express the intangible qualities of human experience in her work. "If I paint a landscape, it is as much an emotional or psychological landscape as a place," she said. "Yet, at the same time, if I paint an urban crow or a heron, it is more an expression of honouring the urban wildlife, and reminding myself that I am in their domain. I hope that makes sense. Whatever I paint, I am like an improvisational actor, responding to the moment, with one brushstroke informing the next. The meaning emerges after the fact. It is not so much I make my art, as my art makes me."
For Goldhar Smith, the pandemic was a dramatic reminder "that we need to behave more responsibly, more cohesively, with more compassion and care for each other – with more understanding of our connection to each other – and to view ourselves as part of nature and part of one planet all together. Yet, we are so divided. If there was ever a time for artists to get focused, this would be it.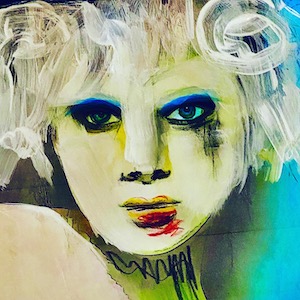 "Artists, and art, have the privilege and responsibility of their voices," she continued. "We need to use our voices to contribute to the global change that is necessary. We need to speak up with courage and make brave art.
"We need to be endowed with the respect that what we do is of great importance and we need to be valued, supported and encouraged because artists bring meaning and perspective and also disruption and confrontation with the status quo. We need to see how our art fits, not so much into the art marketplace, but as a central driver of change that can address the pressing needs of our time."
Levy expressed a similar view.
"So many artists, myself included, produce artwork with an outcome in mind, such as an exhibition or career step," said Levy. "The challenges of the past few years forced me to take the time to reflect on my own art practice, taking it to the next level by exploring new avenues and fresh approaches. I had to remove and free myself from that outcome. I was able to experiment and create work that connects me better to the meaning of being a better human and better artist, as opposed to a 'professional artist' operating within the structures of a commercial art world."
Birstein also used the pandemic period for self-reflection. "The enforced isolation of the pandemic," she said, "gave me the gift of time: time to create, experiment, reflect, all day, every day. This is a first in my art practice and I was very productive."
Birstein created two bodies of work for two solo exhibits in 2021 and 2022.
"Tsipora: A Place to Land was exhibited at the Zack Gallery," she said. "Tsipora is my Hebrew name, meaning Bird. Pre-COVID, the bird symbolized a freedom of spirit while taking flight. With COVID, it was a time to nest, to find a place to land.
"Frida: When I Have Wings to Fly was exhibited at POMOArts. Frida is a continuation of my art historical portraits, Ladies-Not-Waiting, inspired by Velasquez' masterpiece 'Las Meninas.' This series speaks to Frida Kahlo as a symbol of feminine strength and empowerment: a person who transcended tragedy and transformed it into beauty. My sculptures and paintings invite the viewer to converse in intertwined stories of myself, my mother, Frida and other historic figures that embody resourcefulness, resilience and beauty.
"Materially, both bodies of work involved much experimentation with structural techniques, surfacing with fired and cold materials, addition of repurposed objects."
For Levy, the last couple of years allowed her to start a new direction with her abstract work. "Slowly, I developed large-scale canvases that were marked by bold and expressive brushstrokes," she said. "I am excited to share with the public my new collection, A Portrait of a Flower. My work demonstrates the flowers as a source of lines, shapes, negative space, gesture, colour and value, or another source of abstraction."
The pandemic period also gave Levy the chance to explore more remote art communities. "Pre-COVID," she said, "I used to share and exhibit my art within my immediate community. In the last two-plus years, I had more time to develop my social media presence and expertise. As an outcome, 2021 was the best year ever of showing and selling my work."
Birstein also pointed to the technological silver lining of COVID. "With the necessity of communicating virtually while globally isolated," she said, "I see the world of art opening in terms of compassion, imagination, inclusion, respect – all of this so apparent at this year's Venice Bienale, from which I have just returned."
In addition to the open studios Nov. 17-20, the East Side Culture Crawl features a multi-venue, salon-style curated exhibition called NEXT, which "explores the after-effects of living through a pandemic as we long for and ponder about what's next." There are also several other events. For more information, visit culturecrawl.ca.