Ricci Segal, owner of Perfect Bite Catering Co. (photo from Perfect Bite)
The Perfect Bite Catering Co. works out of Vancouver Talmud Torah's kosher kitchen. In addition to providing hearty lunches for VTT students, staff and parents of children who attend the school, the company caters events in the Jewish community. As well, since 2019, the Perfect Bite has been catering to many in the larger Metro Vancouver community, through its online store.
Perfect Bite owner Ricci Segal has always known that she wanted to be a chef. Born in South Africa, her family moved to Canada when she was 6 years old. Segal remembers, as a kid in South Africa, cooking with her mom, who was "a fantastic cook."
In high school, Segal's first restaurant job was at Coco Pazzo, where she assisted the chefs and ran the dishwashing room. She got her first experience in the catering industry when she worked for two years in Arizona for her aunt's kosher catering company. It is there that she got her first taste of the business.
"I learned so much from working with my aunt," said Segal. "She has a staff of 30 and she threw me right into the mix."
She added, noting her gratitude, "By working there, I picked up all I know of catering and it helped me create my business."
Before starting her own company, Segal attended culinary school at Vancouver Community College. While a student at VCC, she was asked to be a support member of Culinary Team Canada. The team competes on behalf of Canada for all culinary competitions, including the IKA Culinary Olympics, which takes place every four years. According to Segal, "it was an amazing experience." The team traveled to Switzerland, Luxembourg, Germany and Chicago to compete and they won several gold medals. Being on Culinary Team Canada allowed Segal "to learn from the best chefs in Canada."
"It definitely molded me into the chef I am today," she said.
Segal did her apprenticeship at three top restaurants in Vancouver: the Pear Tree, the Four Seasons Hotel and Le Crocodile. It was in this period that she really honed her skills. The Four Seasons at that time was the top kosher hotel in Vancouver and Segal was able to be a part of some of the most luxurious kosher events.
In 2010, she parlayed her extensive experience into her own business and established the Perfect Bite Catering Co., while also moonlighting as a chef instructor at VCC.
About her decision to open a kosher catering company, she said, "There was a need for a different style of kosher catering food in Vancouver and it happened naturally from there."
What makes the Perfect Bite unique, Segal said, is that its staff – who were recruited from her stints teaching at VCC or from working with them at various establishments – "are all French-trained chefs who have worked in the best restaurants.
"That is what we bring to the kosher world in Vancouver," she said.
She noted that her company specializes in gourmet food, "so most of our clients are foodies."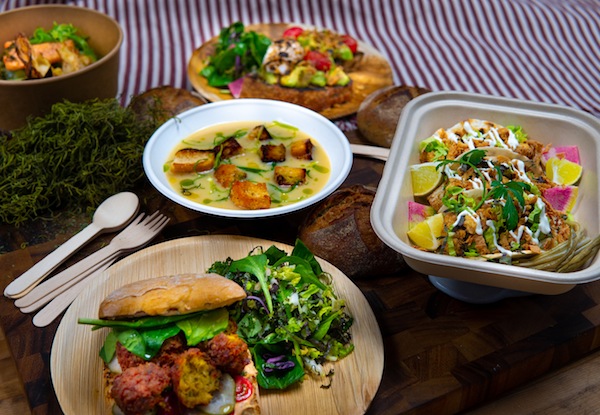 Segal officially moved into Talmud Torah's kitchen in September 2019. Prior to that, she had a retail location on Fraser Street and 28th Avenue, which was not kosher, but she would do her kosher catering for Jewish functions out of Congregation Schara Tzedeck's facilities. When she moved her business to VTT, she made it into a full-service kosher catering company that is supervised under B.C. Kosher.
Like many businesses affected by the pandemic, the Perfect Bite has been forced to adapt to survive. According to Segal, the biggest challenge was the loss of all the events, which made up the majority of the company's business.
"The silver lining is that it has given us time to create an online store, where we sell fresh and frozen foods to help with everybody's busy lives," said Segal. "We have great oven-ready meals and are expanding into some weekly fresh options."
Some of the items available include power bowl salads, sandwiches, lasagna, butter chicken, sweet-and-sour chicken, caramelized onion brisket and Moroccan chickpea stew, to name a handful. A three-course weekend dinner is also available every other week for pick up on Friday at VTT.
"My long-term goals are to continue servicing the Vancouver kosher market with great healthy ready-to-eat meals, as well as doing full-service catering events like bar and bar mitzvahs and weddings once we are able to do so safely," said Segal.
To access the Perfect Bite's online shop, visit theperfectbite.ca.
David J. Litvak is a prairie refugee from the North End of Winnipeg who is a freelance writer, former Voice of Peace and Co-op Radio broadcaster and an "accidental publicist." His articles have been published in the Forward, Globe and Mail and Seattle Post-Intelligencer. His website is cascadiapublicity.com.