From kimchi to cast iron, more than 300 new products were on display at this year's Kosher Fest. (photo by Dave Gordon)
At Kosherfest this year, there were such traditional Jewish staples as gefilte fish, matzot, bagels and cured meats. But cauliflower pizza crusts, organic tequila, vegan cheeses, kimchi and date-seed coffee were among 300 new products on display.
The two-day event in New Jersey was the 31st annual convention. It showed that kosher food does not necessarily hail from countries with large Jewish populations. In the hopes of grabbing a slice of the market, exhibitors came from around the world, including from South Korea, Australia, Italy, Brazil, Mexico and the Netherlands.
From Pakistan, Adnan Pirzada, the general manager of Dewan Sugar Mills, was exhibiting kosher-certified ethanol for companies to use in beverages and mouthwashes. Currently, they export to 30 countries and are seeking U.S. consumers. The certification is new to the 15-year old company, which produces 125,000 litres of ethanol a day.
"We wanted to tell people that there's nothing not kosher that ever comes in contact with what we make," he said, noting that "sometimes, non-kosher ingredients can be in foods and people not know it."
An example of that came from Dakshin Thilina, the director of Nexpo Conversion, makers of kosher dried coconut milk powder and coconut oil in Sri Lanka. Nexpo supplies an Australian ice cream manufacturer and an organic chocolate manufacturer, and hopes to find U.S. distribution.
"There are three big players in Sri Lanka [in the coconut industry] and they all use sodium caseinate, an animal-based product, and that makes it non-kosher," he said. "So, now, with vegan, organic and other aspects that make these popular, we needed to enter the market in a different way. We cut out the sodium caseinate and went with a pure organic powder. Without that component, it's essentially lactose-free – the allergies people suffer from due to milk-based products is out and, because it's non-dairy, kosher Jews can use it anytime, alongside meat."
In Dubai, kosher catering is a one-woman show, and she was at Kosherfest.
Elli Kriel, a South African expat of seven years who lives in Dubai, began her company recently. "I was producing kosher food for our family and people started reaching out to me," she said. "Travelers in particular, moving through the city, needed kosher food. I used to invite them to eat in our home, but I realized, as more and more people began reaching out, I was in a good position to offer kosher catering."
She said Elli's Kosher Kitchen's launch was bolstered by the United Arab Emirates' Year of Tolerance, announced in February, "a government initiative promoting the idea of diversity within the UAE and the tolerance for all religions and races." It was then, she added, that the Jewish community was formally recognized and, "at that moment, I thought it was perfect to step forward." There are about 150 people in the Jewish community, with tourists receiving food each day, she said.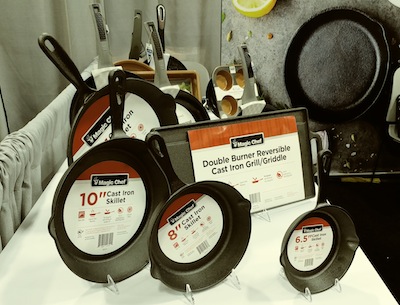 Kosherfest attracted about 6,000 attendees this fall, some 800 more than last year. With 360 exhibitors, roughly 300 products on the floor had been introduced within the last 12 months, said organizers.
A recent Quartz article elaborated that it is "fairly astounding that more than 40% of the country's [United States'] new packaged food and beverage products in 2014 are labeled as being kosher, while it was on only 27% of packaged foods in 2009."
Explanations for this include the public's desire for assurance that a product does not include certain allergens, or traces of allergens, such as shellfish. Or an assurance that a product is vegetarian or vegan, as in the example of Oreo cookies, that once contained lard, prior to the producers' switch to kosher.
Another example of food that contains ingredients that may surprise some consumers is cheese. Most cheeses contain enzymes and rennet (animal-derived), but the Sheese line uses coconut oil, palm oil and other vegan replacements. Hailing from Scotland's Isle of Bute, the "cheese" is lactose-free, vegan, kosher, cholesterol-free and gluten-free, appealing to various dietary needs.
In light of bug infestations in dozens of supermarket vegetables and the challenge of washing them thoroughly so as not to ingest these non-kosher critters, Boston-based Fresh Box Farms came to Kosherfest with a solution. They're growing and selling leafy greens that are hydroponically grown in a triple-sealed environment, using no pesticides, herbicides or fungicides. "It's free of any pests. And we don't wash our product, and the consumer doesn't need to either," said Jacqueline Hynes, senior marketing officer.
An online essay by Star-K, a kosher certification agency in Maryland, noted that some "35 million non-Jewish consumers of kosher products" buy them because of health and food safety concerns, "as a trustworthy means of ensuring that these criteria are being addressed." Food production companies, it says, are increasing their lines of certified products, due to "more general cultural anxiety about industrialization of the food supply."
Menachem Lubinsky, chief executive officer of Lubicom, the organizer of the event, said kosher foods today appeal to a "more health-conscious consumer. Now, it's become almost fashionable to have vegan or gluten-free, so why not kosher? They don't want any customer to be left out."
By 2025, the kosher industry will reach some $25 billion US in sales a year, according to the Jerusalem Post.
Not everything exhibited at Kosherfest was a food product. One company sold kosher cast-iron cookware. Isaac Salem, president of New York-based IKO Imports, said their cookware differentiates itself from other such products, as its non-stick "seasoning" is created with a proprietary plant-derived oil base, rather than the typical animal fat, "which obviously can come from non-kosher sources." He said their cookware holds up against competitors, and appeals to vegans, as well.
Consumers who keep kosher will also be able to enjoy something they've never had before. Promised Land Beverage Company's Exodus Hopped Cider does not contain any leavened products or grains; rather, it has fermented apples and hops, add could double as a kind of beer.
"Now you can have beer at the seder," said Yoni Schwartz, company president, "something unimaginable in the past."
Dave Gordon is a Toronto-based freelance writer whose work has appeared in more than 100 publications around the world.