David Broza has a new album out, and more. (photo from davidbroza.net)
This past spring, Israeli singer-songwriter David Broza, with the support of Temple Emanu-El in New York City, released Tefila, a collection of traditional prayers with new musical compositions by Broza and orchestral arrangements by his musical collaborator, Omer Avital.
Tefila (prayer in Hebrew) incorporates various forms: pop and jazz, gospel, folk and classical. While adhering to the intentions of the prayers themselves, the compositions attempt to recreate and re-imagine the experience of the typical Shabbat service, making it, as the album notes suggest, "contemplative, but also ecstatic and wholly engaging."
The album's release coincided with a monthly Kabbalat Shabbat celebration, Friday Night Hub, at Temple Emanu-El, a Reform synagogue located in Manhattan. Both the music and the event are geared to young professional Jewish adults between the ages of 21 and 39.
In a recent interview with the Independent, Broza explained how the album came about.
"I got a call from the program director of Temple Emanu-El, Gady Levy. He asked me if I would consider writing new music to the prayers of Kabbalat Shabbat," said Broza. "I must admit that I was somewhat reluctant as I am not very familiar with the prayers, although I know them from my father. However, after a few months of quarantine, I opened the file with the prayers and started composing the melodies. It was as if the moment had arrived and what just a few months back I thought I would never be able to accomplish, here I was composing and writing a prayer a day for 14 days. Magical."
With this project, Broza said he ventured into the journey of Kabbalat Shabbat, the receiving of Shabbat, and he fell in love "with the Hebrew scriptures that were written so many generations ago."
"Now," he said, "I have given them a new interpretation from someone who was born and raised in Israel. These prayers were written long before Israel existed, and long before the culture of the Hebrew language became a common language, my mother tongue. My voice and melodies blended the words and delivered the new version of these formidable and emblematic sacred verses."
As for how the musicians came together for the album, Broza said, "I was very lucky to meet Omer, who is an incredibly talented jazz musician, on a New York City sidewalk – literally, by chance. He knew who I was, as he is Israeli, and I love his music. So, I asked him immediately to join me on the challenge of orchestrating the 14 pieces I had just composed. This was my first obstacle and Omer agreed to take it on himself."
The pair started meeting at Avital's studio in Brooklyn. In the process, Avital brought in musicians he performs with – all Israeli jazz musicians living in the area.
"It was so inspiring. We would play the songs, prayers, and I got to hear them interpreted in a very lively and profound way. The whole process took about a year before we were ready to record," Broza said.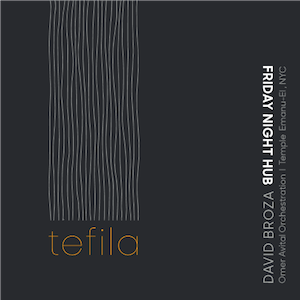 The album features 22 musicians, including string and horn sections, piano, percussion, as well as Broza on guitar and Avital on bass. Also appearing on the album is the 25-piece Moran Choir from Israel, which is conducted by Naomi Faran and with whom Broza has worked many times in his decades-long carrier. While in New York, Broza recruited gospel singers, too, as he wanted to add that fusion to the recording.
At the time Broza spoke with the Independent, he and his fellow musicians had performed the prayers from Tefila twice in front of a live audience at Temple Emanu-El.
"We have had about a thousand people attend each time. It's been amazing. The rabbi of the synagogue, Joshua Davidson, leads the prayer and comes on stage to tell some stories and other comments in a very tasteful way so it is all a very profound experience," Broza said.
An internationally recognized musician, Broza's oeuvre includes songs in Hebrew, Spanish and English, with the influence of Spanish flamenco, American folk, rock and roll, and verse.
Social justice and peace advocacy are mainstays of his work, and his 1977 song "Yihye Tov" is considered an Israeli peace anthem. He has released more than 40 albums, many of which are multi-platinum.
Broza spoke highly of past visits to Vancouver and would welcome the chance to perform here again.
The album was released on Broza Records and distributed digitally by MNRK Music Group.
On Sept. 21, Broza Records will release a cover of "So Long, Marianne," the first track in a three-song collection entitled David Broza Sings Leonard Cohen. Cover versions of Cohen's "Famous Blue Raincoat" and "Dance Me to the End of Love" will be released on Oct. 21 and Nov. 21, respectively.
For more information, visit davidbroza.net.
Sam Margolis has written for the Globe and Mail, the National Post, UPI and MSNBC.