Ariel Martz-Oberlander wrote and co-stars in on behalf. (photo from Julia Lank)
In the Aug. 20 issue of the Jewish Independent, there was a short article on the Vancouver Fringe Festival show A Coveted Wife of East Van, which "tells the story of Samantha Cohen as she navigates friendship, men and dating apps while making some very bad decisions along the way." Playing at the Picnic Pavilion venue on Granville Island, the creative team includes Jewish community members Marn Norwich (poet), Ariel Martz-Oberlander (director), Itamar Erez (musician) and Hayley Sullivan (actor). Martz-Oberlander is also involved in the show on behalf, with fellow Jewish community members Tamar Tabori and Julia Lank (co-stage manager). And there are other Jewish community members to watch in this year's festival, as well. Here are the broad strokes of the productions that were in touch with the JI.
on behalf
Martz-Oberlander's on behalf is a conversational, humorous and lyric conversation between a young woman (Martz-Oberlander) and an ancient goddess (Tabori).
"on behalf challenges assumptions about what it means to survive and to be a survivor," said Martz-Oberlander. "Rather than framing 'healing' as an individual, linear journey, the show frames it as a collective political and cultural act – messy, strange, circular, ancestral, shattering, transformative and ongoing. Our identities affect our visions of justice, and diaspora shapes our ability to find belonging on stolen land and within a system that views justice only as punishment."
The inspiration behind on behalf came out of Martz-Oberlander's own healing journey, and lack of a road map. She began looking back into her own cultural inheritance and to mine the stories of women who have survived dispossession and sexual assault across time and space, with bravery, creativity and the strength of rituals.
After three years in development, on behalf has shifted in focus and form many times. Now in a filmic state at the Fringe, it moves again. Shot in a single take with a shifting camera, the show runs less than 20 minutes. The film format invites audiences to engage with the tactile and sensory experiences linked to traditional ritual work – like handwashing and bread baking – to highlight how healing extends beyond the individual, because our wounds too extend beyond the individual experience.
on behalf is a digital presentation and can be watched anytime during the Fringe.
Everybody Knows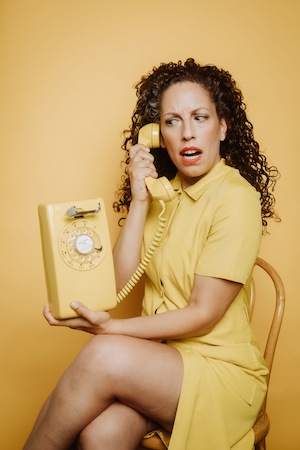 In this semi-autobiographical, one-woman musical, set to nine Leonard Cohen cover songs, Rita Sheena creates a spiraling narrative using contemporary dance, post-modern quirk and the haunting melodies of First Aid Kit's Who By Fire album, which was released earlier this year.
Everybody Knows is the latest work from Sheena's Come Emote With Me theatre series. It opens in a bright, primary-coloured hotel room. When we meet the smug captain, we are reminded that "everybody knows the dice are loaded, everybody rolls with their fingers crossed, and everybody knows the war is over, everybody knows the good guys lost…." Next, we meet a woman in a 1960s-style secretary dress who answers every telephone call ringing for death with "… and who shall I say is calling?"
Cohen enthusiasts will appreciate the esoteric nuances that Sheena emotes. Folks who love dance and movement artistry will enjoy the unique style of storytelling.
Everybody Knows is at the Revue Stage on Granville Island Sept. 11-18.
A Toast to Prohibition
International performer Melanie Gall comes to the Vancouver Fringe with her new historic musical, A Toast to Prohibition. Her previous shows include Piaf and Brel and off-Broadway's Ingénue.
Celebrate the 101st anniversary of Prohibition with flappers, gin fizz and a speakeasy cabaret. Join Gladys in her secret gin joint, the Tipsy Sparrow, as she tells the story of when intoxicating liquor was forbidden and lawlessness ruled the day. From secret cellars and doctor-prescribed alcohol to a teetotaller attacking saloons with a hatchet, there's a song about it! This show features, among other songs, forgotten 1920s hits "Lips That Touch Liquor Shall Never Touch Mine" and "Everybody Wants a Key to My Cellar."
Performances of A Toast to Prohibition take place at Performance Works Sept. 10-19.
The Fringe Festival runs until Sept. 19. For tickets and the full schedule, visit vancouverfringe.com.