"I Cast to Earth a Seed," by Lisa Wolfin.
Art Vancouver returns after a two-year COVID-imposed hiatus. Artists and galleries from across Canada and the United States – as well as from countries including Argentina, Cuba, Iran, Kenya, Mexico, Taiwan and Zimbabwe – are scheduled to exhibit at the Vancouver Convention Centre May 5–8. Several of the artists are members of the Jewish community, and they spoke with the Independent about their art and the return of the event.
The international fair, first held in 2015, is the main annual event of the Vancouver Visual Art Foundation, which was formed in 2017. The foundation has not let the pandemic quash its momentum.
"The creation of Art Downtown was introduced as a safe space during COVID, where people could have a place to get out and enjoy arts and culture," Art Vancouver founder Lisa Wolfin told the Independent.
The summer outdoor festival invites artists to create art in various public spaces in downtown Vancouver. People can come and see the creative process in action and speak with the artists. The artists' works are exhibited, and available for purchase.
"There is an area where people can sit down, get their hands full of colour and learn how to make art at no cost, as this is sponsored by Opus Art Supplies, giving people an opportunity to try things they may have never done before," said Wolfin. "Live music is part of the festival. Each week, there are two new musicians, including singers, guitarists, bands, and duets, in all genres."
During the pandemic, the foundation also offered online art classes. Since the easing of health restrictions, in-studio classes have started.
"People from all over B.C., Canada, the United States, Costa Rica, and as far away as Australia, [have] registered for the classes," she said. "The instructors are professional local artists, teaching in a variety of different styles – florals, landscapes, abstract, graphite, neurographic, impressionism and figurative are some of the subjects demonstrated, with acrylics, watercolours, oils, markers, palette knives and metallics … [being] some of the materials we use."
Wolfin herself has taken more than 100 classes over the last two years.
"There are stations all over my art studio with different mediums waiting to be experimented with," she said. "In every class I took, I received a golden nugget that has added to my repertoire and moved my work in a different direction…. Each instructor had their own style and colours that they preferred, which took me out of my comfort zone and back to kindergarten to start all over again, being open to trying new things.
"Neurographic art is a new direction my work has shifted into," she continued. "Russian psychologist Pavel Piskarev coined the term neurography, or neurographica, in 2014 – it helps us engage more neurons. By this, he specifies how using the simplest tools to draw, through this technique, is a link between conscious and unconscious. This connection is made by the brain cells called neurons being activated in a way that brings forth awareness and mindfulness…. This is a healing project for people of all ages, no artistic abilities are required, only the interest in creating an artwork that is not only intuitive but greatly beneficial to our emotional and calming states…. Neurographical art is a way to transform the stress, fear and chaos of our world into something more calming and peaceful. Art is always about expression and finding that inner peace."
While still undecided about exactly which art pieces she'll be showing at Art Vancouver, Wolfin described a new tree series she has been working on.
"I start out with acrylics using bright colours instead of the neutral and natural colours found in nature, including various mediums and acrylics because they create more depth and richness to my work, which is meant to be more realistic," she explained. "Life is colourful. I look deeply into the forests and feel the colours, then transfer what I pick up onto the canvas. Next, I add Posca paint pens, dabbing colours all over the canvas for an added dimension. Then I go over the canvas with oil pastels and add another texture to it. The pastels skip over the gaps in the weave, leaving little dots of another medium. Lastly, a layer of resin is poured over the canvas and spread out to create a luscious thick layer of gloss which intensely brings out the layers of the colours, making the colours pop."
She also has been creating florals with KrinkNY paint markers. "Because the tips are much thicker than a paintbrush, I have had to loosen up and go with the flow of the paint," she said. "This paint mixes with itself when you go over it and it gets wet again. You can blend as you paint, and it is a challenge to get what you think you want [based on the] traditional way of painting."
Artist Sky Lilah also has used the pandemic years to branch out. "I am continually striving to do something new," she said. "Over the past few years, I have started to teach online art classes, for youth and adults. I have done a series of abstracts with the theme being on consciousness. For Art Vancouver 2022, I am doing a new series of mixed media, with the focus on love, thoughtfulness and manifestation. I have also been spending more time creating a unique fashion line and hand-painted clothes."
The work she'll be bringing to Art Vancouver is a new style of mixed media, she said, "with the focus being on my family – making unique pieces based on each member, including components from their past, present and future. I am fascinated by time and consciousness and how our minds create our reality."
In addition to her art, Lilah will be bringing to Art Vancouver a personal development workbook that "includes self-awareness exercises and creative exercises to help one further develop themselves and live their best life," she said.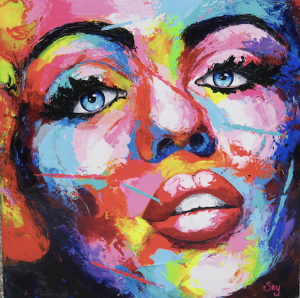 "My personal development practice always influences my style of artwork," she added. "The constant strengthening of my creative muscle, I believe, helps me in all areas of life."
Lilah is excited by Art Vancouver's return.
"I love the thrill of prepping for a show, and the impact that the show has on the community is so rewarding. It is always a pleasure to connect with each attendee and hear different perspectives from the art world."
"When creating the pieces for the Art Vancouver exhibition, I was on Cloud 9," said Taisha Teal, explaining the title of one of her series of works.
"When I create art, I am in the flow," she said. "I am in a meditative state where time does not exist. On Cloud 9 has a deeper meaning – of being in another space in time, in the ninth dimension of pure bliss and happiness. When I am in the studio, I am at peace. There is no stress. It is where the magic happens. My name, Taisha, also means number nine in Hebrew; so the title felt pretty perfect."
During the pandemic, Teal said, "I had the chance to really experiment with new materials and the courage to play around with no judgment."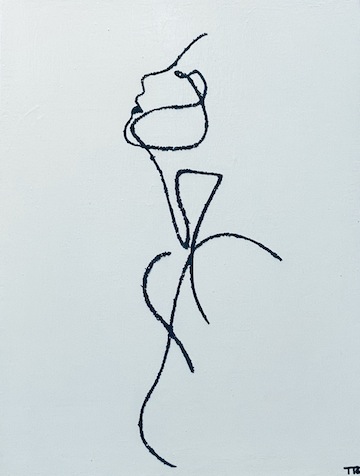 The Naked Line Ladies, also known as her "sparkle ladies," are women in her life "promoting body positivity and female empowerment," said Teal. Reminders, she said, "that you're beautiful no matter what, and your body is the only one you've got…. We're embracing our uniqueness, celebrating who we are."
About her Spraypainted Hearts series, Teal said, "Infinite hearts, infinite strength. There is enough love to go around."
And the Abstract Alcohol Ink collection is dedicated to her travels. "During this pandemic, I have felt very stuck," she said. "I have been reminiscing about the places I've been and the colours I've felt along the way. This abstract series has really helped my mental health in overcoming the chaos in this pandemic. Not having to create the perfect realistic image, I use colours and gestural marks to create a piece that resembles places I have been."
Artist Monica Gewurz also has been doing more abstract work over the pandemic, focusing more on the feelings generated by the landscape than its literal appearance.
"During the lockdown," she said, "I continued to explore new techniques and tools, incorporating heavy textures and thin veils, to capture moments that uplift and refresh. We have all been held back from so many important things in life and, hopefully, these paintings can bring some uplifting and beauty to people's lives."
Gewurz is planning on bringing a new collection of more than 30 works to Art Vancouver.
"I paint primarily in acrylic," she said, "but combine this with a variety of other media such as gesso, mediums, glazes and inks. I also like to use materials that excite me, like gold leaf and unusual acrylic mediums."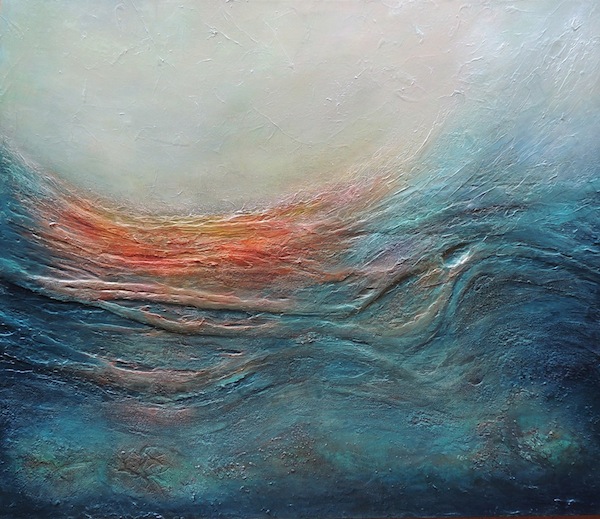 During the pandemic, Gewurz said she has taken several online courses and "successfully increased the number of virtual juried exhibitions in B.C. and the U.S." She also has "participated in numerous art shows conveying the climate change and our large carbon footprint in our planet. I am now being recognized as an eco-artist in the U.S.," she said.
The environment is a top concern for Gewurz. For example, a piece of hers, "Ebbing," was chosen for "the label of Safe Haven fortified wine of the 40 Knots winery," she told the Independent in an April 2020 interview. "A portion of the wine sales goes to support salmon habitat restoration. I donated the artwork."
Gewurz is one of 11 artists – with her painting "SOS" – in the year-long touring exhibit Diving In: The Art of Cleaning Lakes and Oceans' Art Tour, an environmental art campaign initiated by the Sea to Sky Arts Council Alliance with Divers for Cleaner Lakes and Oceans, Return-It and local artists. It showcases "stunning pieces of art by selected artists created from a range of objects recovered through clean-up dives at local lakes and ocean sites."
For a professional artist, said Gewurz, "it is important to exhibit at high-calibre international art exhibition shows. Art Vancouver provides me with a platform to display my works as well as sell them – this will be my fifth time exhibiting there."
Grateful for the opportunity, she said, "To showcase my work in person was something I truly took for granted. Over these last few years, I have found a new appreciation and gratitude for events like this. To be able to connect, converse and exhibit amongst other creative people in my hometown is such a great opportunity."
Given the continuing pandemic, safety won't be lost in the excitement.
"We have a larger room in the Convention Centre West building so we can create a safe, socially distanced exhibition with more space between the aisles," said Wolfin, acknowledging the work of the women-led organizing team of the event and the many volunteers.
The art exhibit is but one of the weekend's activities. There will be a talk on non-fungible tokens (NFTs), for instance.
"There will be a whole section with NFTs for people to enjoy and learn about this whole new direction in the arts," said Wolfin. "Art classes are going to feature non-traditional art mediums so anyone interested can try their hand in art…. Opening night starts off with The Face of Art, our runway show that puts a face to the artwork. Friday night will have an all-new art game feature – teams of three people will compete with each other for one hour to build a sculpture out of Lego…. Saturday night is Art Masters, a one-hour painting competition where the artists are given a theme and one hour to create using non-traditional tools, as there are no paintbrushes included!"
For fair updates, visit artvancouver.net. For tickets, got to artvancouver.eventbrite.ca.