Potential Apparel co-founder Shane Golden. (photo from Shane Golden)
There's one thing on the mind of Vancouverite Shane Golden, 24, and that's tikkun olam. The Richmond native is co-founder of Potential Apparel, a sports clothing company that donates a portion of sales from each of its garments to the Make-A-Wish Foundation, and has contributed $20,000 to the charity over the last three years.
"Since my earliest days at Jewish elementary school, even when I was a toddler at Beth Tikvah preschool in Richmond, I was taught the ideology of repairing the world," Golden told the Independent. "It was reinforced through my family's actions in the Jewish community. From my earliest memories, I grew up knowing that every action I take has an opposite and equal reaction. I've always asked myself, how can I use these physics to help the world around me, to help repair the lives of individuals I've never met, and faces I'll never see?"
Golden and David Dotan founded Potential Apparel three years ago, while Golden was studying engineering at Simon Fraser University. He switched to marketing management at B.C. Institute of Technology but left 18 months ago to work on Potential Apparel full-time. The concept behind the company was Dotan's, he said. "David used to play professional hockey in the NHL, and we thought we could use his connections and network to start developing the brand." Those connections include professional athletes Brendan Gallagher, Martin Jones and Ryan Johansen of the Nashville Predators.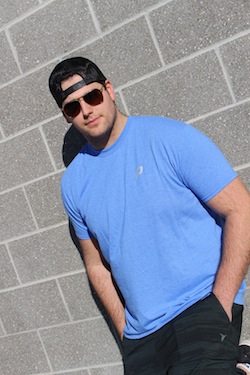 "We develop the shirts with them to create a product that they want to wear," Golden explained. "Sure, they might have deals with Nike to wear clothes, but they're wearing Potential Apparel when they want to be comfortable – and they're definitely influencers."
To date, Potential Apparel has sold more than 200,000 shirts, most of them in Canada. The clothing, which includes hats and hoodies, is made in Burnaby – which costs more, he conceded. "It's interesting having to spend a bit more money to manufacture locally but we find people really appreciate locally made products," he said. "Between local manufacturing and donating a portion of sales to charity, our business has been an interesting challenge, but we've figured it out, and we're making money."
One thing that's helped is the charitable golf tournament the pair began last summer in Whistler (whistlerinvitational.com). They matched participants with NHL players for a round of golf and raised $16,000 for the Make-A-Wish Foundation. This summer, the tournament will be held Aug. 5-7 in Whistler, hosted by Johansen and fellow NHLer Brenden Dillon of the San Jose Sharks. "This year, we're hoping to double last year's donation," Golden said.
Asked why he and Dotan selected Make-A-Wish as their charity of choice, Golden said, "At one time, I asked Ryan Johansen why he chose to spend so much of his free time working with charities. He told me that were it not for the privileged lifestyle in which he was raised, with parents who could drive him to the rink every morning and buy him new gear every couple of years, he wouldn't be where he was today. Make-A-Wish grants terminally ill children the ability to achieve their dreams, and that ability to empower a child is what resonates with us. Whether we choose to stay with Make-A-Wish or, down the road, swap over to helping another charitable organization, it will always be to help kids."
Golden's hopes are that Potential Apparel will become a household name that makes a statement. "The statement is that you've chosen to reach your potential and help others achieve theirs as well," he said. "Potential Apparel, since day one, has always been more than just clothing. We are a movement empowering people to take a leap of faith and inspire others while doing so."
Golden said he's always looked up to entrepreneurs and philanthropists Mark Cuban and Elon Musk, but that it's his parents and grandparents who have shaped his character. "My grandmother Marie and late grandfather Sidney Doduck created a legacy called the Marsid Family Foundation, which actively contributes to the Jewish community and causes which they deem important," he said. "I plan on following suit in a similar manner."
Lauren Kramer, an award-winning writer and editor, lives in Richmond. To read her work online, visit laurenkramer.net.