Designer Yifat Jovani (photo by Tim Matheson)
Israeli designer Yifat Jovani sewed clothes for her Barbie doll as a child, but didn't launch her own fashion line for women until she moved to Vancouver 11 years ago.
Love brought the mother of two to the city. She met her Canadian husband, Tim Matheson, in Tel Aviv and the couple lived there for four years before relocating to British Columbia.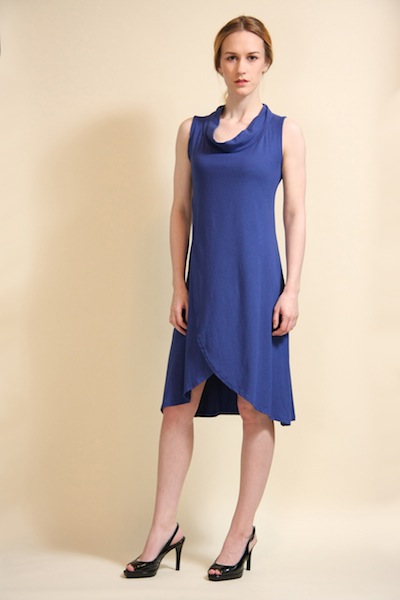 "My parents taught me that art should be a hobby, not a living, so, for many years, I never had the idea or the courage to make my clothing designs a professional business," Jovani told the Jewish Independent. "Once we moved here, I realized it's what I wanted to do."
Jovani designs women's clothes in sizes 2 through 12, all of them made from bamboo fabric. Her garments are feminine, elegant and pragmatic, with stylish, flowing layers that flatter the figure. They include tunics, dresses, coats, skirts and tops that can be dressed up or down depending on the occasion. "I like to call my designs clothing for real women, because that's who wears my clothes – not skinny girls," she reflected. "My clients are real women who have bodies in different shapes and sizes, and they need clothes that are practical, easy to care for and to travel with."
Pragmatism is a key word for Jovani, who believes women shouldn't have to suffer to look beautiful. "With my designs, you can multitask and still look beautiful," she said. "Wear it to the office, and add an accessory to use it for dinner out or a cocktail party. I think women should have garments in their closets that aren't just for special events."
As part of her "real woman" design strategy, Jovani has asked her friends and clients to be her models at the fashion show events she organizes each year, and the feedback has been overwhelmingly positive. "People are telling me, it's so nice to see how your clothes look in size 10. It makes it more real. And … when I do my photo shoot for my fall collection, I'll feature a regular model, but I'll also have a size 10 model."
Jovani's designs are available for sale at her online store, yifatjovani.com, and in Vancouver at the boutique Tenth & Proper (4483 West 10th Ave.) and at Kali (1000 Commercial Dr.). They are also selling at boutiques in Duncan, Courtenay, Terrace and Whitehorse. "I'm trying to get into more stores but I'm doing all this myself, and I have two little ones in the house ages 4 and 7," she said. "My goal is that my clothing will sell in more stores, both in Canada and internationally."
When asked how challenging it is to be a fashion designer in Vancouver, Jovani's succinct response encapsulates her determination and drive to succeed. "It's not about location, because everywhere in the world there is competition," she said. "In order to succeed, you need to work hard for what you love, be determined, and believe in yourself. If you don't take action, you don't get results."
Visit Jovani's studio at Muckabout Gift Gallery, 4759 Hastings St., or make an appointment to see her by emailing [email protected].
Lauren Kramer, an award-winning writer and editor, lives in Richmond. To read her work online, visit laurenkramer.net.