Gloria Levi's recently published creative memoir The Hotelkeeper's Daughter is a tribute to her family. And not just the family from whom she comes – the people who inhabit the main part of this story – but also the family she has made herself, the family members in the book with whom she shares her memories and those outside of it, who will read the story.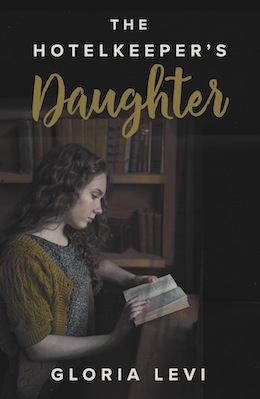 The memoir is "creative" because memory, almost by definition, is unreliable, and, with this book, the 90-plus-year-old Levi is going back to her childhood. The character Gilda, her avatar of sorts, is trying to make sense of her past:
"They are all gone … Jerry, Macey, Sadie … and Ida and Leo … Bubbie … I, Gilda, at the age of 90, am the only one left of my family of origin. I am the Omega generation, the last letter of the Greek alphabet. I remember so vividly the sweetness of family togetherness, extended family visits, our tight-knit community. How I loved them and felt loved by them: their vitality, their enduring values, their struggles, losses and successes, their remarkable resilience. They are a deep part of me. They are the heroes of a bygone era."
Speaking to her son and great-grandson, Gilda takes us to Powell Street, in Brooklyn, N.Y., 1938. She is 7 years old. She vividly describes her community, the neighbourhood of Brownsville. Her parents, grandmother and three siblings live downstairs in a duplex shared with her uncle and aunt and their family, who live upstairs. Money is sparse.
"During their usual pinochle card game one Saturday evening in March," writes Levi, "my father turned to his cousin, Big Eliezer, and said, 'Eli, I really need to make a change. I don't want to go on like this. I know I can do better than my chicken store. What do you think, if you, Sammy and I were to rent a summer hotel? My brother Benny runs a hotel with partners. He's doing just fine. You know, with your catering experience, Eli, and the younger energy and determination of Sammy and me, I think we could make a go of it. What do you think?' Sammy nodded in agreement. Uncle Shimon closed his hand of cards and stared."
And the rest, as they say, is history – and the meat of this memoir. Life isn't easy as the daughter of hotelkeepers. Gilda had been happy on Powell Street, had many friends and her favourite activities. She was very close to her grandmother, who didn't initially go with the family, and her parents were absorbed in the business. Gilda was lonely and often felt invisible. She has a challenging relationship with her mother, Ida.
Through Gilda's story, we see how families like hers – an Eastern European Jewish family who immigrated to the United States – struggled and succeeded in their new homeland, through the Great Depression and the Second World War. We also see how Gilda grows into herself and begins to find her own way. The memoir ends in 1948, as Gilda starts university.
As 90-year-old Gilda looks back at this foundational decade of her life, relating her story to her son Daniel and great-grandson Lenny, she ultimately reflects not only on what has passed, but what is yet to come.
"To the Lennys of today and the Idas of yesterday, I want to affirm their vision, their energy, and their inspiring dedication to build a fairer, more just and loving society."