From left to right: Leslie Rosen, Toby Rubin, Tammy Klass and Marilyn Berger dance to the music of singer and pianist Miriam Davidson. (photo from JSA)
The last session of the Jewish Seniors Alliance-Snider Foundation Empowerment 2022-23 season was held on June 26 at Beth Tikvah Synagogue in Richmond. It featured Miriam Davidson playing and singing show tunes, and people joined in and even danced.
The event was co-sponsored by JSA, Kehila Society's Seniors Program and Beth Tikvah. Attendees were treated to a BBQ lunch of hamburgers, hot dogs and veggie dogs with all the trimmings. More than 60 seniors from around the Lower Mainland attended.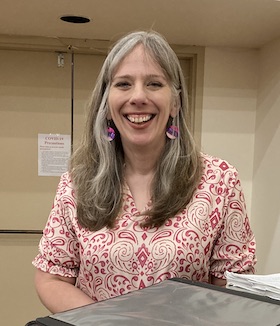 The crowd was welcomed by Toby Rubin, the coordinator of the Kehila program. She explained that Lester Soo, the scheduled entertainer, was unable to perform, but that Davidson, a pianist and vocalist, was able to step in.
Davidson began with some songs from The Sound of Music that were very familiar to the audience, and she encouraged everyone to sing along. The program included such tunes as "Ain't Misbehavin'," "Fly Me to the Moon" and "Only a Paper Moon." She played "Memory" from the musical Cats and a request for Abba's "Dancing Queen" had the audience swaying and waving their arms in time to the music. There was even a bit of dancing.
The concert ended with "Here Comes the Sun" by the Beatles.
The afternoon wrapped up with greetings from Tammi Belfer, president of the JSA, and a thank you to Davidson, who was wonderful.
Shanie Levin is a Jewish Seniors Alliance Life Governor. She is also on the editorial committee of Senior Line magazine.