My Way Bikery owners Moshe and Leah Appel. (photo from My Way Bikery)
Vancouver Island's only kosher bakery started the new secular year with new owners, Moshe and Leah Appel, and a slightly new name. What was formerly known as the Bikery is now My Way Bikery. The Victoria location, at 8-1701 Douglas, inside the Public Market at the Hudson, remains the same, though the selection has expanded to include more than baked goods.
Certified pareve kosher by Kosher Check and supervised by Rabbi Meir Kaplan from Chabad of Vancouver Island, My Way Bikery encourages customers to "challah" at them anytime. The bakery also delivers to customers and businesses all around Victoria, and people throughout Greater Victoria can place orders using SkipTheDishes, DoorDash and Uber Eats. Beyond Victoria, the bakery delivers as far up Island as Parksville and Qualicum Beach every Friday, with a minimum order of $25 placed by 5 p.m. on Wednesday.
"I'm the baker," Leah Appel told the Independent.
"I'm everything else," followed Moshe Appel.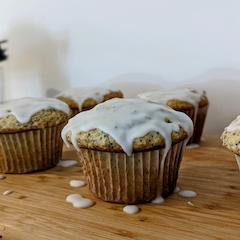 Originally from Montreal, the couple have known each other since they were 7 years old, but only got together after being in and out of each other's lives for decades.
"My background is essentially in call centre work – inbound sales, inbound customer service and inbound security, things like that. But I'm extremely active in the Jewish community here in B.C., especially since first moving to Nanaimo," said Moshe Appel.
"The idea for the business really didn't come to fruition until I reunited with my childhood friend (and now wife), who is a classically trained baker and someone who has been in market research and management. Coming from Montreal as we both have, we were shocked at the lack of good Jewish food in B.C., and on the Island in particular."
The Appels, who have always enjoyed cooking traditional Jewish recipes for their friends and family, started selling their goods at local markets a couple of years ago. The realization soon struck that they would need a larger space for their production. Serendipitously, they came across an opportunity last year when their friend Markus Spodzieja, founder of the Bikery, announced his intention to sell the business. The Appels purchased it, merging their original bakery name (My Way Bakery) with the Bikery to, as they say, "keep the nostalgia of Markus's brand alive while adding our own recipes to the mix."
According to the Appels, Spodzieja will be moving home to Nova Scotia to care for his grandmother.
The business obtained its first name, the Bikery, in 2017, when Spodzieja sold baked goods out of a 250-pound mobile vending bicycle as part of a pilot project for the City of Victoria's Mobile Bike Vending Permit. It moved to its present location in 2021.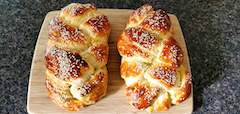 "I met Markus when he first opened the Bikery and I was one of his first customers, but it was purely luck that I asked his advice for starting a business in Nanaimo and he handed us the business in Victoria. Unwilling to miss this G-d-given opportunity, we jumped on the chance," Moshe Appel recalled.
"We are keeping much of the same menu as Markus did, but expanding it to include soups, salads, more breads and Jewish dishes and, in a few months, plan to expand it to include cholov Yisroel dairy products as well."
The menu lists dozens of items. There are savoury pastries and shakshuka, halva and combos (including pita and Leah Appel's hummus). Some of the popular items are the My Way Sandwich, potato salad, kimmel rye, peanut butter cookies and Israeli salad. A current hit is Those Darn Cookies, a sweet made with chocolate chips and almonds.
Among the new touches are jelly chal-nuts, Leah Appel's take on a jelly donut; challah dough stuffed with sweet jelly and topped with raw cane sugar; and Oyvegg, a roll with Daiya "cheese," an egg, garlic aioli, lettuce and tomato.
The Appels are even offering goodies for canines – Dunstan Donuts. "Named after Dunstan, who was a very good boy," the menu reads, "these certified-kosher pareve dog treats are made with oats and bananas and taste amazing! Dunstan's Donuts are delicious enough for you, but made just for your four-legged friend!"
Favourites from the Bikery, including numerous varieties of pretzels and bagels, lemon-poppyseed muffins and challah in all shapes, sizes and flavours, are still available.
The Appels say they are in preliminary talks to open a storefront location in Nanaimo.
My Way Bikery is located toward the back of Victoria's Public Market, which is situated close to City Hall and Centennial Square – a few blocks away from the Empress Hotel and Parliament – in a building that operated for several decades as a Hudson Bay department store. It is open Monday to Thursday, 7 a.m.-11 p.m., Friday, 7 a.m.-3 p.m.; and Sunday, 11 a.m.-6 p.m. Friday hours will be extended in the spring, as the days grow longer.
For more information or to place an order, visit mywaybikery.ca, call 778-430-2453 or email [email protected].
Sam Margolis has written for the Globe and Mail, the National Post, UPI and MSNBC.