When someone loves what they do or is passionate about a certain topic, it's obvious. In the case of a book, if this someone is also proficient with words and excels at writing, their enthusiasm figuratively jumps off the page and inhabits the reader, getting them as excited as the author. This is how I felt reading Jonathan Berkowitz's latest book, Tales From the Word Guy: What Your English Teacher Never Taught You(FriesenPress). Excited about the wonder that is language – in this case, the English language.
With the help of his wife, Heather, Berkowitz has compiled a collection of essays adapted from his segments on CBC Radio 1's North by Northwest over several years as the Word Guy. Noting that people "perceive the spoken word differently from the written word," he writes: "Adapting the radio columns into written essays requires a sensitivity to the difference between listening and reading. Heather has that sensitivity, not to mention a keen sense of style and grammar."
North by Northwest host and producer Sheryl MacKay has written the book's foreword.
"I first met Jonathan when he came in to talk about the National Puzzlers' League convention, which was taking place that year in Vancouver," she writes. "I was struck right away by his enthusiasm, his depth of knowledge (in the field of puzzles and beyond), his sense of humour, and by the fact that he could identify patterns in words and numbers everywhere. It's like a superpower he has!
"I immediately asked him to do a regular column on the show. Jonathan, who is always up for a new adventure, agreed and, for the next year, he was our Puzzling Professor. Every month, he'd appear on the show and introduce listeners to a different kind of puzzle, talk about its history and then challenge them to solve a few. It was such fun and so mind-bending!
"The next year, Jonathan changed focus a little and became the Word Guy for the show. Each month, he takes us on a radio journey through some of the vagaries of the English language. As Jonathan owns more dictionaries and language reference books than anyone I know, he's well equipped to lead this particular expedition!"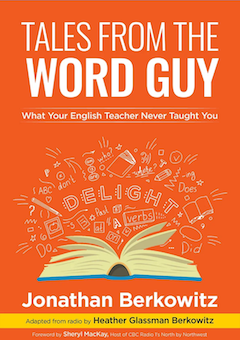 In Tales From the Word Guy, Berkowitz admits that his favourite books are dictionaries, followed perhaps by thesauri (I admit that I Googled the plural of thesaurus).  "In fact," he writes, "thesaurus comes from Latin, meaning 'treasure,' and the first dictionary definition of thesaurus is treasury or storehouse. Indeed, what a treasure house it is."
Words have always been a passion for Berkowitz, but he is also a fan of numbers and mathematics, having chosen a career as a statistician. With his facility for words, numbers and problem-solving, it is no wonder that MacKay, in 2015, invited him to present puzzles on her show. I never heard him in that role, but I did very much enjoy the book those puzzles led to: The Whirl of Words, also published by FriesenPress. (See jewishindependent.ca/playing-with-words-and-more.)
Berkowitz's breadth and depth of knowledge can be overwhelming at times. To build off his metaphor of this latest book as a box of chocolates, you might get the equivalent of a sugar rush if you read too much of it in one sitting. While the chapters are short, amusing and easy to read, there is just so much information "filling," from the erudite to the silly to Berkowitz's trademark puns. (Among those he shares is one of his favourites: "The only thing flat-earthers have to fear is sphere itself.")
I learned so much in Tales From the Word Guy. For example, I knew that A, E, I, O, U and sometimes Y are vowel letters – but also sometimes W?! Berkowitz gives the example of the "uncommon word, cwm, a synonym for cirque, [which] means 'a deep steep-walled basin on a mountain usually forming the blunt end of a valley.' Linguists sometimes refer to Y and W as semivowels," he writes. "Conversely, U and I sometimes represent consonants, as in quiz and onion, respectively."
I can understand the U being considered a consonant in quiz, but remain confused about the I in onion. But in a good way. I enjoy having my mind challenged, my assumptions upended.
I also enjoy being wowed and there are many "really?!" moments in this book, such as W being a vowel sometimes, albeit rarely. To name just a few of the other things that made me ooh and ah – the origins of the terms uppercase and lowercase; the number of words Shakespeare created (and some examples); and the name for and function of "um," "uh," "like," "you know," all those annoying sounds or words most of us unconsciously insert into our sentences when we talk.
But it's not just the many fun facts that make Tales From the Word Guy such fun to read. Berkowitz shares a bit of himself, from more serious topics, like how his mother and father influenced his life, to his favourite, or most beautiful, words, his language pet peeves and his efforts at making up new words. It is easy to see why CBC's the Word Guy is so popular.
To order a copy of Tales From the Word Guy, go to talesfromthewordguy.com.
****
Tales From the Word Guy: What Your English Teacher Never Taught You book launch with author Jonathan Berkowitz in conversation with Sheryl MacKay; adapted from radio by Heather Glassman Berkowitz. Nov. 29, 7pm, at the Jewish Community Centre of Greater Vancouver. No registration required.
Tales From the Word Guy: Jonathan Berkowitz talks about his new book with Daniella Givon. Dec. 12, 7:30pm, at Beth Israel. bethisrael.ca.