Bob Prosser's "Cuts" is part of the PhotoClub Vancouver group exhibit now on at the Zack Gallery.
Members of PhotoClub Vancouver don't consider their photography a way to capture moments in life as they come across them, but rather as a complex, multifaceted art form. They experiment with their cameras, discover the limits of Photoshop, and modify their images in unpredictable ways. Their group show at the Zack Gallery demonstrates the results of their explorations.
The club was founded in 1998, "as an outgrowth of a photography course a couple years earlier," said Bob Prosser, the club secretary responsible for organizing the show, in an interview with the Independent. "I wasn't among the founding members, only joined in 2011, but I can tell that this club is unlike many others in Vancouver. It's more informal, less competitive, with a constructive, supportive atmosphere. We encourage experiments, and our members subscribe to all sorts of styles."
Prosser said that, at the moment, the club counts 28 paid members. "There are men and women among the club members; most of them middle-aged or retired. I guess, younger people may be look for a different environment, more social media-oriented."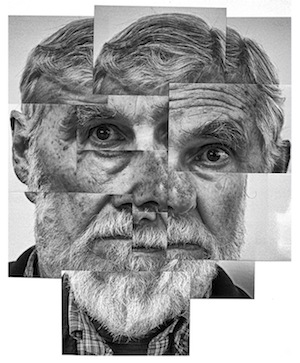 The club offers a variety of services and activities to its members. "We critique each other's works, organize guest speakers and presentations on some inspiring masters of photography, offer technical workshops and field trips to some interesting places, like an Italian festival on Commercial Drive or a Pride parade," said Prosser. "We organize shows every year, usually at a different venue, and publish books, the best of [each] year. We also have a challenge once a month, and everyone is invited to participate."
Most of the club members are amateurs. "It's almost impossible now to make a living as an artistic photographer," Prosser said. "Everyone has a camera in his cellphone. A professional photographer should be so much more. He should be versatile, able to make video, websites, engage in social media, marketing. Some of our members do very well selling their photos to stock photo companies. Others do it simply for fun."
Prosser resides firmly in the second category. He shoots lots of photos and participates in club shows, but sales are not his priority. "Of course, I photograph when I travel – just came back from a trip to Japan – and I make portraits of my family but, in general, I'm not interested in capturing people with my camera. I don't like it when people pose. I prefer doing studio shoots: objects, scenes, and then playing with Photoshop, seeing what I can do."
The club encourages such an approach, and Prosser relishes its easy atmosphere and its emphasis on experimentation. "I'm not interested in copying nature," he said. "I try to convey a mood, a message. I want to move my photography towards abstraction, and I use Photoshop to push my photos in that direction, enhance them. I'm fond of impressionist paintings and I'm trying to achieve similar solutions. With software, you can combine several images in different combinations, change colors and shapes. Not all of it is even possible in painting – photography is a unique art form."
His image "Cuts" in the exhibit represents the Cubist movement. The visual style and the method of execution overlap in the picture, creating a sharp, edgy feel, a scattering of cutouts on a red background. It could be an echo of our hectic lives or a reflection in a broken mirror.
Another fascinating Cubist image is the experimental self-portrait by Wayne Reeves, one of the founding members of the club. The older man in the image comes across as a jumble of conflicting angles, just like so many of us.
In contrast, a lyrical, lovely picture of mother and child inspires contemplation and promotes harmony. It belongs to Richard Markus, the current president of the club.
On the opposite end of the range of expressions are various landscapes and cityscapes. Some are earthy nature snapshots, bursting with colors. Others stress glass-filled urban architectural motifs. Still others are romantic and airy, like Terry Beaupre's "Floating on Fog," a dreamscape rising out of the mist.
The selection at the gallery encompasses a number of genres: portrait and still life, street scenes and travel mementos. While some photographs lean towards the traditional, others push the boundaries of the medium. Beside the colorful landscapes or abstract compositions, there are also a few images in the black and white palette. "In certain cases," Prosser said, "color could get in the way of feelings. It could be a distraction, lessening the impact of the message."
The group show opened on July 7 and runs until Aug. 6. For more information about the photo club, visit photoclubvancouver.com.
Olga Livshin is a Vancouver freelance writer. She can be reached at [email protected].