Yellow gazanias, by Pamela Fayerman. Eighteen of Fayerman's macro photos form the exhibit Intimate Encounters, which is at VanDusen until June 27.
Well-known for her writing about medicine, science and health policy in the Vancouver Sun, award-winning journalist Pamela Fayerman has another area of expertise, perhaps somewhat lesser known: macro photography. Her first exhibit – Intimate Encounters: Botanical Closeups – opened at VanDusen Botanical Garden with a reception on April 6.
Born in Prince Albert, Sask., Fayerman grew up in Saskatoon. She moved to Toronto to attend Ryerson University School of Journalism, with the intention of becoming a photojournalist. While she changed her mind about that, she said the "photography courses at Ryerson taught me about important things like using light, subject composure and print developing. Even though everyone does digital photography these days, the foundations for those of us who learned on old SLR cameras are still pertinent.
"While I was at Ryerson, I got an incredible break with a story scoop that would be a defining career opportunity," she said. "I sold the front-page story to the Globe and Mail and then I was invited to continue working there on a freelance basis. When I graduated from Ryerson, the company – then called FP Publications – offered me a job at their other newspaper: the Winnipeg Free Press."
Fayerman worked at the Free Press for five years, mostly covering the law courts. During that time, she took a year break to study at Queen's law school, focusing on the Charter of Rights and Freedoms.
"When I moved to Vancouver in the mid-1980s, the law beat was already taken," she said, "so I had a variety of beats, including City Hall, before landing the medical beat in 1995. I think I'm probably the most experienced medical journalist in Western Canada and I've certainly had plenty of incredible professional development opportunities through American fellowships at places like Columbia University, MIT and the National Institutes of Health. It's a highly challenging, satisfying beat for someone like me with insatiable curiosity. I cover health policy, which involves stories about the politics, economics and mechanics of the healthcare system; medical research; and clinical medicine. The latter often involves the mind-blowing 'wow' stories about lifesaving innovations."
Fayerman became interested in botanical photography about a decade ago, she said, "because I'm obsessed with plants and gardening. It's the only thing I do that could be described as mindfulness, and that's important because journalists always take our work home with us. We never stop thinking about the stories we've just finished or the ones we're working on."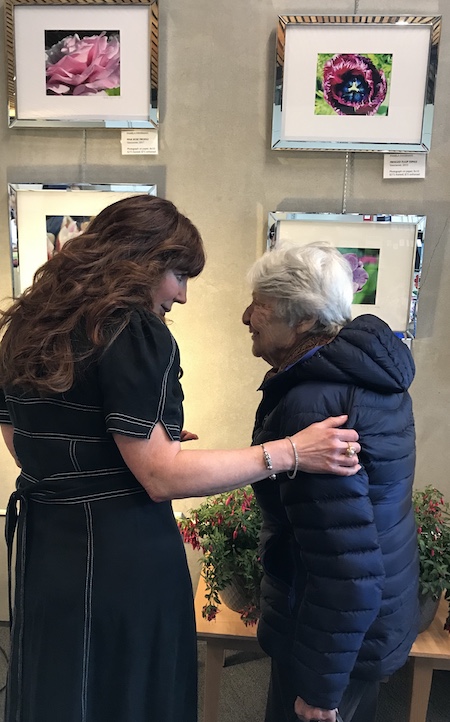 Fayerman said the best way to capture the biology and anatomy of plants in detail is with a macro lens.
"Flowers are so often extravagant and exotic and they are a naturally ideal subject for macro photography because of their sensual shapes, sublime colours and luscious textures," she explained. "Plants always have hidden, intriguing beauty, often only revealed through macro photography. I use available light and get really close to the mysterious microstructures of plants."
Her talent for photography has been recognized in various ways, including her being chosen as one of about 100 photographers across the country to participate in the Canada's Golden Hour Photo project.
"The period right after sunrise and just before sunset is when you can achieve some magic in colour photos, especially blues and mauves," she said. "In my exhibition, there's a photograph of an echeveria succulent I shot in California that is a nice demonstration of how to exploit the golden hour before sunset."
In addition to journalism and photography, Fayerman said, "For about 15 years, I've volunteered at the Louis Brier nursing home. In May, I put plants in the pots in the Shalom courtyard and then I tend to the plants weekly until November. My mother was a resident for a short time before her death and this was a project my family initiated in her memory. The residents and family members often express their appreciation because it beautifies the area, which is quite a serene oasis. Last year, one of the residents asked me weekly if I would plant some medical marijuana as well!"
Fayerman also volunteers as a board member for the Vancouver Botanical Garden Association.
"When I learned about the Yosef Wosk Library at VanDusen, that has a gallery inside it named for Roberta Mickelson, I was keen to get my first exhibition there," said Fayerman, who has been selling her photos for several years via her website, pamelafayerman.com. "I've got 18 photographs on display – all of them for sale – including works on paper and on canvas. The retail store at VanDusen is also now carrying my matted prints."
Intimate Encounters runs until June 27. For more information, visit vandusengarden.org/learn/library.