Israeli writer Eshkol Nevo, whose latest novel is The Last Interview, opens the JCC Jewish Book Festival Feb. 20. (photo from JBF)
This year's Cherie Smith JCC Jewish Book Festival opens online Feb. 20, with Israeli writer Eshkol Nevo, whose latest novel, The Last Interview, brilliantly sprinkles facts amid a lot of fiction and interjects humour into much pathos. It entertains, of course, and, as all good books do, it raises many salient points that will get readers thinking – and feeling – about, in this case, storytelling, marriage, truth, parenting, friendship, lies, family, identity, media, politics and relationships. So, life.
In The Last Interview, the protagonist, who is suffering from a chronic form of depression and writer's block, responds to an interview sent to him "by an internet site editor who collected surfers' questions." He later notes, "It was supposed to be only an interview, nothing else, but slowly – it seems I can't do it any other way – I've been turning it into a story. I was supposed to leave Dikla and the kids and the dysthymia out of it. And all of them are in it." This inability to stop himself from telling stories about others in his published writing is an Achilles' heal in his personal life, but a boon to his professional one.
His interview answers are sometimes short and direct:
"How do you manage to deal with the loneliness that's part of writing?
"I don't."
But, most often, they are quite involved, going into more detail, retrospection and introspection than the questioners would ever have expected. We learn about his failing marriage, but also its sweet beginnings. We are privy to his feelings about his best friend, who is dying of cancer. We see how he struggles to be a good father to his three kids. We hear some of his travel adventures. We witness his attempts to extricate himself from an unwanted speech-writing gig. We share his discomforts with the Israeli-Palestinian situation. We find out a bit about his motivations for writing:
"If I don't write, I have nowhere to put my memories, and that's dangerous. I have a problem. I don't forget anything. My forgetting mechanism is completely screwed up. All the partings, the deaths, the unexploited opportunities. They are all trapped in my body, and writing is the only way to release them … if I don't occasionally unburden myself of the weight of some of those memories, I won't be able to breathe. No air will enter my body. Or leave it."
Part of his current creative block – "I was supposed to be writing a novel this year. Instead, I'm writing answers to this interview" – is that he and his wife are becoming more distant. "I can't say that I became a writer to win Dikla's heart, but I can assume that with another, less stimulating woman, I wouldn't be writing." He notes that, since his first letter to her, "In fact, everything I've written since then, eight books, is one very long letter addressed to her." At the end of a lengthy response to the question, "All of your books are written in the same style. Have you ever thought of writing something completely different? Maybe science fiction? Fantasy?" he says that genre wouldn't make any difference: "In any case, it would turn out that, once again, I wrote about an impossible love."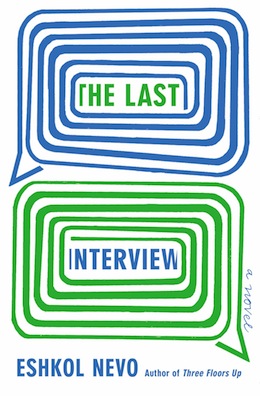 While the overall mood of The Last Interview is solemn, there are many funny parts. One especially hilarious section is the writer's response to the question, "When will they produce a film adaptation of your latest book? When I read it, I could actually imagine the movie." As the writer shares the details of an encounter with a filmmaker of a similar opinion, the conversation cynically – but with the ring of truth – moves from flattery to the many ways in which the movie will ultimately be unrecognizable from the book, yet concluding nonetheless with the filmmaker enthusing, "The minute I finished it, I said to my wife: This is a movie!"
With a writer as intelligent, sensitive and amusing as Nevo and an interviewer as experienced as the Globe and Mail's Marsha Lederman, the book festival's opening event should be well worth attending. For tickets to it, and for the full lineup of events, visit jccgv.com/jewish-book-festival. The festival runs to Feb. 25.