Prime Minister Binyamin Netanyahu at the start of a cabinet meeting this past January in Jerusalem. The two outside flags are the Moroccan national flags, placed there to celebrate the fact that Israel and Morocco had just established diplomatic relations. (photo by Haim Zach/IGPO via Ashernet)
The Israeli elections, which take place March 23, are not turning on conventional ideological schisms, according to two top observers. Rather than a left-right divide, the ballot question for most voters is yes-Bibi/no-Bibi.
Lahav Harkov, diplomatic correspondent for the Jerusalem Post, and Chemi Shalev, senior columnist and U.S. editor for Haaretz, analyzed the possible outcomes in a virtual event presented by the Centre for Israel and Jewish Affairs March 2.
Israel is in its fourth election cycle in two years, an unparalleled time of political turmoil. Harkov said she tends to err on the side of optimism but expects a fifth election before too long.
"I don't see how we get out of this mess," she said.
Shalev concurred, using a sports metaphor. "There is a saying in soccer, or football," he said. "You play soccer for 90 minutes and, in the end, the Germans win, meaning no matter what you think during the game, the result is always that the German team wins and, in soccer, it's usually true. In Israeli politics, it is also usually true."
In each of the past three election campaigns, Shalev said, media and opponents of Prime Minister Binyamin Netanyahu convince themselves he is headed for defeat. Then the votes come in and coalition talks begin and he holds onto office.
True to script, said Shalev, polls suggest Netanyahu's support is faltering, estimating his Likud party will take about 28 of the 120 Knesset seats, down from the 36 he holds now. But, as much as Netanyahu will face an uphill climb to cobble together 61 votes to form a working coalition, his opponents face even steeper challenges.
Netanyahu, nicknamed Bibi, has led Likud since 2006 and has been prime minister since 2009. Having also served for three years in the late 1990s, Netanyahu is the longest-serving prime minister in Israeli history and his doggedness in holding on to power has earned him another nickname: King Bibi.
Shalev depicted Netanyahu's manoeuvrings after the last vote, in March 2020, as a sheer political masterstroke. Benny Gantz led Kahol Lavan (Blue and White), a centre-left coalition whose principal promise was to keep Netanyahu from another term. When coalition talks appeared doomed and another election inevitable, Gantz entered into a power-sharing agreement that delivered another term to Netanyahu and, in the process, exploded the Blue and White coalition. The broad spectrum of centre-left politics that had come together under Blue and White disintegrated and some of those voters have drifted off to the right and may never return to the left, said Shalev.
Gantz is running again but, while the question last election was whether he could best Netanyahu, the issue now appears to be whether he can garner the 3.25% threshold needed to eke out any Knesset seats whatsoever.
In fact, many parties are hovering in the polls around the cutoff mark, which could be a defining factor in the outcome. The Labour party, once the indomitable force in national politics, is on the ropes. Likewise, another erstwhile force on the left, Meretz, could also be wiped out of the Knesset. On the other hand, the smaller parties that do cross the electoral threshold will have outsized influence on whether Netanyahu hangs on or whether another leader can topple him.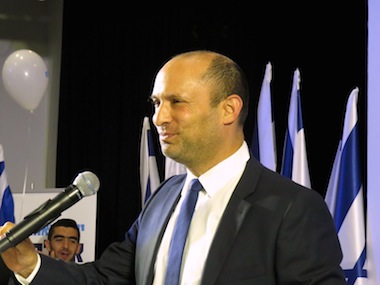 Netanyahu's political survival will depend on the ability of small right-wing parties to pass the electoral threshold to enter the Knesset and help him get to 61 seats. Among the parties Netanyahu would need to depend on are Yamina, led by Naftali Bennett, which is seen as an ideological heir to the defunct National Religious Party.
He would probably also need to rely on another new entity, called the Religious Zionist Party, which iss in an electoral agreement with two other small, far-right factions. The RZP, which tends to represent settlers and Charedi voters, is in partnership (for this round of elections, at least) with Noam, a party whose primary issue is opposition to rights for LGBTQ+ Israelis, which party adherents equate with the "destruction of the family." The third party in the triumvirate is the extremist party Otzma Yehudit (Jewish Power), which Harkov said is a descendant of the outlawed movement of the late Rabbi Meir Kahane.
Kahane was an anti-Arab politician whose speeches in the Knesset were usually boycotted by all other members, leaving him to speak to a room consisting only of the speaker and the transcriptionists. In 1985, the Knesset passed a law banning parties that incite racism, effectively outlawing Kahane's Kach party. He was assassinated in New York City in 1990 by an Egyptian-born terrorist.
While Kahane and his compatriots were shunned in their time, Harkov noted that Netanyahu intervened with the smaller right-wing parties, encouraging them – including Otzma Yehudit – to band together to help them collectively pass the electoral threshold.
"If they had not run together, they probably wouldn't have made it into the Knesset," she said, adding that tens of thousands of right-wing votes would have been effectively wasted.
Harkov added that she found it "interesting and sad" that, in the first of this four-election cycle, Netanyahu encouraged the small right-wing parties to run together and this caused a huge scandal, given the extremism of Otzma Yehudit.
"When Kahane was in the Knesset, everyone would walk out, no one would listen to Kahane speak when he would have his racist rants in the Knesset," Harkov said. "Now, the prime minister is encouraging them to be in the Knesset."
She credits an exhaustion with politics for the lack of outrage over the alliance this time around.
Shalev agreed. Israelis have had more than enough, he suggests.
"I have never seen such fatigue and, if I venture something about the elections, [friends] all look at me as if I'm a lost case," he said.
Where the fault lines in Israeli politics were once left versus right, that paradigm is at least temporarily inoperable. The Israeli left is in disarray and Netanyahu's greatest challenges come from the right, including several former allies. Gideon Sa'ar challenged Netanyahu for the Likud leadership last year and was soundly defeated. Frozen out by the prime minister, he left the party and formed New Hope.
"Policy-wise, they're not that different from Likud," said Harkov. "Sa'ar is quite right-wing." He is pinning his hopes on voters seeking more of the same with less of the corruption surrounding the incumbent, who is under indictment on a number of bribery, fraud and breach of trust charges.
The second-largest party in the current Knesset is Yesh Atid, led by Yair Lapid. This more centrist, secular grouping could bridge some of the divide and make Lapid a possible successor to Netanyahu, but, like all scenarios, would require a coalition-building process akin to a jigsaw puzzle. While there are factions that would be happy to support Netanyahu and others that would support anyone but Bibi, the divisions are exacerbated by internal grievances and personality clashes.
Given the moving parts in any coalition talks, Shalev predicted a potential "outrageous scenario." Netanyahu has been courting Arab voters and, with the Arab Joint List in disarray, he hopes he can dislodge some votes from those quarters. However, after the election, he would face a new challenge. Cobbling together 61 members might require recruiting Arab parties, which would likely be met with flat-out rejection by the far-right and religious parties Netanyahu would also need to hold. Likewise, religious and secular factions that might agree on supporting a particular candidate for prime minister might balk at joining a coalition with one another. In other words, while there might be 61 members ready to support Netanyahu, they might refuse to do so if it required sitting alongside ideological enemies. Every potential prime minister faces a similar dilemma.
A recent high court decision threw the issue of religious-state separation and the influence of the ultra-Orthodox on national policy and life into the headlines. The ruling recognizes conversions by Reform and Masorti (Conservative) rabbis in Israel (but not abroad). While this re-ignition of the divide between secular and religious Israelis is significant, it may or may not have a major impact on voters. Yesh Atid is avowedly secular, as is Avigdor Lieberman's Yisrael Beiteinu party. Whether they will gain any political traction from the issue is a mystery.
While overseas observers assume the big political issues in Israel are the Palestinian conflict, Iran and national security, Harkov and Shalev say voters are more focused on bread-and-butter topics, including the pandemic and pocketbook issues. But the biggest question of all for voters, they both agree, turns on personality – primarily that of Netanyahu and voters' feelings toward him.
Harkov believes Netanyahu has benefited from the Abraham Accords. It also won't hurt him that Israel leads the world in the rollout of the coronavirus vaccine.
A particular challenge that a reelected Netanyahu would face is building a relationship with the new administration in Washington. Netanyahu bound his fortunes so personally to Donald Trump that Shalev believes it is impossible to build a meaningful connection with the Biden administration. Netanyahu was not an outlier on this front, he noted, citing opinion polls that suggested Israelis, were they able to vote for a U.S. president, would have supported Trump by a massive landslide.