Yotam Ottolenghi is in Vancouver on Oct. 21 for a sold-out pre-Jewish Book Festival event to promote his newest cookbook, Plenty More. (photo from Yotam Ottolenghi)
Israeli-born chef, restaurateur and TV personality Yotam Ottolenghi has made a name for himself by bringing creative Middle Eastern and gourmet vegetarian cuisine into the homes of everyday cooks. His debut cookbook, Ottolenghi: The Cookbook, published in 2008, co-written with fellow Jerusalem native Sami Tamimi, features nearly 150 recipes selected from his restaurants. Ottolenghi has since published two other bestselling cookbooks, Plenty, which focuses exclusively on vegetarian cooking, in 2011, and Jerusalem, co-written with Tamimi, in 2012. The star chef and author is in Vancouver on Oct. 21 for a sold-out pre-Jewish Book Festival event to promote his newest cookbook, Plenty More, which was published this week by Random House.
"I always enjoyed food very much since I was very young, but never considered it as a career option," Ottolenghi told the Independent. "But when I finished my studies at university, I decided to see if I could make it into the profession, so I enrolled in a culinary course in London in 1997 and really loved it. I thought it was very liberating and very immediately gratifying as opposed to the things I did before. It felt great feeding people and getting immediate feedback from them."
After graduating from culinary school, Ottolenghi worked in various restaurants, but a defining moment arrived when he teamed up with a group of people and started a deli in London's Notting Hill neighborhood that specialized in fresh food and pastries.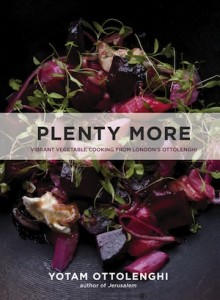 "I really enjoyed doing it, it became extremely popular very early on," he said. "We made some nice vegetable dishes, things with pasta and grain that are deeply ingrained in the Middle Eastern food culture," and it took off. Since then, he's convinced millions around the world to open up their palates and culinary appetites and take a chance on Middle Eastern food.
In his newest book, Plenty More, vegetables are again the focus and he writes about his cooking methods and gives readers a glimpse into his process. "It was an organic process – the recipes are based on those I write for the Guardian newspaper's weekend magazine – but the inspiration, or 'penny-drop' moment, came when I realized I wanted to organize the chapters around cooking methods rather than ingredients. Certain vegetables can get pigeon-holed – a courgette gets steamed, a squash gets roasted and so forth; focusing on the cooking method, instead, really allowed me to showcase how much more versatile vegetables are than this," he said.
His next project is already in the works, he said. "I am working on a new book with our head chef at NOPI [in London] and we have plans to open a new Ottolenghi deli in East London next year. That's keeping the big picture busy, and then the day-to-day work in the test kitchen continues on apace," he said.
Ottolenghi said he hopes to continue immersing himself in the food world, and do the work that he loves to do – while preparing his own favorites, as well.
"What I love in food is the ability to surprise, delight and comfort all at once. My favorites will change depending on the context, so it will be meatballs cooked with dried Iranian lime one day and tinned smoked oysters tipped onto toast and eaten for breakfast the next," he said.
Perhaps he'll even gain a new favorite while he's in Canada. "Festivals are just a great place to exchange ideas and enthusiasm with like-minded people so I'm looking forward to just being there, having a good time and learning about more ways I can get some great maple syrup into my cooking," he said.
For more information about the Cherie Smith JCCGV Jewish Book Festival and a full schedule of events, visit jewishbookfestival.ca.
Vicky Tobianah is a freelance writer and editor based in Toronto. Connect with her on Twitter, @vicktob, or at [email protected].