The main issues that were brought up at the Affordability Summit. (image by annaleekornelsen.com)
Vancouver is in the throes of an affordability crisis. It's in the news, provincial politicians are talking about it as they campaign for the upcoming election, the city is implementing new taxes, but does anyone have the solution?
The Jewish Federation of Greater Vancouver decided it would seek some answers. On March 29, the first-ever Federation-sponsored Affordability Summit took place at Temple Sholom. Attended by more than 60 individuals, including New Democratic Party members of the legislature Selina Robinson and George Heyman, the goal was to give direction to Federation's planning around affordability and being Jewish in Vancouver.
The evening, introduced by Temple Sholom Associate Rabbi Carey Brown, raised the pressing issue about why the Jewish community needs to deal with affordability beyond the basic human issues.
"This evening stemmed from the awareness that we all feel affordability impacting the sustainability our community," she said. The other reality, she said, is that as Jews become more geographically dispersed, they are no longer near Jewish infrastructure like synagogues, day schools and the Jewish Community Centre of Greater Vancouver, so their participation in the community diminishes.
Participation in Jewish programming and activities is expensive in itself. Jewish community professionals are seeing a rise in requests for assistance for schools, summer camps and JCCGV activities. This also raises issues about the long-term sustainability of the community's institutions if families cannot afford to live near enough to use them.
The event's keynote speaker, Richard Fruchter, executive director of the Jewish Family Service Agency, addressed affordable housing, food security and a steep rise in demand for food banks, and raised some suggestions for solutions, including universal childcare, affordable transit and some novel taxation changes.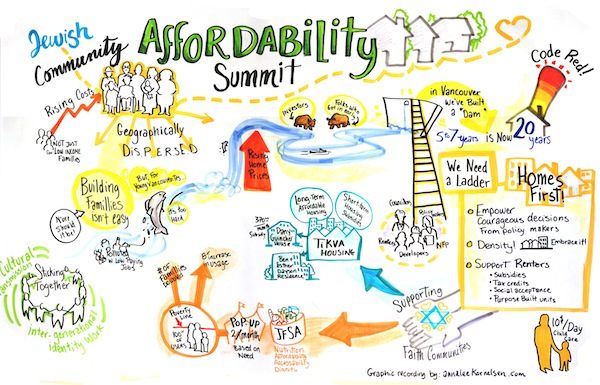 Eric Fefer, chair of the Tikva Housing Society board, said his organization is in the process of expanding the number of subsidized housing units in its portfolio, with 10 new units called Storeys (Diamond Residences) opening this summer in Richmond.
Starting this fall, applications will be accepted for the Ben and Esther Dayson Residences, a project Tikva Housing is undertaking in conjunction with Vancouver Community Land Trust. The development will include 32 townhomes and apartments of two, three and four bedrooms. These homes, in the River District of south Vancouver, are expected to be available for occupancy in summer 2018.
These new homes will provide families with subsidized housing in the vicinity of Jewish amenities, but Fefer acknowledged this increased supply doesn't begin to touch demand.
Following the event's main session, breakout groups convened to discuss topics in greater depth. In addition to issues of food security and housing, affordable childcare advocate Gyda Chud presented solutions for universal childcare. A session on Jewish education was led by Daniel Held, executive director of the Julia and Henry Koschitzky Centre for Jewish Education in Toronto. He shared insights into the efficiencies Toronto is seeking in their Jewish education system to lower the cost of Jewish day school.
The Jewish education session was an example of using the experience of a community like Toronto's, with greater breadth and depth of experience than ours, to identify ways to be more inclusive and to reduce costs so more Jewish children can access what Held referred to as "high impact Jewish education experiences."
The Affordability Summit's results were recorded by each breakout group moderator and then graphically represented by a talented artist who integrated the ideas for the group to see. Each group produced a few suggestions and this information will be used by the Federation's planning council to help inform the way forward.
For more information on how to become engaged in activities surrounding affordability in Vancouver, contact Shelley Rivkin, vice-president, planning, allocations and community affairs at Jewish Federation at [email protected] or 604-257-5192.
Michelle Dodek is a freelance writer living in Vancouver and the president of the Hebrew Free Loan Association.