This photo was taken from about a block away from the Okanagan JCC just after the evacuation. (photo by Anne Zazuliak)
On Aug. 17, the McDougall Creek Fire, which began 10 kilometres northwest of West Kelowna, descended upon the community and brought an evacuation order to those on the west side of Okanagan Lake. By that evening, winds pushed flames across the lake to Kelowna, sparking more fires and bringing about further evacuation orders.
Aug. 18 and 19 saw the conflagrations at their most dangerous, according to members of the Okanagan Jewish community who spoke to the Independent before it went to press. On Aug. 18, Kelowna International Airport suspended all flights coming in and out of the city. Later in the day, the province issued a state of emergency for the area.
By Aug. 21, the situation was under more control, with the airport opening for a few hours and an evacuation order around the University of British Columbia campus in Kelowna downgraded to an evacuation alert. Garbage pickup and other services also resumed.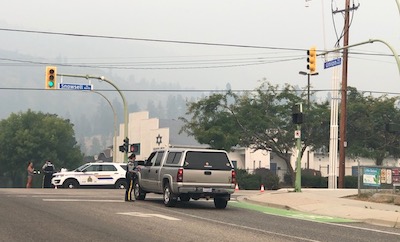 Okanagan Jewish Community (OJC) board members said several families within safer zones were able to house evacuees. Before the evacuation orders, the OJC had messaged members requesting accommodations, support and contact information so that, when the orders came, it had a list in place to make sure everyone evacuated would be assisted.
Meanwhile, Rabbi Shmuly Hecht of Okanagan Chabad House spent a few frantic days, along with members of his family, checking in on people, collecting food and supplies, baking hundreds of loaves of bread and ensuring that people in the community would have shelter. During the worst of the wildfires, Hecht's office was turned into temporary accommodation for an elderly West Kelowna couple.
"As soon as it started, we were thinking we have to help," said Hecht. "Anyone in a position to help should be honoured and privileged to do so. In our upbringing, this is why we are alive, this is why we are here – to serve, especially in times of need.
"I feel that everybody – even if you yourself are running and in a time of need – can begin the process of healing when your first thoughts are, how can I help someone else who may have even less than me? There is always someone who has less, and we can be of support to them. It reminds us of what life is all about."
Hecht told the Independent he had met with one member of the community who had lost their home.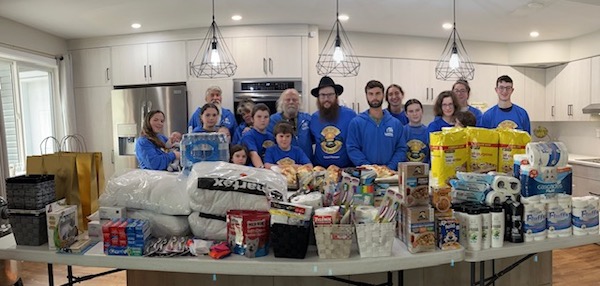 On Aug. 25, Steven Finkleman, OJC board past president, said, "Things are certainly much better now. I believe that the fires on the Kelowna side of the lake are being brought under control, and I believe that, as of last night, the evacuation orders and alerts on this side of the lake have been canceled."
At the time, however, evacuation orders were still in place in parts of West Kelowna, though the dangers were receding.
"The active fire might seem to be a bit more distant from civilization and parts of it might be left to simply burn out, as long as people and property are not in danger," said Finkleman, who thanked emergency services in the region, which, he emphasized, prioritized life, structures and forests, in that order.
"Certainly, the stress levels and anxiety of everyone were challenged at the peak of the event. Several persons do live in 'interface' areas, where the homes are scattered amongst the trees and forest. These persons in Kelowna are always at increased risk. The colour of the orange sky and the fact that Kelowna was the most polluted city in the world (for a time) added to everyone's stress levels. Most persons needed to stay home, only venturing out for food and supplies, and having masks on to filter the air," Finkleman said.
Many organizations and individuals stepped forward to offer help, he added. At times, there were so many food donations that organizations struggled to keep perishable items fresh.
Finkleman praised the level of support that came from the Vancouver and elsewhere. "We seem to be getting closer and closer to the Vancouver Jewish community, and I think it is important that Vancouver be aware of what we have gone through here. Support by email, phone calls, etc., has been tremendous, from the Vancouver Jewish organizations and from the clergy that we know well across Canada and who are participating in our Shabbaton weekends. We even have received an invite from a stranger in West Vancouver stating that she is able to put people up if they have evacuated from Kelowna to the Lower Mainland. Incredible support, really."
The OJC, which houses Beth Shalom Synagogue, is situated in an area that was ordered to evacuate. During the height of the fires, nobody was allowed to enter the building, where two Torah scrolls are kept, due to an RCMP barricade. Community members told the Independent that the constant police presence around the centre made them feel comfortable that the building was safe and secure.
Members of the OJC executive recognized the need to bring people in the community back together, as fire dangers eased. On Aug. 27, they organized a beach barbecue that was well-attended. Over the Labour Day long weekend, Rabbi Russell Jayne from the Beth Tzedec in Calgary will lead services at Beth Shalom.
"We believe it's vital for our community to be together after a crisis like this, so we are going ahead with all our planned events and High Holidays," said David Spevakow of the OJC board.
"Our local talent, Evan Orloff, will be leading our High Holiday services. Everything is a go," he said.
"These High Holy Days will definitely be emotional, with the scorched earth, smoky skies and long recovery all creating quite a tangible backdrop to the season of reflection and self-examination," said Abbey Westbury, a member of the OJC board. "We have tried to keep our messaging buoyant, but we are ready for the tears. What a few unimaginable years we've had. Ready for a new start, indeed."
Life will get back to normal at Okanagan Chabad House, as well, Hecht stressed, despite having fallen behind with regular obligations during the fires.
The Jewish Federation of Greater Vancouver has established a B.C. Wildfire Relief Fund. To donate, visit jewishvancouver.com/bc-fire-relief-fund.
Sam Margolis has written for the Globe and Mail, the National Post, UPI and MSNBC.