Okanagan Jewish Community Association president Steven Finkleman explains Jewish prayer books. (photo by Don Plant)
It sounds like a joke – a Muslim and a Jew walk into a Tim Hortons. But there's no ethnic punch line in this story. As representatives of their congregations, Rehan Sadiq and Philippe Richer-Lafleche met over coffee several times to arrange a get-to-know-you gathering of their communities. After decades of living in Kelowna, B.C., but seldom rubbing shoulders, members of the Muslim and Jewish faiths decided to learn about each other's history and culture by visiting their respective places of worship.
Their latest encounter in Kelowna's main synagogue included a briefing on the Jewish faith and a close-up look at the Torah. Sixty people, more than half of them members of the Kelowna Islamic Centre, listened to a Hebrew psalm as they sat in the sanctuary of the Okanagan Jewish Community Centre in June. In exchange, board member Hassan Iqbal recited from the Holy Quran and his teenage son Musab Hassan sang prayers in Arabic.
The gathering followed a similar event in February, when Muslim members hosted a contingent of Jewish visitors at a get-to-know-you function in their new mosque in Kelowna. Both communities share the will to look past the history that divides them and forge a longstanding friendship. [See jewishindependent.ca/okanagan-interfaith-initiative.]
"The last thing I want our children to learn [about our relations] is from the news," Sadiq, the mosque's interfaith director, told both congregations in June. "This kind of meeting is extremely important. We should talk about building bridges."
Organizers circulated the visitors through three stations at the synagogue to inform them about the basics of Judaism. OJC members showed them the Torah, explained the prayer books, interpreted symbols of the synagogue and demonstrated artifacts.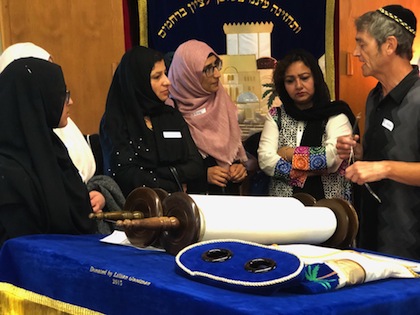 Once everyone sat down, lay leader Evan Orloff sang a psalm to the tune of Leonard Cohen's "Hallelujah." OJC president Steven Finkleman discussed the importance of loving your neighbour as yourself. Grant Waldman and Annik Moyal-Waldman sang Shalom Aleichem, the Hebrew phrase for "peace be upon you."
Once Islamic Centre president Mostafa Shoranick made a few remarks, Finkleman announced, "Let's eat," and everyone lined up for a lavish buffet of Middle Eastern dishes. People mingled as they ate and at least one group of Muslim and Jewish women agreed to meet again. Over dessert, Sadiq and Finkleman led a discussion on which charities both faith groups could jointly support.
"I really think peace in the world will come on a one-to-one basis. It's not governments [that generate it]," Richer-Lafleche, whose Jewish and Muslim grandparents married in Morocco, said in February. "It's within small communities that you actually get to know people…. We make choices. We can choose to be loving or otherwise."
The Muslim community is trying to educate the public and its own members about what true Islam is, said Shoranick, who grew up in Lebanon. Many in his Muslim community are new to Canada and want to assimilate, he said. "We come from different countries and different sects. We believe that, in this country, we're lucky that we're able to do our religion…. The religion is for God but the country is for everybody."
Both groups have discovered they share several monotheistic beliefs. Among them:
the greetings "salaam" and "shalom" are virtually the same;
Islam and Judaism regard Abraham, Isaac, Jacob and Moses as prophets;
neither religion proselytizes or compels anyone to adopt their beliefs; and
both agree it's wrong to judge people, and how you worship is up to you.
"It's not our differences that get in the way; it's how we perceive our differences," Orloff said.
Don Plant is a retired journalist and member of the Okanagan Jewish Community in Kelowna. This article was originally published in the CJN, cjnews.com.