Members of the Okanagan Jewish Community came together to celebrate Chanukah. (photo from OJC)
The Okanagan Jewish Community in Kelowna has been keeping a busy schedule. Bolstered by many new members who have moved to the region – word has gotten out … who wouldn't want to live here? – the community is growing both in numbers and in strength.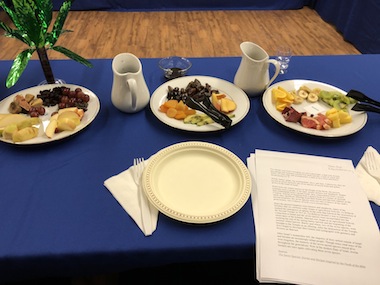 Traditional events such as the High Holidays – with visiting rabbis Larry and Linda Seidman from California – Sukkot and a Chanukah party attended by 80, started out our Jewish year. Of particular note was a Tu b'Shevat seder on Jan. 20, led by OJC member Barb Pullan, which was attended by 30 members. Everyone gathered to celebrate trees and discuss their importance to the preservation of life. We ate specific fruits representing those grown in Israel, drank wine or grape juice, recited blessings, told stories and sang songs. This definitely will be a repeat event in 5780.
Shabbat services were led by visiting Cantor Russ Jayne from Calgary in October and November, along with other services led by local community member Evan Orloff.
A Movie Night (The Boys: The Sherman Brothers Story) was presented on Nov. 9. The screening was organized by OJC member David Spevakow and took place at the Okanagan College Theatre, with almost 200 guests in attendance. We hope to continue the movie nights on a regular basis.
New programs this year have included:
Coffee, cake and cultural anthropology talks. I gave the first talk, on my experience meeting with the Jews in Gondar, Ethiopia. The second session was presented by Murray Oppertshauser, a retired Canadian diplomat, who spoke about his many postings throughout the world. Further talks are planned.
Several intercultural "meet and greets" have been planned with various cultural/ethnic groups in town.
The OJC participated in Taste of Home, a Kelowna community event, in which various ethnic communities in the city participated by selling a sampling of their ethnic food, and with ethnic dancing. We contributed 340 cheese knishes prepared by our members under the direction of Barb Finkleman. Our local Israeli dance group provided the entertainment.
Future events include a ball hockey tournament, Purim, Passover, regular meetings of the Ladies Group, the continuation of the Hebrew school, and our annual golf tournament in the summer.
The OJC is searching for a full-time resident rabbi. We are in the process of having several candidates come out for a Shabbat weekend, after which the community will decide which spiritual leader best fits our needs.
If you're visiting Kelowna or, better still, moving here, contact the OJC at 250-862-2305 or [email protected].
Steven Finkleman is one of the original members of the Okanagan Jewish Community, having arrived in 1982. He has acquired lots of memories over the years. Currently retired, he has been serving as the president of the OJC since October 2018.