The Coast-to-Coast March of the Living group, as well as a few Israeli youth, in Israel. (photo from Talya Katzen)
This past spring, I took part in the March of the Living 2015 program – a two-week trip to Poland and Israel, where people from 45 different countries are brought together to learn about the Holocaust and the current state of Judaism in Israel.
The trip was the most emotional and heartbreaking two weeks of my life. I never could have anticipated the kind of life-changing journey I was about to embark on.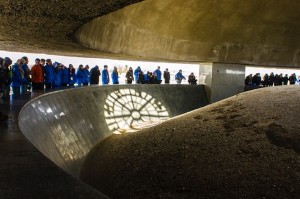 The week in Poland was extremely draining, and I came to many realizations. I felt so strongly about things I simply cannot put into words. Our pre-trip informational sessions came nowhere near to preparing me for what I was going to witness. How can anything prepare you for walking through a gas chamber where, just 70 years ago, thousands of innocent lives were erased each day? Pictures may speak louder than words, but physically being there is like a blood-curdling scream right in your face.
Each day's event was a new brick dropped on my shoulders and, as the bricks piled up, I came to appreciate more and more the wonderful life I have been blessed with. The weather in Poland was cold and windy, spitting rain into our eyes as we walked through extermination camps, cemeteries and ghettos in our warm down coats and hats. Our complaints about the cold were no match to the below-zero temperatures that those starving prisoners in the thousands of concentration camps across Europe had to face day in and day out.
The tour of Majdanek concentration camp was truly an experience that will be with me for the rest of my life. The defining moment of the journey was visiting the monument that holds the ashes of the victims of the camp. A recording of the prisoners, just liberated from Bergen-Belsen, singing "Hatikvah" began to play as we all stood hand-in-hand. My mind was blank and completely full at the same time. The mutual sorrow all we marchers felt was overpowering. A connection to one another that I doubt will ever be broken.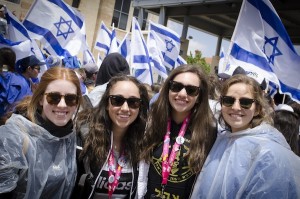 This feeling of grief was flipped on its back upon our arrival in the beautiful state of Israel, a country that is now home to Jews who have survived some of the worst events in history – and prospered. I was fortunate to be there during the festival that celebrates Israeli Independence Day. Israelis gather together to celebrate community and overcoming many hardships. Having just experienced the height of grief in Poland, I could not have been more grateful for Israel, and the promise it holds for the Jewish people. Of course, our celebrations of freedom were constantly overshadowed by the memory of those who perished in Europe, who never had the chance to visit our homeland. It made me realize how absolutely crucial it is for young Jewish people of the world to experience this journey so that we may never forget.
March of the Living taught me that I have family all over the world who are just as passionate about keeping Judaism alive as I am, and that it is completely up to us to carry the torch from generation to generation, to keep the flame of the Jewish people burning forever. I am a third-generation survivor and it is my duty to be a witness, to live out the lives of those who never had the chance to see their 10th or 18th or 85th birthday simply because of who they were. Hitler and the Nazis may have been successful in murdering millions of people who didn't fit their blueprint of the ideal race, but they failed miserably in taking away our Jewish identity. I am a person, I am a witness, I am a Jew, and no one can take that away from me.
Talya Katzen originally wrote this article as a Lord Byng Secondary school assignment. Jewish Federation of Greater Vancouver offsets the cost of March of the Living by $2,000 for each local participant. The funds for this are generated through the Federation annual campaign, and are distributed to participants through the Israel and Overseas Connections fund. Jewish Federation also provides support through staff resources, program leader training and participant education.