Fashion designer Noa Raviv (photo by Ryan Duffin)
Avant-garde fashion designer Noa Raviv says her award-winning fashions were triggered by her interest in the power of mistakes.
Born in Tel Aviv in 1987, Raviv is currently developing her couture brand in New York City, after achieving global industry recognition for her Hard Copy garments combining hand-sewn, 3D-printed polymer synthetic tulle with laser-cut appliqués.
"Hard Copy was a really long process that came out of my thinking about the concept of originals and copies in our era," she told Israel21c. "When I started working with 3D software and printing, I was intrigued by the mistakes I made. If you input a command that can't be executed, you get unexpected results. It was kind of magical to me. I was fascinated by mistakes created by a perfect machine and started exploring how it could be my answer to designing something original – because a mistake is something you can't replicate."
Hard Copy features ribbed polymer shapes printed out on a Stratasys Objet Connex multi-material machine and stitched to voluminous pleated tulle, silk and organza.
Named Fashion Designer of the Year 2014 at the 3D Printshow in London, Raviv has exhibited in Carrousel du Louvre, Paris; Old Billingsgate, London; New York's Metropolitan Museum of Art; and Boston's Museum of Fine Arts, among other venues.
In November 2015, Raviv gave a keynote talk on The Power of Mistakes, at Futurescan 3, a conference organized by FTC (Association of Degree Courses in Fashion and Textile) at Glasgow School of Art in Scotland. She spoke on the same topic at the Museum of Design in Atlanta, Ga.
Raviv was one of four innovative Israeli women honoured at the 10th annual Israel Day at the New York Stock Exchange, Nov. 10, 2016.
Raviv, who appeared on Forbes Israel's 2016 "30 Under 30" list, said she is "fascinated by the tension between harmony and chaos, tradition and innovation," and wants to continue experimenting with technology.
Her current collection, Off-Line, was released in spring/summer 2016.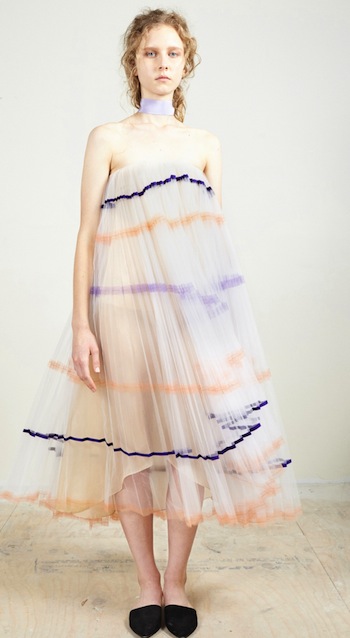 Though it's not 3D-printed, Off-Line combines elements of complex handwork and machine work, beginning with graphic design software and topped off with Swarovski crystals.
Raviv's collaboration with Swarovski involves sending design files to Austria, where the company custom-makes molds from which millions of tiny crystals are applied onto a flexible transparent material and sent back to New York for finishing.
"Once every crystal is in the right place, they're applied by heat to organza," said Raviv, acknowledging that the more complicated pieces take a few weeks to complete.
"Hard Copy explored computers and digital errors. Off-Line explores the more intimate side of the creation process," she said.
Most of the pieces in Off-Line are ready to wear and others can be made to order. Prices start at $1,800 US.
"My collections are not meant for the masses," she admitted. "I'm still establishing my clientele – women who appreciate art, fashion and quality and care a lot about uniqueness."
Neither is 3D fashion for the masses. In fact, Raviv doesn't believe it will be available on the retail level anytime soon.
"Maybe in the very far future," she said. "Fashion is far too complex to make in one machine, technique or material. There are so many nuances and the technology isn't there yet to create what people want to wear. For now, it's a romantic idea."
A 3D dress made by another Israeli designer, Danit Peleg, was worn in a dance performance by U.S. snowboarder Amy Purdy at the opening ceremony of the recent Paralympics in Rio.
An intuitive choice
Always captivated by art and fashion, Raviv wavered between art school and fashion school after two years of army service and another 12-plus months pursuing other interests, including learning to speak Spanish – a very practical skill, as she is married to an Argentine-born startup entrepreneur.
"At the last minute, I intuitively went for fashion," she said.
Raviv graduated in 2014 from Israel's Shenkar College of Engineering and Design. Hard Copy was her senior project. Her designs also were included in 2013's Here Comes the Bride exhibition, which opened at Beit Hatfutsot-Museum of the Jewish People in Tel Aviv and traveled to other countries.
Raviv moved to the New York City borough of Queens a little more than a year ago and is getting used to the more formal work culture in the United States.
"Israel is very small and the fashion scene is small, and it's hard to manufacture in Israel," she explained. "It's important for me to be very close to the development and production of my designs."
For more information, visit noaraviv.com.
Israel21c is a nonprofit educational foundation with a mission to focus media and public attention on the 21st-century Israel that exists beyond the conflict. For more, or to donate, visit israel21c.org.