Camp Shalom knows that first experiences are a huge milestone in a child's development, shaping their individuality, interests and futures. (photo from JCC Camp Shalom)
Day camps have always been places for firsts. For many, camp is the place where they are in a structured setting that isn't school, where fun comes first. Serving children and youth from 3 to 16 years old, Camp Shalom has always viewed the experience from the lens of "what memorable first experience can we give campers?" For some kids, that experience is as simple as the first time being on a school bus going to a field trip. For others, it may be the opportunity to go camping or have a sleepover away from their homes.
These types of firsts are a pivotal part of growing up and becoming an independent person. With year-round programming during school breaks and professional development days, Camp Shalom is able to give many children and youth experiences they would not normally get to have. It's an opportunity to meet other children who do not go to the same school as them or kids who have just moved to Vancouver. Such firsts leave a lasting impression and have the potential of creating lifelong friendships. Camp Shalom is dedicated to making camp a safe and accessible place where children want to go.
Thanks to the ongoing and generous contribution of the Diamond Foundation and the Snider Foundation, Camp Shalom is also able to support campers with diverse needs. Staff are provided with special training sessions, mentorship programs and one-on-one support to ensure each camper can have the best experience. Campers who were part of the inaugural Inclusive Summer Camp Experience have now grown and become teens and young adults who are still connected to Camp Shalom, some of whom are now camp staff.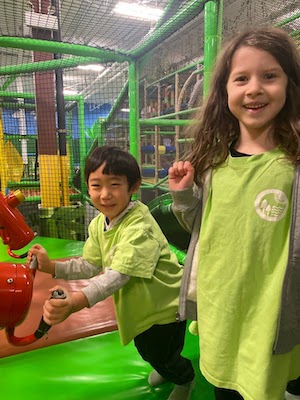 During their camp years, kids are transitioning from childhood into teenage-hood and teens are about to become counselors. First experiences are a huge milestone in a child's development, shaping their individuality, interests and futures. Each year, after camp is over, counselors and staff hear about campers who have gone on to explore new interests that they gained while at camp.
A couple of summers ago, Camp Shalom introduced fencing – for almost everyone it was their first time doing this sport, and most initially knew nothing about it. One camper in particular found so much joy in this first that he has continued participating in it since. In the camp's teen programs, many participants discover their passion for working with children or in community volunteering. Even staff are affected by these new experiences, and some have changed career paths after working at camp.
This summer, Camp Shalom will be operating at the Jewish Community Centre of Greater Vancouver and King David High School in Vancouver, Har El Synagogue in West Vancouver, and Richmond Jewish Day School in Richmond. Families can choose the location that best suits them.
For more information about the Inclusive Summer Camp Experience or Camp Shalom's teen programs, contact Ben Horev, camp director, at 604-813-4236 or [email protected].
– Courtesy JCC Camp Shalom