Kibbutz Magen member Shunit Dekel speaks via Skype to the almost 800 people who came out to Temple Sholom to show support for Israel. Dina Wachtel, executive director, Western Region, Canadian Friends of the Hebrew University, is at the podium. (photo from JFGV)
Close to 800 people gathered at Temple Sholom the night of July 27 to show solidarity between Canadians and the state of Israel.
Temple Sholom Rabbi Dan Moskovitz started the evening by leading the crowd in "Am Yisrael Chai," and Jewish Federation of Greater Vancouver chair Diane Switzer read aloud a letter of support from Premier Christy Clark who wrote, "The current conflict in Israel and Gaza is of great concern to anyone who believes in democracy and human rights…. At this difficult time, let us remember the values we share with Israel: a vibrant, culturally rich, democratic nation committed to maintaining the rights of its citizens, regardless of gender or religion. Israel is an example not only to the region, but the world."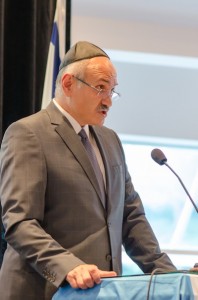 The event featured a number of guest speakers, including Shunit Dekel, a member of Kibbutz Magen, and Farid Rohani, a businessman, social activist and a board member of the Laurier Institution. Dekel spoke via Skype from her home 4.3 kilometres outside of Gaza. Her kibbutz was forced into lockdown three times last week, because of the danger posed by the underground tunnels connecting it with Gaza. Rohani addressed the issue of antisemitism in recent social media. Through his own analysis of Twitter, he concluded that the coverage is remarkably lopsided and that "remaining quiet is a disservice not only to the values that we share as Canadians, but to order and what is right."
The event was a collaborative effort between several local organizations: Canadian Friends of Ben Gurion University, Canadian Friends of Hebrew University, Canadian Jewish Political Affairs Committee, Magen David Adom, Congregation Beit Hamidrash, Congregation Beth Israel, Congregation Temple Sholom, Congregation Schara Tzedeck, Hillel BC, Jewish Community Centre of Greater Vancouver, Jewish National Fund, Or Shalom, State of Israel Bonds and the Centre for Israel and Jewish Affairs, Pacific Region.
At the end of the night, community member Bill Levine remarked, "The tone of the evening was respectful, and stressed our desire for a peaceful resolution. It was good to see the community react in the spirit of coming together."