Noa Tishby, right, responds to a question from Danielle Ames-Spivak at the Jewish National Fund of Canada Pacific Region's Negev event June 29. (photo by Robert Albanese)
The Jewish National Fund of Canada (JNF) Pacific Region hosted its annual Negev event on June 29 at Congregation Beth Israel. The first in-person iteration of the Vancouver gathering since the pandemic, the evening's emcee, Howard Jampolsky, vice-president of JNF Pacific Region, noted that the event drew a record number of first-time attendees.
The evening featured Noa Tishby, an Israeli actress, producer, writer, and activist against antisemitism and the delegitimization of Israel. Funds raised went to support Carmel Farms, a horseback riding ranch in northern Israel catering to children and young adults with special needs, and Vancouver's Southlands Therapeutic Riding Society (STaRS), which provides similar programming locally. A video was shown about the farm in Israel and Ann Thomson, board president of STaRS, spoke at the event.
There were several activities before the main part of the evening's program. Mike and Lisa Averbach, event co-chairs, offered welcoming remarks, sharing that they had a son on the autism spectrum and know firsthand the good work that STaRS does. After Benjamin Jacobson led the audience in O Canada and Hatikvah, Shannon Gorski, president of the JNF Pacific Region board, spoke, as did Nathan Disenhouse, board president, and Lance Davis, chief executive officer, of JNF Canada.
Disenhouse presented past-president Bernice Carmeli with the President's Pin, commending her leadership, especially during the pandemic, and he gave the Lifetime Achievement Award to "one of the greatest friends JNF has ever had," Ruth Freeman, for her commitment to JNF Canada over more than three decades. Harvey Dales was presented with the Bernard M. Bloomfield Medal for his dedication to the Jewish community, including decades to JNF.
Michael Sachs, executive director of JNF Pacific Region, presented the Educators Award, honouring the commitment of the community's educators during the pandemic, to representatives from the four Jewish day schools: Myra Michaelson (Vancouver Talmud Torah), Anna-Mae Wiesenthal (King David High School), Lisa Altow (Vancouver Hebrew Academy) and Bat Sheva Michaeli (Richmond Jewish Day School).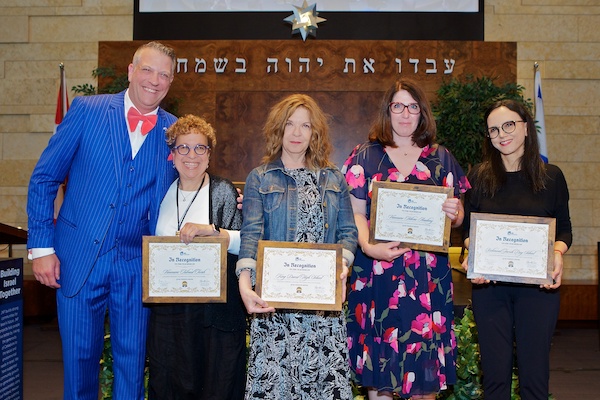 In the fireside chat-style interview, Tishby was joined by her close friend and Vancouver Jewish community native, Danielle Ames-Spivak, who is executive vice-president and chief executive officer of the American Friends of the Israel Philharmonic. The two discussed Tishby's background, rising antisemitism in North America, and the future of Jewish pride and Zionism in today's political landscape.
Tishby – who was Israel's first-ever special envoy for combating antisemitism and delegitimization – is a prominent voice in the media for fighting antisemitism and defending Israel. While she chose this task, she said it has put a target on her back. But she was appalled by the misrepresentation of Israel in the United States and enraged by the strong – "insane" was the word she used – opinions about a country Americans have little knowledge about.  And so, about her activism, she said, "To me, it was a very easy choice."
Tishby views her work as "what is supposed to be the low-hanging fruit," and she finds it surprising when people label her as brave for defending the only democracy in the Middle East. "The safety and security of the state of Israel is not a Jewish or Israeli issue," she said. "It is an international security and Western values issue."
Tishby's 2021 book Israel: A Simple Guide to the Most Misunderstood Country on Earth is intended to provide a digestible resource for Israel supporters in need of more knowledge in order to defend the country in discussions or debates. In addition to taking on the responsibility of explaining the complexities of Israel in a clear and relatable manner, Tishby shared that she often sees herself as "part author, part activist and part therapist." With the peril of rising antisemitic attacks, the Jewish community is stressed, she explained – "people need to vent."
When Ames-Spivak asked from where Tishby drew her strength, the activist attributed it to her upbringing. "When you grow up in Israel, you live a very particular life," surrounded by political tension and neighbouring threats, she explained. Under these conditions, Tishby said she has become highly functioning under pressure, which allows her to fight antisemitism daily on social media. An example of her work is a video highlighting the hypocrisy of the BDS movement, which promotes boycotting, divesting from and sanctioning against Israel. The video showcases Tishby talking about various Israeli innovations commonly used in everyday life that people would have to forego if they followed BDS – a list that includes so many things, from cherry tomatoes to cellphone chips.
At the JNF event, Tishby addressed the influence of social media, noting that supermodels Gigi and Bella Hadid, who have millions of followers, hold "extraordinarily anti-Israel views" and mobilize their followers accordingly. "Numbers-wise, we're behind," she said about social media activism against antisemitism.
And what is antisemitism, according to Tishby? Firstly, she emphasized how one cannot separate anti-Zionism from antisemitism. "The connection of Jewish people and the land of Israel is unbreakable," she said, noting that Zionism is not a political movement, but rather a part of the ethnoreligious identity of the Jewish people. "Our entire religion is indigenous and connected to a place – Israel," she said.
"What's been happening over the past few years is swapping 'the Jew' with 'the Zionist,'" she explained. Throughout history, Jews have often been scapegoats for societal problems. Tishby asked, "Today, what is the worst thing to be?" She named three things: racist, white supremacist and colonialist. So, these days, Israel – and, by extension, the Jewish people as a whole – are blamed for being racist, white supremacist and colonialist.
She pointed again to BDS, whose advocates often use the language of apartheid in an attempt to dismantle Israel. "Every country in the world has issues, yet Israel is the only one whose existence is being questioned," she said, explaining that, when BDS activists use terms such as ethnic cleansing and colonialism, the Jewish community is reminded of an extensive history of antisemitic rhetoric. "We've heard this before, and we know where this can lead," she said.
Ames-Spivak drew attention to the fact that there were elected officials in the audience who had advocated for the adoption of the International Holocaust Remembrance Alliance (IHRA) definition of antisemitism. She asked Tishby why this definition is so important.
The IHRA definition is a key parameter to understanding antisemitism, said Tishby. It highlights the prejudice and anti-Zionism that antisemitism entails, she explained. In her opinion, it is crucial to adopt the IHRA definition at all levels of government.
Tishby described antisemitism as "a shapeshifting conspiracy theory." It's not just "punching down," considering Jews as lesser than, but "it's also punching up" and a "conspiratorial thing," which sees Jews as having disproportionate wealth and control over the media, for example. Antisemitism is the oldest form of hate that is still being practised and, oftentimes, tolerated, she said.
Directly addressing the college students in the audience, Tishby said, "Instilling in the younger generation how miraculous the state of Israel is is my life's work." Calling them "the most important people in the room," she highlighted that 50% of college students feel the need to hide their Jewish identities on campus. She urged this age group to not only educate themselves about the history of Israel, but to "find out why being Jewish is great." She believes that, by doing so, a person becomes unassailable.
Ames-Spivak concluded the discussion by asking Tishby about the future of Jewish pride and Zionism. In response, Tishby reminded the audience of the unbreakable strength of Jewish traditions and values – even in an uncertain or hateful world, she said, women will continue to light candles on Shabbat.
"I'm very hopeful," she said, noting that, to this day, Israel's existence and prosperity defies the odds. "The greatest innovation of Israel is Israel."
Alisa Bressler is a fourth-year student at Queen's University in Kingston, Ont. She is an avid reader and writer, and the online director of the arts and culture publication MUSE Magazine. Bressler is a member of the Vancouver Jewish community, and the inaugural Baila Lazarus Jewish Journalism Intern.