Israeli artist Ya'acov Agam's Holocaust memorial is located in Woldenberg Park. (photo by Adina Horwich)
On Friday, June 2, about 20 minutes before Shabbat candlelighting, I checked my email. I saw one from Cynthia Ramsay, editor of the Jewish Independent. We've been in touch for more than two years. The subject line read, "Congratulations, you are an AJPA Rockower Award Winner!"
It reminded me of the messages we all receive at one time or another, telling us we have won a million dollars, give or take. I opened it gingerly and my eyes widened in disbelief. "Adina, I have great news. You have won a Rockower award." Several lines down, I read there is to be an American Jewish Press Association conference and awards banquet in July, in New Orleans. I immediately shot back, "Cynthia, are you serious?!" I decided right then, I am going to this. I am to be honoured for an article I submitted in March 2022, recounting my aliyah story – I live in Jerusalem – and paralleling it with that of an Israeli couple's similar, and different, experiences with immigration to Vancouver.
The event was in four weeks' time: July, high season, crowds, lines. I pushed past every sane reason not to go and spent the next two weeks organizing an itinerary. I registered for the banquet and reserved my room, throwing in a long weekend to Toronto before the conference to see my elderly parents and a few relatives.
As I lit Shabbat candles, I broke down in tears. Of elation and joy. It had been a long while since I cried. This meant so much to me. I was going on an ego trip! My very own!
After a 20-plus-hour ordeal getting to New Orleans from Toronto, I saw the light of day dawning on NOLA, as the city is affectionately called, combining the abbreviation for New Orleans with that of its home state, Louisiana. I was in my hotel room shortly after 9 a.m., then went downstairs to find the AJPA conference. I was warmly welcomed by Taylor and Jessica, head office personnel, who handed me a gift bag and offered me breakfast, for which I was very grateful.
I entered the assembly room and listened to a session in progress, then took a walk to get acquainted with my immediate surroundings. I later rested and prepared for the moment I'd come all this way for: the Rockower Awards Ceremony and Banquet Night. Around 5:30 p.m., I descended to the lobby, decked out in my finest, high heels and all (last time I wore those shoes was eight years ago, at my son's wedding) and traipsed (hobbled) across the street to the Louisiana Pavilion of the National WWII Museum.
In the entrance hall, tables and chairs had been set up. Jazz musicians played a selection of local repertoire. Cocktails and hors d'oeuvres were plentiful. We were encouraged to have a look around the museum. Eventually, we took our places at the tables for dinner, during which, Alan Smason, AJPA president, read off the names of the winners. I could barely touch my food as I waited to hear my name. In the end he just said, "The Vancouver Jewish Independent" and Taylor came over to hand me my honourable mention certificate. I relaxed and finished dinner, the best part being the dessert: a thick slice of bread pudding, doused in a super-sweet, rum-flavoured glaze. The evening wound up with several participants heading to a bar somewhere, while others, including me, went up to Rosie's on the Roof, right in our hotel. There, we chatted together with other journalists, from St. Louis, Dallas, Houston, Albuquerque and more.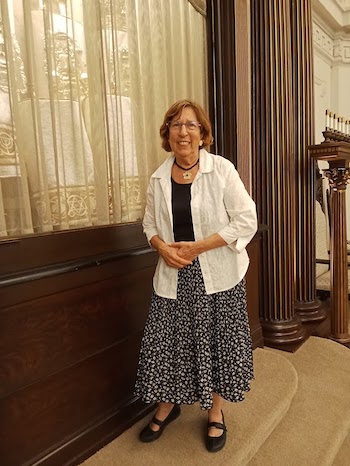 The next day, I took the tram to a meeting I'd arranged with docent Diane Cohen, a lifelong New Orleanian, at the Touro Synagogue on St. Charles Avenue. Cohen and I sat in the front row of the sanctuary, elegant and in pristine condition, as was the entire building, which was built in 1908 – the congregation's history goes back to 1828! She shared with me some of that history and the community's origins and growth. Later, she showed me around the lobby, chapel and office. We had a good discussion and I felt so touched to have spent about two hours in this remarkable venue, which continues to thrive, housing an active, vibrant, welcoming community. (See tourosynagogue.com.)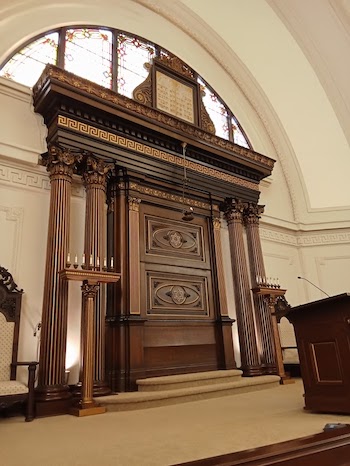 From there, Cohen drove me to a Walgreens where I bought a bus pass. Then I bussed down Canal Street towards Bourbon. As it was midday, things were not quite hopping, but it was enough to give me an idea of the many shops, restaurants, tourist sights and traps. I could conjure up an image of what night life and Mardi Gras celebrations must be like.
The bus driver let me off, suggesting I head down to the Riverfront, where I could hop on the ferry that crosses to the other side of town. After walking about 10 minutes to the wharf, the heavens burst open with a huge shower of warm rain. I boarded the next ferry. The ride was all of five minutes, but it afforded me a skyline view of the city and, hey, I can say I sailed down the Mississippi River.
I stayed on for the return ride, then meandered along the Woldenberg Park boardwalk, happening upon a colourful panel structure created by Israeli artist Ya'acov Agam, who designed it as a Holocaust memorial, a gift to New Orleans. From any which way one views it, light glistens through the menorah and Star of David symbols, panels ever shining, even in rain, honouring the victims.
Further along, I was treated to the sight of a characteristic of the region, a paddlewheeler riverboat. Staying on course, I found my way to the French Quarter. Having lived my adolescence in Montreal, it was warming to see French street names and other remnants of the French period there. I saw a woman in a candy store washing Granny Smith apples, preparing them for dipping in a variety of sugary coatings, reminding me of the taffy apples of my childhood. The fleur-de-lis emblem was everywhere, including on the bathroom floor tiles at my hotel and the chairs in the lobby.
I returned to the St. Charles Avenue tram line, getting off a stop before my hotel to visit the Museum of the Southern Jewish Experience (msje.org). Well, what an experience, indeed. After showing my AJPA participant's badge, Abbey allowed me in, and Jim showed me around the small but charming and interesting museum. Visitors see the historic beginnings of Jewish settlement in the Southern states, how communities formed, often with just a handful of individuals. Meetings and gatherings were held in homes, rented rooms, sometimes even at churches. Land for cemeteries was purchased. Hebrew schools instructed children. Sisterhoods held functions, raised money to support these efforts. From peddlers to grocers, small dry goods shops opened, which later flourished into department stores.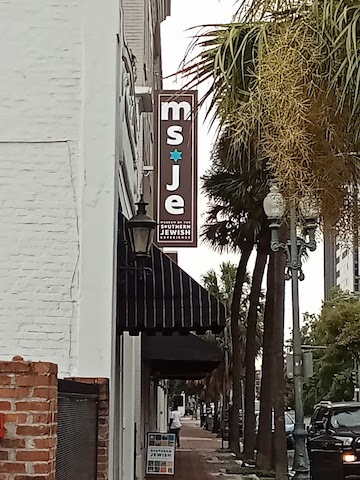 Jews were involved in cotton and other agricultural production. Trade ties were woven between the various populations, be they French, Spanish, British or Indigenous. The slow, but steady influx of Jews led to the formal establishment of synagogues and community facilities and institutions. Jewish presence figured prominently and was largely welcomed. Both Sephardi and Ashkenazi Jews gravitated to this region. Various levels of observance and traditions added to the fabric, and tension. It took time to determine a way to blend customs and decide how prayers would be led. Most congregations became affiliated with Reform Judaism – as many could not afford a full-time rabbi, either visiting clergy would come once every few weeks or lay members would lead services. Many a personal story is told. Families were close.
As I moved from room to room, I imagined the hardships, resourcefulness and sheer tenacity of these early pioneers, who had fled their native lands, to reach these shores or inland, remote, rural regions, to build new lives and opportunities. Today, there is so much going on in the South: a number of Jewish newspapers, initiatives, shared enterprises. Jews hold key roles and responsibilities in their cities. Community members are well-connected to one another, both in person and digitally, meeting individual needs, celebrating and sharing lifecycle events, holidays, prayers and cuisine. I was moved and impressed by the overall sense of purpose and furthering of a common goal: to maintain and strengthen Jewish identity. This goal has been unwavering over decades, through education and diverse joint programs and activities. Also, by fostering positive and supportive relations and cooperation with fellow residents of all backgrounds.
Towards the end of the exhibit, many well-known celebrities' photos were displayed, all of whom hail from Southern Jewish communities. I was especially enchanted by the link to a directory where one can click on any given town or city where a community existed (or still does) and read about their specific story. I have completed Alabama's list and hope to read through every single state. Check it out at isjl.org/encyclopedia-of-southern-jewish-communities.html.
Reluctantly, I left New Orleans. Upon returning home and unloading all the papers and paraphernalia I brought back with me, I unpacked from my carry-on several beaded necklaces that had been used as table centrepieces at the banquet. As the staff was cleaning up at the end of the evening, I asked if it would be all right to take a handful. Each colour represents a value or virtue: purple for justice, green for faith and gold for power. I could use a bit of all three!
 Adina Horwich was born in Israel to Canadian parents. In 1960, the family returned to Canada, first living in Halifax, then in a Montreal suburb. In 1975, at age 17, Horwich made aliyah, and has lived mostly in the Jerusalem area. Her award-winning article can be read at jewishindependent.ca/immigration-challenges-2.