The Tzimmes sextet, in 2019. Left to right are Saul Berson, Phil Belanger, Tim Stacey, Amy Stephen, Yona Bar-Sever and Moshe Denburg. Also part of the ensemble in the new recording, but not pictured here, is Fabiana Katz. (photo from Tzimmes)
Vancouver Jewish musical ensemble Tzimmes celebrates its 35th anniversary this year. To mark the occasion, the group, led by Moshe Denburg, has released a new album, The Road Never Travelled, its first in 23 years.
Denburg, who is also a classical composer, founded Tzimmes in Victoria in 1986. Throughout that time, the ensemble's modus operandi has been to incorporate as many types of Jewish music as possible – traditional Ashkenazi, Sephardi and Mizrahi, along with more contemporary and secular styles.
The new album is comprised of two discs. Disc 1 offers secular pieces, while Disc 2, Liturgy Lane, presents listeners with original music based on sacred texts.
The repertoire includes "Hahmi-ini" ("Let Me Hear Your Voice"), which was written in 1966, when Denburg was in his teens; the title track, "The Road Never Travelled," from 2005; and "other original arrangements of more recent vintage," such as "Oyfn Veg" ("On the Way"). Some of the songs on Disc 1, including the title track, are English pop/folk/world music. And not all the songs on the album are Jewish. There is, for example, a rendition of the Beatles' "In My Life."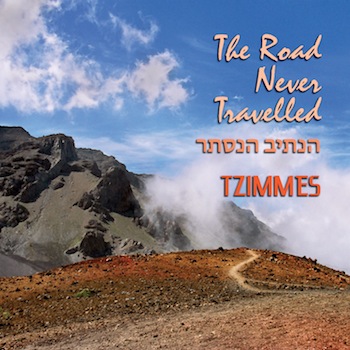 The recording and mixing history for the collection stretches 28 years. When it became clear that this was more material than could fit on one album, Denburg decided to turn it into two.
"For a number of years," he told the Independent, "we had some tracks that were on the back burner, so to speak – unfinished recordings that were begun in 2005-06. Tzimmes kept working in general – some concerts, lots of simchas, but completing a new recording was not in the cards, mainly because my own work was focused on founding and husbanding the Vancouver Inter-Cultural Orchestra (VICO).
"A few years ago, I wound down my administrative duties with the VICO, and started considering, in earnest, completing a new Tzimmes recording. The final impetus occurred when I turned 70, in 2019. I brought the group together, worked on a lot of new, and older, material, and took them into the studio to complete the older tracks and to lay down some fresh ones," he said.
The Road Never Travelled features many past members, and several other musicians who have collaborated over the past 20 years, to become the Tzimmes of today. Denburg (voice, guitar) is joined by Fabiana Katz (voice), Yona Bar-Sever (lead guitar, voice, electric bass), Saul Berson (clarinet, flute, saxophone), Amy Stephen (voice, accordion, whistle, lever harp), Tim Stacey (bass, electric bass) and Phil Belanger (drums) to form the ensemble. A dozen other musicians, including guitarist Itamar Erez, cellist Finn Manniche and vocalist Myrna Rabinowitz – as well as international instrumentalists Joseph "Pepe" Danza, Yuji Nakagawa and Adel Awad – also appear, among others.
Tzimmes' last album, KlezMyriad, was released in 1998, though the ensemble has performed at concerts and larger-scale projects since then. While changes have taken place over the past many years, it continues to be a tight-knit group of musicians.
When asked about the ensemble's longevity and how it has maintained its cohesion, Denburg explained, "I believe Tzimmes has steered clear of the more difficult conflicts that are legion where artistic collaborations are concerned. But, as a bandleader, it has taken the wisdom that comes only with much experience to keep one's passion alive while allowing for the artistic expression of one's colleagues. This is what a good bandleader ought to do.
"Tzimmes is more a family than an enterprise, at least that's the way I look at it," he continued. "So, as in all families, there is the joy of knowing that everyone is basically rooting for each other and, yet, at the same time, conflicts do occur. We have lived long enough together, and have matured as people together, to have buried most of the hatchets and be guided by our natural affections for each other, and our love of our common purpose – the making of music."
About the ensemble's history, Denburg said, "Over 35 years, ensemble members come and go, and, actually, no one who was with me in 1986, when Tzimmes was formed in Victoria, is with me today. Tzimmes has changed and evolved over the years. Of today's members, some have been with the ensemble for 30 years, some for over 20, and others are newer additions. One of the hallmarks of the new recording is that almost all Tzimmes members, of yesterday and today, are part of the recording.
"Tzimmes has always been dedicated to presenting Jewish music in all its facets," Denburg concluded. "The challenge has always been to deal with the variety of these musical expressions in a non-superficial way, to make an original contribution to Jewish music-making."
As the pandemic eventually fades, there are plans for a concert to herald the release of the CD and celebrate the ensemble's 35 years. And Denburg sees many possibilities in providing musical services of various kinds.
"Speaking for myself, in the longer term, it would be nice to see Tzimmes continue with some next-generation musicians," he said, "to carry on the tradition of original Jewish music-making in Vancouver."
For information on buying tracks and sheet music, visit tzimmes.net.
Sam Margolis has written for the Globe and Mail, the National Post, UPI and MSNBC.