"I am very proud to be its founding artistic director," said Moshe Denburg of the Vancouver Inter-Cultural Orchestra. "It's like watching one's child succeed in the world!"
But success is not something VICO takes for granted and Denburg said the orchestra team "is doing its best to keep the VICO relevant and vibrant."
"We are a growing cultural force in B.C. and in Canada today and, in some circles, we are gaining recognition worldwide as well," he said. "We are still one of a very few orchestral entities in the world dedicated to intercultural work. We do see our work as a window on the future, a future where there may be many intercultural orchestras in many cities…. The project is still quite young, and we need to care for it, materially and artistically, but, if we can continue to garner the support of the community in which we reside, there is every expectation that the VICO will do well for the foreseeable future."
While Denburg "handed over the artistic reins" of VICO to co-director Mark Armanini in 2014, he still contributes compositions for performance. As well, he said, "I have acted in several capacities: artistic advisor, financial manager, diplomat without portfolio and also project manager in several areas, the main one being the Mystics & Lovers recording project."
Released in 2016, Mystics & Lovers is a recording of two compositions that were performed by VICO and the chamber choir Laudate Singers the previous year – Ani Ma-amin (I Believe) by Denburg and Asheghaneh (Monologues Aglow) by Iranian-born Farshid Samandari.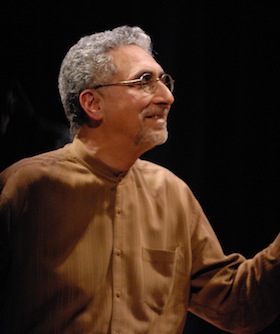 "These two works were the main pieces in the concert in May 2015, and it was decided ahead of time that we would be recording these two and making a CD from them," explained Denburg. "The full concert program included two a capella choir pieces followed by Asheghaneh in the first half, and then two small ensemble Kurdish pieces (featuring guest soloist Jamal Kurdistani) followed by Ani Ma-amin in the second half."
Armanini suggested that Ani Ma-amin and Asheghaneh be recorded. "The two works complement each other, and utilize vocal forces to include our collaborating choir, Laudate Singers," said Denburg. Together, they create a recording that is about 48 minutes in length.
The collaboration between VICO and Laudate goes back to 2002, when Denburg was looking for a choir to sing one of his works. "It was suggested to me by several colleagues to get in touch with Laudate Singers and their director, Lars Kaario," said Denburg. "This is how our first collaboration came about – in February 2003, we actually featured the world première of Ani Ma-amin."
Since then, he said, "Laudate Singers have really felt a connection to what we are doing. The intercultural element is very striking, and gives the singers an opportunity to see and hear non-Western instruments and musicians up close and personal. For the VICO, working with choir gives us an opportunity to expand the 25-member (approximately) orchestra with 25 voices, creating a very impressive sonic and visual experience. It also helps to combine our audiences, a great synergy in the arts, where fans are often hard to find, and harder to hold onto.
"The present realization of Ani Ma-amin differs a little from the original, not musically but rather in the instrumentation," he added. "Certain instruments that were available in 2003 were not available in 2015, so some substitutions had to be made. This is part of the intercultural process today – for example, if we want an oud (short-necked Middle Eastern lute) player, we have maybe two to choose from; if someone moves away and another is unavailable, we simply do not have that instrument at hand; this is unlike a violinist, let's say, where you can have several hundred professional players in Vancouver.
"Also of note is that one year after the première in 2003, Laudate and VICO, with a contingent of players from the VSO [Vancouver Symphony Orchestra], performed Ani Ma-amin at the Orpheum Theatre in a tribute concert of peace for the Dalai Lama, who was visiting (April 2004). In the audience were other dignitaries as well – the late Rabbi Zalman Schachter-Shalomi, Iranian peace laureate Shirin Ebadi and Archbishop Desmond Tutu."
The press release for Mystics & Lovers highlights the common themes of Ani Ma-amin and Asheghaneh, which Laudate Singers also premièred, in 2006.
"Both draw on the poetic best of many cultures in order to build bridges between them," says the release. "Both strive for unity in diversity, expressing a longing for peace and understanding, and seeking connection between personal love and spiritual devotion. Both make use of the human voice and instruments from many countries, both ancient and contemporary, to highlight both the commonality and contrasting expressions of these deeply human sentiments, and both draw on centuries-old texts (by the 12th-century rabbi/philosopher Maimonides in Ani Ma-amin and the 11th-century Persian poet/philosopher Baba Tahir in Asheghaneh) that still resonate today."
"While Moshe's approach is more 'orchestral' in the sense of blending the colours to create new shades, I tend to focus on individual colours and the transformation of timbre," says Samandari in the release. "Also, while Moshe, in creating his polyphony, draws upon the accepted Western chordal system, I explore species counterpoint, combining different musical styles and sonorities to create harmonies. Finally, Ani Ma-amin is a statement of belief in an ideal (Messiah); Asheghaneh describes a journey through trials and tribulations, reaching for the ideal (Beloved, by whatever name you call Him/Her)."
"Two aspects of our human expression are directly represented and expressed by the two works on the recording," Denburg told the Independent. "My work is an expression of devotion to the 'messiah idea,' a time of peace and of goodwill, whereas the Samandari work takes as its starting point the yearning of the lover. However, both works cross over into the other's realm: the messianic time yearned for in Ani Ma-amin will ultimately be crowned by the embrace of lovers; and the beloved who is yearned for in Asheghaneh is readily understood as the divine presence. This is the connection: the realms of the mystic and the lover come together.
"Musically speaking, Farshid and I draw upon different musical experiences – in my view, he is concerned with transformations of his experience with Persian musical ideas and modes, whereas I am coming from a Jewish modal perspective. I am also informed by my experiences in India, and this can be heard in the third movement, with the kind of melismatic singing which emulates Indian vocal technique. I would say that what unifies us is the use of modes in our works, and thus a certain melodic lyricism. To my mind, Farshid also draws upon the spirit of chanting in the Iranian Bahá'í tradition. So really, two strong sacred traditions are represented here."
Since its founding in 2001 as a society, VICO has commissioned and performed almost 100 pieces (small- and large-scale), said Denburg, noting that there are several ways a piece gets commissioned. One way is to apply to the Canada Council "to raise funds to commission a significant new work from a particular composer."
As well, he said, VICO holds workshops for established composers wanting to learn about writing for non-Western instruments and workshops and classes for young student composers. The established composers will create pieces using "smaller forces, perhaps one non-Western instrument with a string quartet," while the students "are encouraged to write for small combinations of instruments, and have their pieces premièred as part of a recital; such was the case recently at our inaugural Summer Academy (June 26-July 1)," said Denburg. "Finally, directors of the VICO, in collaboration with interested composers, decide to commission a new work directly.
"The decision to commission a particular composer, in a particular style, is made once the main theme of a concert or a festival project is established. For example, we recently held a festival called Hands On (June 6-11), a series of concerts featuring percussion and drums from all over the world. It included many melodic instruments as well, and composers were sought out to write for the combinations of instruments at our disposal. When we include both large and small commissions, our recent festival, Hands On, and the Summer Academy brought about the creation of 12 to 15 new works."
Mystics & Lovers is available for purchase on the VICO website (vi-co.org), at iTunes and at other digital music stores.