Two things will immediately strike readers of From the Outside In: Jewish Post & News Columns, 2015-2016 by Joanne Seiff – Seiff's knowledge of Judaism and her empathy. She really knows her Jewish texts, as well as a thing or two about human nature. Yet, she doesn't criticize from on high. She's right in there in the muck, so to speak, not just making suggestions for others to carry out, but trying to play a positive role herself in whatever transformations she thinks might engage more Jews in Judaism and in community. Her heart is in the right place, and it shows.
Readers of the Jewish Independent were introduced to Seiff's writing earlier this year, thanks to the JPN's Bernie Bellan, who thought her work might be a good fit for the JI as well. He was correct. Her columns mix Torah lessons, everyday life moments and community-building ideas seamlessly, in an uplifting manner that invites contemplation rather than merely prescribing answers. She is not dogmatic, but rather is struggling herself to see what works in her and her community's life.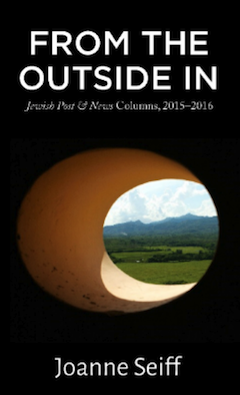 While Seiff writes about the Winnipeg Jewish community, pretty much every issue she brings up – from involving younger congregants in synagogue life to getting more out of the weekly Torah portion to countering antisemitism to making communal activities more inclusive – can be found in our community. No doubt other communities will also see themselves in Seiff's writing. And each of us will see a bit of ourselves, how we define our identity and how we move in the world.
And though you might not know it from her casual writing style and humble approach, Seiff has the education to back up her commentary. She has a master's degree in religious studies from the University of North Carolina at Chapel Hill and a master's in education from the George Washington University; she earned her bachelor's cum laude in Near Eastern studies and comparative literature from Cornell University. Even so, she doesn't have all the answers, and she doesn't pretend to. She calls on many sources, from Jewish traditions and writings, to rabbis who have visited her community with advice, to lessons she has learned from family (her parents and as a mother of twins), community members and others. She brings in her own experiences of living in places where there weren't many Jews – Kentucky, for example – and that of being a relatively recent immigrant to Winnipeg. She and her husband moved to the city in 2009 and the title of her collection reflects this perspective. As she writes in the introduction, "As a newcomer to Canada, I often see things differently than someone who was born and raised in Winnipeg."
There is a lightness and energy to Seiff's writing, which makes the book easy to read, even though she's tackling some heavy topics and, often, the lethargy of a well- and long-established communal structure. It takes a delicate touch to be constructively critical and not disrespectful to those who either helped set up or maintain the way things "always" have been done. Her solutions-oriented outlook and can-do attitude will inspire anyone who would like to see change but thinks that anything that's well-established – from our identity, to our Jewish community, to our larger world – is immutable. We may not have a huge amount of control over most things in life, but there are ways in which we can make things better. For ideas of where to start, From the Outside In can be purchased online. To read more of her writing, visit joanneseiff.blogspot.ca.