Left to right: Sophia Paskalidis, David Underhill, Drew Ogle and Mai Stone (seated) co-star in Tragedy, Slander & Wine. (photo by Sarah Cherin)
When a community theatre production ends with an actor dying on stage, the media descends on the small B.C. town. Conspiracy theories flourish and no one is above suspicion.
This is the plot of Tragedy, Slander & Wine by Jewish community member David Volpov, which premières at the NEST on Granville Island Nov. 13-19. The mystery/comedy explores, among other things, media literacy.
"My goal in writing Tragedy, Slander & Wine is to bring awareness about the issue and to invite audience members to think more critically about the media they consume. So, that's where the idea of true crime entered the play," said Volpov, executive director of Promethean Theatre, which is presenting the work. "I see true crime lovers popularize a lot of sensationalistic interpretations of well-known deaths. I think people tend to want to believe wild hypotheses instead of the cut-and-dried truth simply because it's more entertaining. This conspiratorial thinking can become dangerous if it impedes on innocent people's lives, which is what happened in real life to the town of Moscow, Idaho, after several infamous deaths."
On Nov. 13, 2022, Ethan Chapin, Xana Kernodle, Kaylee Goncalves and Madison Mogen were stabbed to death in the young women's off-campus (University of Idaho) house. False accusations and other misinformation proliferated, causing much harm to the community. Eventually, suspect Bryan Kohberger was charged with their murders, and his trial continues.
In Volpov's fictional story, the play's description notes, "The finger-pointing grows so rampant that the victim's sister, Shannon (Mai Stone), can't even have a healthy relationship with her own mother. Shannon's longtime friend Alec (Drew Ogle) promises to help Shannon replenish her image in the public eye and shed her status as a pariah. But they find out that manipulating the media is harder than they anticipated. They have to get past power-hungry reporter Penelope (Sophia Paskalidis) and gatekeeping publicist Colin (David Underhill). Soon, Shannon uncovers a secret plot that upends everything she thought she knew about the tragedy."
The play features four actors on stage and seven performers who act only on screen.
"I knew that I needed a multimedia film component in the production to spoof true crime," Volpov told the Independent. "We filmed interviews with the townsfolk, who give the audience information about the circumstances of the mystery of the play. The film is played on TVs, which are onstage during the entire performance."
This approach was new to many working on the production and Volpov said he appreciated the help of a few film artists who offered their guidance. In particular, he noted, "Our videographer, Bruna Xavier, and our film editor, Ian Tan, are both godsends. I'm really excited for audiences to see what this collaboration created because it's not something that Vancouver audiences have seen before."
Tragedy, Slander & Wine is Promethean Theatre's sixth production. Formed in 2018, the company's mandate is "to create work opportunities for emerging artists," said Volpov. "There are some apprenticeships open to emerging artists in Vancouver theatre companies, but I keep hearing from my peers that these positions only take them so far. They feel stuck in what they consider a trainee limbo before they can get a shot at a role they want. That's why Promethean puts emerging artists directly in positions of creative leadership. In that sense, we act as a launchpad for artists who want to continue expanding their practices." (For more information, visit prometheantheatre.ca.)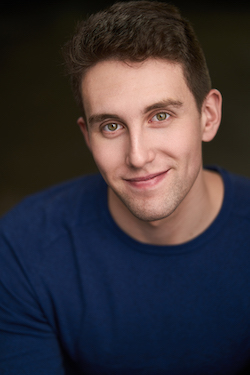 Volpov joined the producing team after having acted in Promethean's first production, Saint Joan. He graduated from the bachelor of fine arts acting program at the University of British Columbia in 2020.
"Like many people who graduated then, my final play at UBC was cut short after just three performances due to COVID," he said. "This experience really opened my eyes…. I always knew acting is a difficult profession, but to see virtually every theatre and movie set shut down spiked my existential worries a lot. There's a silver lining, though. I returned to playwriting during the lull period in 2020 because I realized that writing was a way I could create art while social distancing. I learned that I didn't have to wait for theatre work to come to me; I could generate work myself. In hindsight, I didn't actually know what art I wanted to make when I graduated UBC. It wasn't until I began writing plays that I found my voice and had something to say about the world."
Tragedy, Slander & Wine is one of the works Volpov began writing during the pandemic. "I felt troubled by how quickly conspiracy theories spread," he says in the press release for the play. "I saw this cycle repeat after each major world event. Our abilities to engage in meaningful discourse eroded while our reliance on bias-confirming news increased. With so much misinformation online nowadays, how is anyone supposed to parse through what's fact and what's fiction?"
"Research shows that feelings of anxiety, disenfranchisement and isolation cause people to think more conspiratorially," Volpov told the Independent. "People feel comforted by believing that their enemies cause their bad fortune (as opposed to random chance). One of the reasons conspiracy theories endure is because they have a backfire effect: when someone confronts a conspiracy theorist about their beliefs, it is interpreted as confirmation. Theorists think 'of course, the higher powers want to convince me I'm wrong, that's part of their plan.' I don't think conspiracy theories will ever go away, unfortunately."
Nonetheless, Volpov is doing what he can to improve the situation, in addition to writing about it.
"Promethean Theatre partnered with a media literacy platform to provide education about the topic," he said. "They are called Ground News and are a Canadian company based out of Kingston, Ont.
"I believe that there are many ways that people can combat their confirmation biases and to have a well-rounded knowledge about current events," he continued. "The number one thing people can do is to read multiple sources about one story. I know it probably feels like a chore, but reading different perspectives can mitigate our political blindspots.
"After that, I recommend cutting your social media use when engaging with current events. Traditional media isn't perfect, and it's rightfully facing scrutiny from the public, but social media can be especially pernicious because the algorithm can steer people to engage with content that already supports their beliefs. Also, the algorithm boosts sensationalistic content while ignoring nuance, which I think is necessary for every discussion.
"My next piece of advice is, be diligent about claims you read. If information can't be traced back to a source," he said, "it can't be verified as true."
Tragedy, Slander & Wine is recommended for audience members age 16+ because of its "mature content, including references to substance abuse, murder and suicide." Among the performances is a matinée for high school students Nov. 15, and artist talkbacks after the Nov. 18 and 19 matinées. For tickets, visit plainstage.com/events/tragedy-slander-and-wine.