A few dozen cyclists participated in last year's ORT Vancouver Ride for STEM. (photo from ORT Vancouver)
The third annual ORT Vancouver Ride for STEM takes place on Father's Day, June 19. The cycling event, which begins and ends at Richmond Jewish Day School (RJDS) grounds, raises funds for STEM programming – science, technology, engineering and math, said Mary Tobin, longtime executive director of ORT Vancouver.
Participants can choose from a five-kilometre, 36-kilometre or 72-kilometre ride, all of them within Richmond, which is a naturally flat environment.
Founded in Russia, in 1880, World ORT is one of the largest education and training organizations in the world. To date, more than two million students have been educated by ORT and 300,000 students benefit worldwide from World ORT projects in more than 100 countries every year. ORT schools and training centres operate in North and Latin America, Eastern and Western Europe, Africa, Asia and the Pacific, as well as in Israel.
Katia Fermon, director of Jewish life and community engagement at RJDS, said half of the funds raised will go to ORT Vancouver and half will fund programs at her school.
During the pandemic, RJDS, like many schools, was forced to adapt to remote and virtual education. Now integrating a hybrid approach, the technology that was implemented by necessity is being leveraged to strengthen the delivery of educational programs.
"Starting this year, we are trying to push our STEM programming with graphic design, programming with robots and more online education," said Fermon. The plan is to implement more technology, design skills, programming and coding skills into the curriculum.
"Now we need the hardware to do it," she said.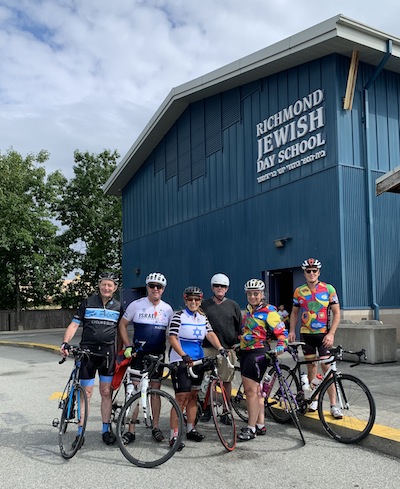 Since the cycling event takes place outdoors, the partners were able to run the fundraiser right through the pandemic. Last year, she said, 35 or 40 riders participated, raising about $26,000. Because pandemic restrictions have been eased, the event is taking place during the school year this time and students and parents are encouraged to participate.
Because of the varying route length options, the return times of riders is staggered. As a result, the social component of the day takes place at the beginning.
"There's a little reception at the start," Fermon said. "We greet everyone, they get their water bottle, their snacks, we do a couple of pictures. We did it last year and it was very heartwarming. I don't know of any other Jewish ride, so it becomes a very Jewish moment where we feed you, you say hi to old friends – 'I haven't seen you since the bat mitzvah!' – it's a very Jewish reception."
Organizers are inviting everyone – not just riders – to get involved. With more cyclists than ever anticipated in this year's event, more volunteers are still required. There is a silent auction that anyone is welcome to participate in by dropping by RJDS on the day. And, of course, donations of cash or auction items are welcome.
More information is online at ortcanada.com/vancouver or by calling Tobin at 604-276-9282.