The Dayson and Barnett families were on hand to celebrate the opening of Tikva Housing Society's Ben and Esther Dayson Residences. (photo from Tikva Housing)
Although the weather was not ideal, almost 100 people attended the opening of Tikva Housing Society's Ben and Esther Dayson Residences on Sept. 26.
Due to COVID-19 restrictions, the event had to be held outside under tents. Rhonda Sacks, chair of Tikva, welcomed everyone and thanked the Ben and Esther Dayson Charitable Foundation and the Dayson and Barnett families for their ongoing generosity and support. She acknowledged the three generations of the Dayson and Barnett families who were present and the importance of the younger ones to witness this momentous occasion.
Sacks recognized the Jewish Federation of Greater Vancouver for understanding the immediate need for affordable housing in the Jewish community and thanked them for their leadership and advocacy. Ezra Shanken, chief executive officer of the Jewish Federation, brought greetings and reiterated the importance of not only saying thank you but also showing the younger generation how, because of their great-grandparents, the community is taking care of those in need of affordable housing.
Philip Dayson spoke on behalf of the family and mentioned that it was the desire of his mother, Esther Dayson, to help those less fortunate and to have a lasting legacy, like these townhomes.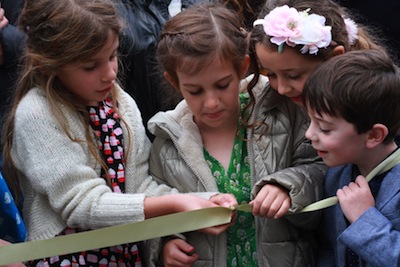 Many of the residents in attendance took the opportunity to personally thank the donors and their families.
Hannah Amar, one of the residents at the Dayson Residences, spoke on behalf of the 32 families who live there. She spoke of the importance of having safe and secure accommodation, especially during COVID, and how grateful she is to Tikva and to its donors for her beautiful home.
This housing development is part of a partnership of the City of Vancouver and the Vancouver Community Land Trust; there were many donors and partners on the project.
More than 100 people live in the residences, including almost 60 children. As one of the residents said, "The sense of community and Jewish life is beyond what we could have imagined. We are so fortunate to be living here."
The event also paid tribute to Susana Cogan, z'l, who was the driving force behind Tikva Housing from 2009 to 2017. Cogan was instrumental in developing these residences, as well as others that Tikva owns and/or operates. A commemorative bench in her memory sits adjacent to the children's playground.
For more information about Tikva Housing, call the office at 778-998-4582.
– Courtesy Tikva Housing