Stacy Lederman's "past present future" is one of the works she will be sharing at the Eastside Culture Crawl this month.
Despite the pandemic, the Eastside Culture Crawl is not only back this year, but it's offering "an expanded celebration of the creative resilience of the Eastside Arts District's visual arts community." The annual free event will take place over two weekends, Nov. 12-15 and Nov. 19-22, with the opportunity to view the artwork online, as well as schedule an appointment to join a limited in-person visit to the studios of your choice.
Participating artists in the Crawl include many Jewish community members, such as Miriam Aroeste, Suzy Birstein, Olga Campbell, Lori Goldberg, Lynna Goldhar Smith, Karly Leipsic, Stacy Lederman, Shevy Levy, Rebekah McGurran (Hive Printing), Lauren Morris, Ideet Sharon and Zohar. The Jewish Independent has featured several of these artists over the years. Lederman is a first-time Crawl participant.
"I was born in Vancouver and grew up in Tsawwassen. I have lived in Vancouver since I was 17 and also spent one year in San Diego," Lederman told the Independent by way of introduction. "Obviously, things are different now with travel, but I used to spend a lot of time in New York and spent extended periods of time visiting in the summers. Exploring and being able to immerse myself in such a vibrant, energetic city was what led me to my career in art."
Lederman has a background in corporate sales and fashion. She said she stopped working outside the home when her children were born.
"I started art lessons after a summer in New York, with the intention of having a hobby for myself and trying something completely new," she said. "My 'ah-ha' moment came slowly, after a few years of learning, when I realized that friends were asking where I bought the art in my home. I would say, 'Oh, I made that. You can have it if you like.' After a few times, I realized that I could do this as a career, as people seemed to like my work.
"My first meeting with a gallery, I was offered to do a show and I thought that was amazing and unexpected, so let's see where this goes. I am so grateful the show was a success and, with this, my full-time art career began. Although I had been involved in creative industries before, such as fashion, starting art lessons in 2014 was my first time giving it a try. I feel so lucky to be able to do what I love and feel like it came to me organically because it was really what I was meant to pursue."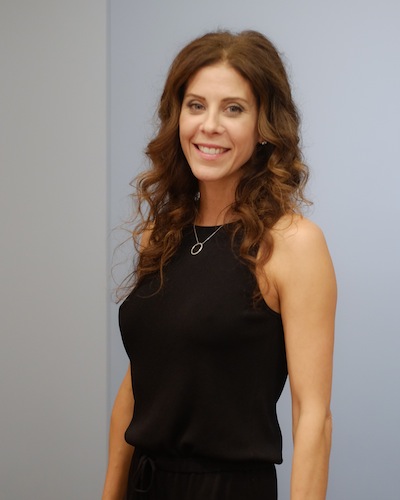 Lederman has had several solo shows and exhibits since. She works in mixed media, which, she said, allows her "to be creative without expectation of perfection.
"I wouldn't work well as a literal painter, as I would get lost in the perfection and most likely never finish a piece," she explained. "Mixed media allows me to feel confident as an artist and make pieces that reflect a moment or feeling. Sometimes, it's a lyric in a song, or a bit of graffiti, or an image I see on the street or in a magazine that inspires me to create. Blending different mediums allows me to use my inspiration when it comes and evolve the piece organically instead of worrying about the outcome. I can draw on all areas of creativity, from photography, painting, texture, abstract and collage, to create works that are meaningful and tell a story or spark a conversation. Also, my brain is always firing and so different mediums allow me to use different techniques, so I can always find a way to create and grow as a mostly self-taught artist."
As for her interest in urban settings, she said she often features them in her work, "because, generally, big cities feed my soul. I love to be in nature and have calm moments, but there is something about the vibrancy of a big city, the potential of excitement, and taking a moment to slow down within the chaos and see all the unexpected and overlooked beauty. This environment fuels my creative spirit."
And her creativity extends to the naming of her works, which doesn't always seem to match up with what is depicted.
"The names of my pieces either reflect the meaning behind how the idea for the piece came to me, or a detail within it, if I am doing a series and just letting it flow naturally," she said. "Sometimes, a work of mine comes from a moment or specific image and so then I will then choose a name that reflects the inspiration. Other times, I will get lost in the process of a series and a certain detail will catch my eye and start to dictate the direction of the piece – in that case, I would use the detail, or a representation of the details, as the name. Occasionally, there is a meaning within the numbers and/or letters I use that appear random but they are always intentional. It isn't often but, occasionally, I will use the deeper meaning that isn't obvious within the piece and I explain that to the person who purchases it."
Lederman both sells her work and donates it. With her art, she has supported such causes as Arts Umbrella Splash, Zajac Ranch, Music Heals, Face of Today and York House School.
"Although I was not raised with the idea of tikkun olam, it has always been important to me to give back and I became very involved and aware of the importance of philanthropic endeavours in university," she said. "There are so many ways to contribute to the greater good, either with time, money or donations. I am happy to help in whatever way I can and love helping to raise funds for such important and necessary causes. Art can bring joy in many ways – being able to give back to the community is something I am grateful to be able to contribute to and brings me joy as well."
While she may not have been raised with the concept of tikkun olam, Lederman said, "Jewish culture definitely plays a role in my family's life. We celebrate the Jewish holidays and have been involved with the community here in Vancouver in many different ways over the years. Two years ago, my children and I traveled to Israel for the first time. It was an incredible experience and I was so inspired in both Jerusalem and Tel Aviv that I created a collection based on the experience, energy and imagery from these cities. I felt that Israel was like no other place I have ever visited and the combination of cultures and raw energy inspired me to want to capture the feeling of the country."
During the Eastside Culture Crawl, Lederman's studio – Eastside Atelier Building, 14-1310 William St. – will be open for viewing, both virtually and in-person.
"This year has had its share of challenges for us all," she said, "and I am thrilled to be able to share what I love with local art lovers."
To see Lederman's latest collections or schedule a private appointment with her, check out stacylederman.com. For the full schedule and to register for the Crawl, visit culturecrawl.ca. There is also a "sneak peak" of Crawl activities being offered virtually Nov. 2–9, which features a selection of workshops, demonstrations and talks, as well as the annual Moving Art exhibition.